---
Top 10 Cheapest Beach Homes In America
The 30yr fixed mortgage rate is back above 7% for the first time since early March. Housing affordability is the worst in decades. Those still searching for a beach home but don't want to pay Hamptons or South Florida prices have other options that are still considered "affordable." 
A new report via Realtor.com reveals the top ten most affordable beach towns for homebuyers this summer. To find these affordable homes, Realtor analysts used listing data for every home put on the market in the past year located within a one-mile radius of each beach." 
"We then selected the most affordable beach towns by price per square foot. Only locations with at least 50 properties within a mile of the water in the past year were included," they said. 
Topping the list as the most affordable beach home community in the US is Gulfport, Mississippi, with an average median home price of around $225,000 within 1 mile of the beach. The median price per square footage within 1 mile of the beach was $144. 
Second on the list is Newport News, Virginia, with average home prices within 1 mile of a beach around $220,000 and the median price per square foot around $150. 
"The city is perched on the southern tip of the Virginia Peninsula, where the James River meets the Chesapeake Bay near its mouth to the Atlantic Ocean," Realtor said. 
The rest of the list includes:
3. New London, Conn.

4. Grand Isle, La.

5. Corpus Christi, Texas

6. Atlantic City, NJ.

7. Navarre, Fla.

8. North Beach, Md.

9. Crescent City, Calif.

10. Shirley, N.Y.
Most of the affordable beach towns can be found in the South, Mid-Atlantic, or Northeast regions. However, Northern California also has one reasonably priced beach town.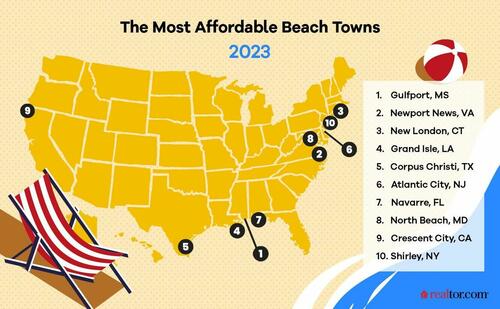 Affordability challenges persist, with the mortgage rates back above 7%.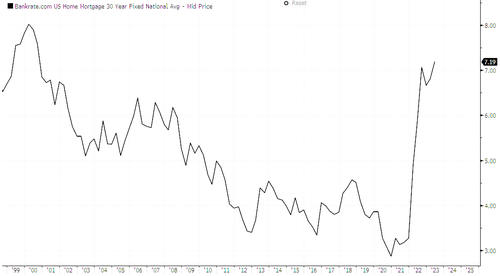 The beach towns listed above are gems of affordability. 
Loading...