---
The Top Google Searches Related To Investing In 2022
It was a turbulent year for the markets in 2022, with geopolitical conflict, rising prices, and the labor market playing key roles. Which stories captured investors' attention the most? 
As Visual Capitalist's Jenna Ross notes, this infographic from New York Life Investments outlines the top Google searches related to investing in 2022, and offers a closer look at some of the trends.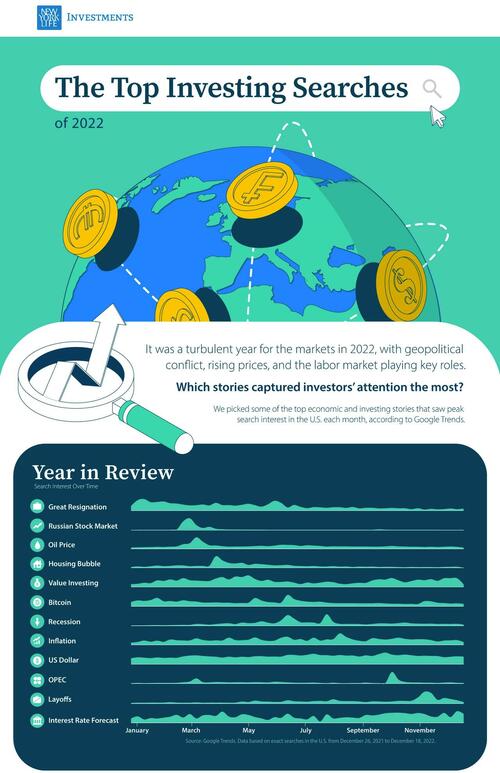 Top Google Searches: Year in Review
We picked some of the top economic and investing stories that saw peak search interest in the U.S. each month, according to Google Trends.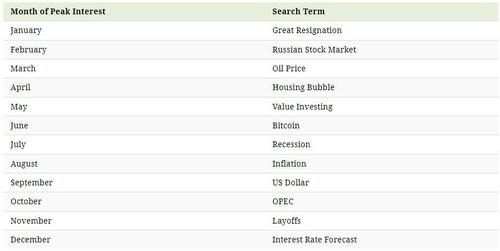 Data based on exact searches in the U.S. from December 26, 2021 to December 18, 2022.
Let's look at each quarter in more detail, to see how these top Google searches were related to activity in the economy and investors' portfolios.
Q1 2022
The start of the year was marked by U.S. workers quitting their jobs in record numbers, and the effects of the Russia-Ukraine war. For instance, the price of crude oil skyrocketed after the war caused supply uncertainties. Early March's peak of $125 per barrel was a 13-year high.

While crude oil lost nearly all its gains by year-end, the energy sector in general performed well. In fact, the S&P 500 Energy Index gained 57% over the year compared to the S&P 500's 19% loss.
Q2 2022
The second quarter of 2022 saw abnormal house price growth, renewed interest in value investing, and a bitcoin crash. In particular, value investing performed much better than growth investing over the course of the year.

Value stocks have typically outperformed during periods of rising rates, and 2022 was no exception.
Q3 2022
The third quarter was defined by worries about a recession and inflation, along with interest in the rising U.S. dollar. In fact, the U.S. dollar gained against nearly every major currency.

Higher interest rates made the U.S. dollar more attractive to investors, since it meant they would get a higher return on their fixed income investments.
Q4 2022
The end of the year was dominated by OPEC cutting oil production, high layoffs in the tech sector, and curiosity about the future of interest rates. The Federal Reserve's December 2022 economic projections offer clues about the trajectory of the policy rate.

The Federal Reserve expects interest rates to peak in 2023, with rates to remain elevated above pre-pandemic levels for the foreseeable future.
The Top Google Searches to Come
After a year of volatility across asset classes, economic uncertainty remains. Which themes will become investors' top Google searches in 2023?
Loading...