The exodus out of major cities as a result of the pandemic and the civil unrest of months past looks to be very real in Toronto. The city, which was in the midst of a multi-year boom, has now seen massive condo supply hit the market with new listings surging in September.
The Toronto Regional Real Estate Board and research firm Urbanation Inc. have shown a surge in units for sale and a sharp decline in rents, foreshadowing a gloomy future for the city's real estate market, according to Bloomberg. The glut comes at the same time the city is seeing a boom in single family homes. 
Active condo listings in the city hit a record at the end of September and were up 215% - a massive delta from the 5.3% rise in total housing listings across the city. This shows that condo prices are likely to fall on an annual basis.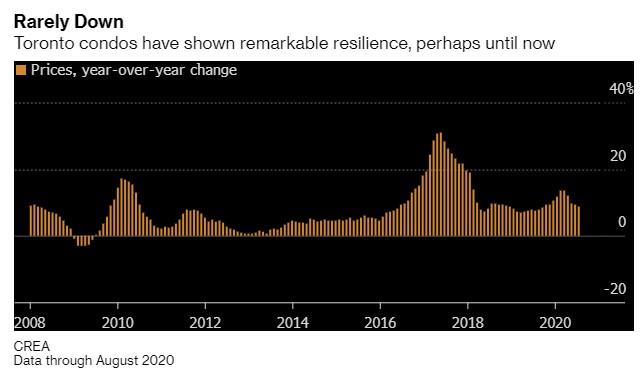 "Demand is just not keeping up with new supply right now," said Urbanation President Shaun Hildebrand.
6,480 condos were listed for sale in September, which was up from 5,599 in August and 3,403 the year prior. Prices fell for the second sequential month and are now down 1.8% since May. Rental units are now sitting on the market for 26 days in August, up from 14 days a year prior. The sales to new listings ratio for condos downtown has been below 40% for the past few months. 
At the same time, values for detached homes "have surged" and rents have seen a "dramatic" decline. The cost of leasing unfurnished units is down 11% year over year, which marks the biggest YOY decline on record.
Much of the weakness is focused on downtown, where it was spurred by the pandemic halting immigration and people leaving the city center to seek out more living space. This happened at a time when new supply was hitting the market and dramatically increasing inventory. 
Hildebrand commented: "The ratio of sales to new listings for condos in downtown Toronto fell to 24% in September, the lowest level since the early 1990s."
Simeon Papailias, co-founder of the Real Estate Center, said: "It's simply because of all the new construction completions and absolutely no new blood of tenants coming in. We're going to see people move to get cheaper rents."
Beth O'Donoghue, a broker at Brad J Lamb Realty, concluded: "It's crazy slow. So much is on the rental market and it's inevitably trickling down to the retail market."