---
Traders Now Betting On Two March Rate Cuts As OIS Craters
With Chritsine Lagarde blowing up the market's hopes for an emergency coordinated central bank rate cut, traders have decided to switch to the "stick" approach, and instead of asking nicely for another bailout from the Fed, they have decided to force one through.
As a result, even as the latest overnight index swaps are cratering on Thursday as money markets start to price in a rate cut at the March FOMC meeting with the first Fed-dated OIS for March meeting dropping as low as 1.415% Thursday, implying 16.5bp of rate cuts, before settling around 1.44% after the Lagarde statement (around a 60% chance of a 25bps March rate-cut).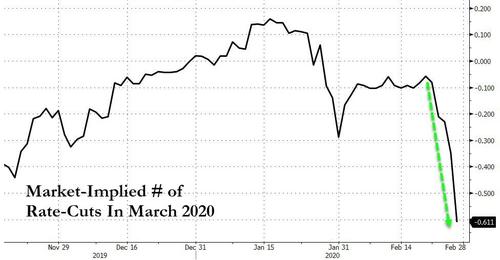 ...but, aggressive eurodollar option traders have started to hedge for more than 25bp of easing at the March 17-18 meeting, i.e., the volume of calls betting on more than one 25bps cut are soaring.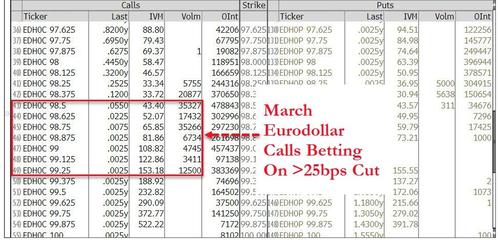 Going further down the curve, some are going for broke, and betting on as many as 5 rate cuts by mid-year, which would send the Fed Funds just above 0%. As Bloomberg's Edward Bolingbroke notes, "one of the largest eurodollar options flows Thursday morning targets a total of 125bp of rate cuts into the June 2020 futures, which are currently pricing in 55bp of cuts." He adds that "the buying in the 99.50 strike was aggressive, including 125k bought at 1.25 ticks."
Meanwhile, following the manic moves in the Eurodollar strip, 3-Month USD Libor fixes are catching up, or rather down, with the front-end rally and has now dropped 11.6bp since last Wednesday to 1.58038, and from 1.61325% on Wednesday...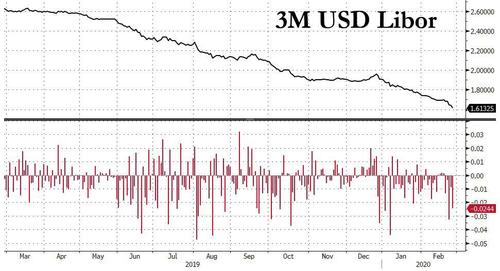 ...  just marginally above current 1.58% effective Fed funds rate.
In short, if the Fed won't agree to cut rates on its own, the market will force its hand.