---
Treasuries Slide After Ugly, Tailing 20Y Auction
After last week's dismal 30Y auction, which we said "bombed" due to a surprising lack of investor demand and significantly repriced the bond market sending yields sharply higher, bond traders were cautiously looking forward to the results from today's 20Y auction, the 4th since the tenor was relaunched in May. And just like last week, it wasn't pretty.
The sale of $25BN in 20Y bonds priced at a high yield of 1.185%, well above July's 1.06% and tailing the When Issued 1.176% by 0.9bps.
The bid to cover was just as ugly, sliding to 2.26 from 2.43 last month and the lowest of all 20Y auction since the May resumption.
Lastly, the internals were also ugly, with the Indirect takedown sliding to just 62.6%, well below last month's 67.0% if better than the foreign demand in May and June. And with Directs ending up with 11.2% of the auction, Dealers were left with 26.2%- the highest allottment so far.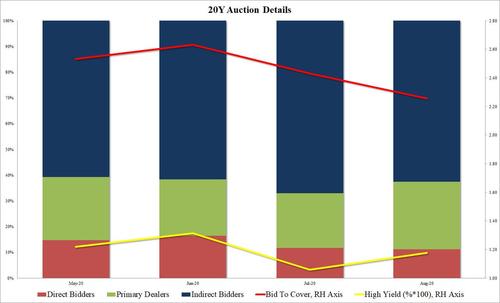 Bottom line: while not as ugly as last week's disappointing 30Y, today's 20Y left a lot to be desired, and the yield quickly spiked to session highs across the long-end of the curve, even if it has since regained much of the losses. That said, the 10Y is now back to where it was before last week's 30Y auction so bond investors appear willing to forgive and forget, for now.