---
Treasuries Tumble After 30Y Auction Bombs
After the stellar, record-sized 3Y and 10Y auctions earlier this week, moments ago the Treasury concluded refunding week with another record auction, this time in the form of an all time high $26BN in 30Y bonds.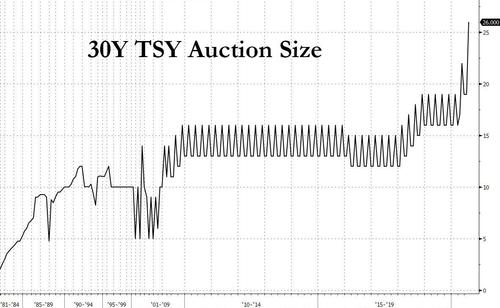 However besides the record auction size, today's 30Y sale had nothing in common with this week's prior coupon auctions both of which passed with flying colors, as this was without doubt the ugliest 30Y auction in years.
Pricing at a high yield of 1.406%, this was a 2.4bps tail to the 1.382 When Issued - the biggest tail since last July - and well above last month's 1.357%.
The other metrics were far worse, however, with the Bid to Cover plunging from 2.50 to just 2.136, the lowest since July 2019 and one of the lowest on record.
The internals were even uglier, with Indirects plunging from 72% to 59.8%, the lowest since November and well below the 66.2% six-auction average. And with Directs taking down just 11.9%, it left Dealers holding a whopping 28.3% of the sale, the most since July 2019.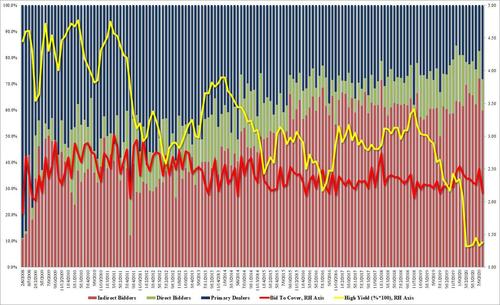 Overall, this was a very ugly auction, and due to the record auction size, or due to today's massive Apple concurrent issuance or just because of rising reflation fears, whatever the reason the curve quickly repriced sharply wider, and as the 30Y yield spiked to a level from early July, the 10Y yield has pushed above 0.70%.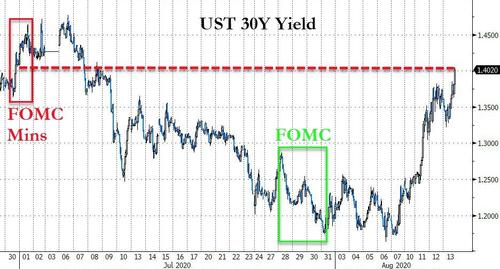 Curiously, the unexpectedly ugly auction also sparked a bit of a trapdoor effect in stocks which also dipped suggesting that even a glimmer of validated reflation creeping into bond auctions will be enough to shock both the stock and bond market.