---
Treasury 20Y Bonds Surge, S&P Futures Jump After Fed Hints At More Bond Buying
It had been a relatively quiet day for Treasurys which were bought for much of the day, when right at the close the 20Y TSY yield hit an air pocket and dropped by 3bps in minutes. Perplexed traders looked for the reason for the move, and eventually found it in the prepared comments of NY Fed Executive Vice President Lori Logan released at 4pm, which sparked speculation the central bank will increase purchases of the 20Y tenor.
In a speech discussing the role of Primary Dealers in "The New Normal", Logan said that the Treasury's introduction of the 20-year Treasury bond in May of last year had "increased amounts outstanding around the 20-year maturity point." She also said that since "the pace of increase in TIPS issuance has been slower relative to nominal coupon securities" and with "net issuance expected to remain high in the near term, we anticipate that the composition of outstanding supply will continue to evolve."
But it was the punchline from Logan that led to the buying stampede:
"as a result, we plan to make minor technical adjustments to our purchase sectors and increase the frequency at which we update purchase allocations to remain roughly proportional to the outstanding supply of nominal coupon securities and TIPS. We expect to announce these as a part of a normal purchase calendar release in coming months."
As Bloomberg first observed, the market reacted as if this means Fed purchases of 20-year bonds will rise, with the 20-year TSY sliding 3bps and the now richer by 6.8bp on the day, predictably outperforming rest of the curve, as traders positioned to frontrun the Fed's purchases (we point this out just in case there are still naive traders who believe the Fed's open market purchases have no impact on yields).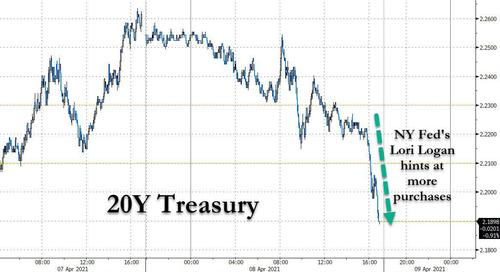 But it wasn't just the 20Y that spiked: so did futures. As shown in the chart below, spoos ramped as much as 10 points right around the close as Logan's speech made the trading desks, pushing the Emini to a new all time high of 4,098.5, leaving even commentators at Goldman Sachs perplexed by the move, especially since it took place amid a $1 billion market for sale imbalance: here is what Goldman's John Flood sent out after the close: "S&P +42bps closing @ 4097 (ATH) despite 4th consecutive MOC sell imbal (today was -$1b)."
In a time when the Fed's shaky credibility is being questioned from all sides, It's good to see that even a mere hint at more bond buying by the Fed can still send stocks surging to new all time highs.