---
Trump Brings Tax Return Case To Supreme Court
It was just a matter of time.
Shortly after President Trump was denied his latest appeal to keep his tax returns private - as if anyone besides a few rabid TDSers still cares about those after the whole thing was leaked to the NYT - on Tuesday the president asked the Supreme Court, which will soon have one more conservative Justice on deck, to block lower court decisions that would give the Manhattan District Attorney's office access to years of his income tax returns.
Trump's lawyers filed an emergency application with the Supreme Court asking the court to issue a stay on a grand jury subpoena demanding those tax returns and other financial records from his accountants. The request is pending the filing of his planned request that the high court hear his appeal of the lower court rulings that allowed that subpoena.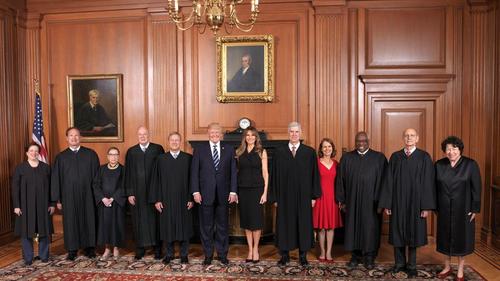 And, as CNBC reports, if the Supreme Court agrees to hear his appeal, it will be the second time the court has taken the case. In their filing, Trump's lawyers said "there is a reasonable probabilty that" the Supreme Court will take the appeal.
Last summer, the Supreme Court rejected Trump's argument that his financial records from the Mazars USA firm should be protected from the subpoena because of his status as president. But the Supreme Court said Trump could make new arguments against the subpoeana with a federal district court in Manhattan, when a judge in that court ruled against the president after Trump's lawyers argued that the subpoena was overbroad and issued in bad faith. A federal appeals court then upheld that ruling.
More importantly, with RBG now gone and ACB about to be the latest addition, it will be a true test of just how "conservative" the new appointment will push the court.
As a reminder, Manhattan DA Cyrus Vance Jr. is seeking the tax returns and other records as part of an ongoing criminal investigation of the president's company, the Trump Organization. Vance is known to be eyeing how hush money payments to women who say they had sex with Trump were accounted for by the company, and according to court filings also could be investigating possible tax crimes, as well as bank and insurance fraud.