---
"You're Not Forgotten": Trump Speaks From East Palestine
Update (1520ET):
Local TV station WKYC broadcasted Trump's speech in East Palestine. The former president said, "to the people of East Palestine and to the nearby communities of Ohio and Pennsylvania, we have told you loud and clear, 'you're not forgotten.'" 
Where is Biden?
*   *   * 
Update (1343ET):
Former President Trump has landed in East Palestine. 
Trump just landed in East Palestine, Ohio

pic.twitter.com/UuZO91N4cT

— The Post Millennial (@TPostMillennial) February 22, 2023
Ahead of Trump's arrival, water and food are being passed out to residents. 
JUST IN: Trump Lands in East Palestine, Ohio..

Essential supplies being passed out to Locals awaiting his arrival...pic.twitter.com/9K0S8QrSZ2

— Chuck Callesto (@ChuckCallesto) February 22, 2023
People of East Palestine aren't thrilled about the Biden administration, who've ignored the small town for weeks. 
This is who is waiting for Donald Trump in East Palestine, Ohio.

Perhaps this is why Joe Biden refuses to go. pic.twitter.com/XLIHu3ihoY

— Benny Johnson (@bennyjohnson) February 22, 2023
I'm with them.....The people of Ohio chant .."No More Joe" as they await Trump's arrival to East Palestinepic.twitter.com/rG7ElnXX9l

— Ruthann (@TeaBoots) February 22, 2023
Trump is expected to give a speech. 
A few more photos including where some say he could speak later. pic.twitter.com/fgVHR74VHd

— Oliver Morrison (@ORMorrison) February 22, 2023
*   *   * 
Former President Donald Trump is expected to visit East Palestine, Ohio, Wednesday and donate pallets of water and other supplies to the small town grappling with the toxic aftermath of the train derailment earlier this month. 
Last weekend we told readers about Trump's plan to visit East Palestine. Now it's been confirmed by Fox News that he will meet with officials and residents today.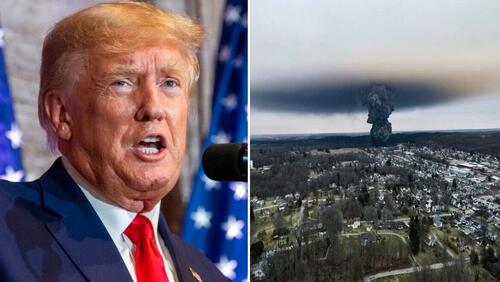 Trump will meet with East Palestine Mayor Trent Conaway; Sen. J.D. Vance, R-Ohio; Rep. Bill Johnson, R-Ohio; State Rep. Monica Robb-Blasdel; and Ohio State Sen. Michael Rulli. 
"President Trump is meeting with the citizens of East Palestine and will never forget them and what they are going through.

"Contrast that with Biden and the federal government who has failed them from the beginning," a Trump advisor told Fox News.
On Monday, President Biden, who has barely mentioned East Palestine, decided to visit Ukraine instead of East Palestine. During an appearance on Fox News that same day, Mayor Trent Conaway said the president's visit overseas was the "biggest slap in the face" as his town continues to suffer following a freight train crash carrying hazardous materials, including vinyl chloride. 
"That was the biggest slap in the face that tells you right now, he doesn't care about us," Conaway told Fox's Jesse Watters. He added: "So … he can send every agency he wants to but I found that out this morning and one of the briefings that he was in the Ukraine giving millions of dollars away to people over there, not to us and I'm furious."
Fox's Tucker Carlson recently said: 
"East Palestine is a poor, white town that voted for Trump. So honestly, who cares? No one in the Biden administration did care and that's an atrocity." 
We told readers days ago: Trump wants to capitalize on what Legal Insurrection noted, "Ohio's toxic train derailment is Biden's Katrina." 
Loading...