---
Trump Promises Farmers More Aid Amid Plunging Incomes 
President Trump, on Sunday, tweeted that another farm bailout will be issued to "smaller farms and farmers" amid plunging incomes, reported Reuters.
Our great Farmers will recieve another major round of "cash," compliments of China Tariffs, prior to Thanksgiving. The smaller farms and farmers will be big beneficiaries. In the meantime, and as you may have noticed, China is starting to buy big again. Japan deal DONE. Enjoy!

— Donald J. Trump (@realDonaldTrump) November 17, 2019
One reason behind the continued bailout of US farmers is because the trade war continues to deepen as there is no resolution in ending trade disputes with China. 
There's also a significant concern that the first round of bailouts went to large corporate farms and never trickled down to smaller mom-and-pop ones. By late year, farm incomes have plunged, and farm bankruptcies are soaring across the country.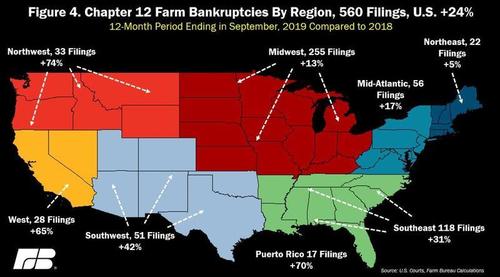 Farmageddon is getting worse as commodity prices, costs, leverage, production, real estate values, and the effects of President Trump's ongoing trade war have likely ushered in a farm crisis that is on par with the early 1980s. Here's what the Federal Reserve Bank of Kansas City said in a new report last week, warning about the farm crisis: 
"Despite a slight increase in the price of some agricultural commodities and additional support from government payments, farm income and loan repayment rates declined at a modest pace. According to District bankers, agricultural economic conditions in the quarter were influenced by uncertainty about crop production, agricultural trade and other factors that contributed to commodity price fluctuations. Persistent weaknesses in the sector put further pressure on farm finances and signs of modest increases in credit stress remained." 
Bankers at the Kansas City Fed warned that farm incomes are likely to drop again in the coming quarters -- as it appears the outlook for the farming industry remains negative for 2020/election year.
President Trump's Sunday tweet also touted that "China is starting to buy big again," but industry insiders outlined in a recent report, that the alleged $50 billion agriculture deal with China is merely a fantasy.
U.S importers and consumers are paying for the welfare to farmers https://t.co/4vn6HC5Osj

— FXHedge (@Fxhedgers) November 17, 2019
China has never confirmed the $50 to $60 billion agriculture deal, though the president runs around on Twitter promoting "the greatest and biggest deal ever made for our Great Patriot Farmers in the history of our Country." 
The deal I just made with China is, by far, the greatest and biggest deal ever made for our Great Patriot Farmers in the history of our Country. In fact, there is a question as to whether or not this much product can be produced? Our farmers will figure it out. Thank you China!

— Donald J. Trump (@realDonaldTrump) October 12, 2019
While the president has been busy bailing out farmers in 2019, and about to inject them with another round of cash ahead of the holiday season, China is rushing to diversify away from the US and have signed landmark deals with Argentina and Brazil for corn and soybean. They've also signed trade deals in Australia, Europe, South America, and New Zealand for beef, dairy, and pork to fill supply gaps.
With every farm bailout, more truth comes out of how disastrous the trade war has been for US farmers.