---
TSA Screens 1.28 Million Passengers At Airports On Sunday - Most Since March
The Transportation Security Administration (TSA) released new figures Monday that showed it screened 1.28 million passengers at airports across the country on Sunday, the highest amount of travelers in one given day since mid-March.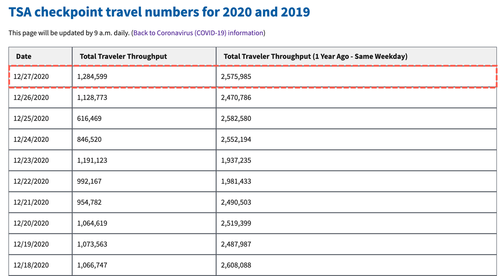 Even though Sunday's passenger volume at airports was 50% lower than the same day last year, it was the sixth day out of the last ten that volume surpassed one million. The rise in air travel comes during the holiday season as Americans come together for Christmas and New Year's celebrations despite warnings from top public health officials.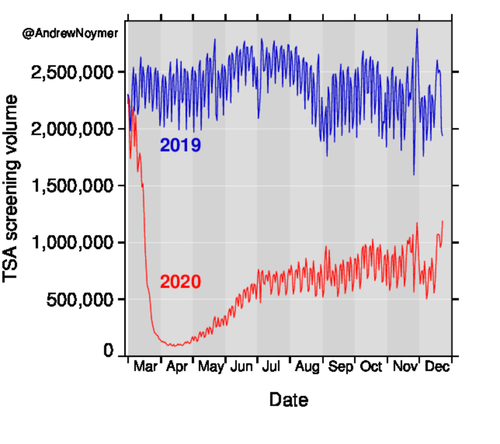 Dr. Anthony Fauci warned on Sunday that cases could surge after the holidays due to the mixing of households. 
"We very well might see a post-seasonal — in the sense of Christmas, New Year's — surge, and as I've described it, as a surge upon a surge," Fauci said on CNN's "State of the Union."
Last week, the country's top infectious disease specialists warned that "our darkest days in this battle against Covid are ahead of us, not behind us."
"I share the concern of President-elect Biden that as we get into the next few weeks it might actually get worse," Fauci said.
There is some good news in the overnight session, President Trump signed a COVID-19 relief measure, which means airlines are set to receive $15 billion in additional payroll assistance. 
Fauci also said, "traveling and the likely congregating of people for the good warm purposes of being together for the holidays" adds pressure to the worsening crisis.
Nevertheless, a mutation of the coronavirus is on the loose in Europe and could already be spreading in the US undetected.