---
World's Largest Chipmaker Slashes Guidance As AI Boom Fails To Deliver
Update (0905ET): Taiwan Semiconductor Manufacturing Co. warned about a deepening semiconductor downturn as the boom in artificial intelligence fails to offset mounting global economic headwinds. TSMC's stock slumped this morning after the chip giant said it expects 2023 revenue will drop by around 10% instead of the 5% decline projected three months ago. 
"Three months ago we were probably more optimistic, but now [we are] not. The recovery of the Chinese economy is weaker than we thought, so end-market demand is not as we expected," said C.C. Wei, CEO of TSMC. 
Wei continued, "Although we have very good AI end-market demand, it is not enough to offset [that weakness]."
Meanwhile, TSMC chairman Mark Liu pointed out, "The short-term frenzy about the AI demand definitely cannot extrapolate for the long term. Neither can we predict the near future - meaning next year - how the sudden demand will continue or flatten out." 
Here's the recap of the second-quarter earnings call (courtesy of Bloomberg): 
*TSMC reported net income of $5.85 billion, which together with operating and gross margins was above its own guidance and consensus estimates. Still, sales were down 23% on the same quarter a year ago. It projected sales of $16.7 billion to $17.5 billion this quarter, less than expectations.

*The Taiwan company lowered its guidance for full-year sales to a 10% decline in US dollar terms, souring hopes for a quick rebound in growth driven by AI demand.

*The AI frenzy has been a positive for TSMC, but not enough to offset global macroeconomic headwinds, such as in China, where the economic recovery has been slower than TSMC expected

*TSMC expects AI chip supply to be tight until at least the end of 2024. Production at TSMC's Arizona factory, which is currently under construction, has been pushed back to 2025

*The results hurt chip-related shares in Europe, with key supplier ASML falling the most in about seven months. That weighed on the regional stock benchmark
Here's what Wall Street analysts are saying about the dismal earnings report and outlook (courtesy of Bloomberg):
Wells Fargo Securities

The results show that AI demand is "not enough to offset other weakness across all other segments," and that an inventory correction is taking longer with "'healthier' levels expected exiting 4Q23"

Wedbush (outperform)

While "this deterioration in outlook wasn't unexpected, the magnitude of the downtick was more significant than we had anticipated" 
Despite the near-term weakness, the company remains well- positioned over the long term in terms of revenue and gross margins

Needham (buy, PT $118)

"This is the third cut to its revenue outlook that TSMC has made this cycle," which "may disappoint some bulls, but we see the lack of inventory rebuild through year-end will set up the company for strong growth in 2024"
Investors should buy on weakness

Bloomberg Intelligence
The target cut "suggests a deeper-than-expected downturn in smartphone chips and end-market handset demand, aggravated by worsening macroeconomic conditions, particularly in China"
The warning comes as stocks have soared in recent months on the AI theme.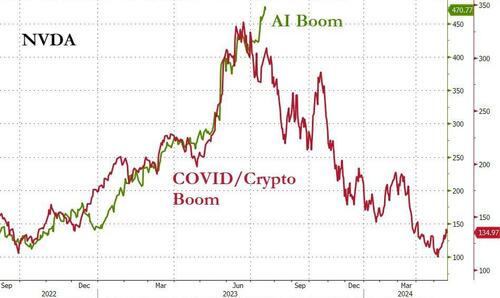 TSMC is the world's largest chipmaker and primary chip supplier for NVDA, as well as the top supplier for AAPL, QCOM, and AMD. Its first revenue drop since 2019 and slashed guidance for the fiscal year is an ominous sign for bubbly stocks. 
*   *   * 
The Biden administration's move to bolster America's supply chain for next-generation computer chips by increasing domestic production through the CHIPS and Science Act has encountered an issue with the world's largest contract chipmaker, warning about mass production delays. 
On Thursday, Taiwan Semiconductor Manufacturing Co. announced it would postpone mass production at its plant in Arizona to 2025 due to a shortage of skilled workers, the Nikkei reported.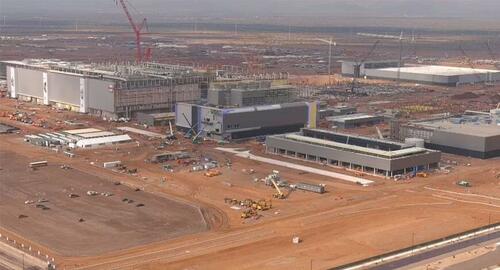 "We are encountering certain challenges, as there is an insufficient amount of skilled workers with the specialized expertise required for equipment installation in a semiconductor-grade facility," TSMC Chairman Mark Liu said on a conference call after earnings. 
Liu said TSMC had sent skilled technicians from Taiwan to compensate for the delays and shortage of trained workers in the US. 
"We expect the production schedule of N4 [4-nanometer chipmaking technology] process technology to be pushed out to 2025," he continued. 
TSMC is the largest contract chipmaker with clients like Apple, Qualcomm, and Nvidia. Also, on Thursday, the company revised its full-year outlook downward on continued macroeconomic headwinds developing in China and the rest of the world. 
"It's all about macroeconomics. In fact, higher inflation and interest rate [hikes] impact demand in all market segments in every region in the world. ... China's economic recovery is also slower than we expected," said C.C. Wei, CEO of TSMC
Wei said, "While we have recently observed an increase in AI-related demand, it is not enough to offset the overall cyclicality of our business." 
When building out domestic chip production, backed by federal subsidies from the Chips Act, the talent to construct these high-tech facilities is mainly in Taiwan and Korea. So access to skilled workers remains problematic as Western countries attempt to decouple from China. 
The key word is 'attempt' because Morgan Stanley said in a recent note to clients, "The reality is that a complete decoupling of the US economy from China is neither possible nor desirable." 
Loading...