---
Tucker Speaks In First Public Comments Since Split From Fox; Fans Plan To Boycott
Tucker Carlson has issued his first public comments since his ouster from Fox News for unknown reasons.
Appearing outside his Florida home with his wife, Carlson told the daily mail: "Retirement is going great so far," adding "I haven't eaten dinner with my wife on a weeknight in seven years."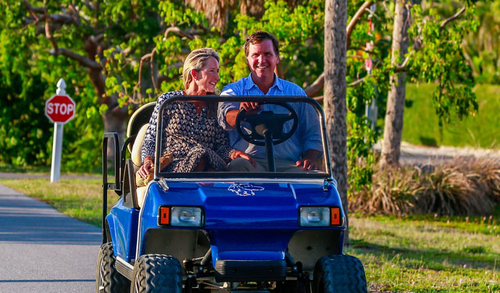 When asked about the future, Carlson said: "Appetizers plus entree," before driving away on his golf cart.
Both Fox and Carlson have been mum over the split - however some are speculating that a lawsuit filed by a former producer, Abby Grossberg (who never actually interacted with Carlson) may be one of the reasons. Another rumor is that Rupert Murdoch's ex-fiancee said Carlson was a "messenger from God" at a dinner, which freaked out old Rupert.
Murdoch and Smith called off their two-week engagement because Smith had told people Carlson was "a messenger from God." Murdoch had seen Carlson and Smith discuss religion firsthand. In late March, Carlson had dinner at Murdoch's Bel Air vineyard with Murdoch and Smith, according to the source. During dinner, Smith pulled out a bible and started reading passages from the Book of Exodus, the source said. "Rupert just sat there and stared," the source said. A few days after the dinner, Murdoch and Smith called off the wedding. By taking Carlson off the air, Murdoch was also taking away his ex's favorite show. -Vanity Fair
Carlson's fans, meanwhile, plan to boycott Fox News and Fox Nation streaming service following the split.
Via the Epoch Times;
Carlson's Fox Nation program had hosted numerous celebrity guests, including Tesla CEO and Twitter owner Elon Musk, actor Russell Brand, "Shark Tank" host Kevin O'Leary, and champion boxer Mike Tyson.
At least one Twitter user said Carlson's show was the only reason they subscribed to Fox Nation and that without him, she had decided to end her subscription. "I canceled my @foxnation subscription tonight. I only watched Tucker's show. They will not get another penny. Delete them, too. @FoxNews."
Scott Morefield, a writer for the conservative Townhall.com also wrote: "I just cancelled my Fox Nation subscription with the note: 'No Tucker Carlson, no Fox Nation subscription. Goodbye.' Who is doing the same?" Morefield's tweet prompted numerous others to reply saying they had done the same.
"Me renewal date was 4/27, so this was a convenient time to cancel. I had previously signed up for a 2 year subscription," one person wrote.
As people announced they were ending their subscriptions, they shared screenshots and videos to prove they had indeed parted ways with the subscription service.
One user shared a screenshot in which she explicitly stated she was leaving the subscription service over Carlson's departure from the network. On her screenshot, she had selected a box indicating her reason for unsubscribing, "Fox Nation doesn't include my favorite Fox News personalities" followed by an additional comment, "As far I am concerned Fox is dead. Without Tucker Carlson you are just another [expletive] propaganda [mainstream media] outlet."
Another Twitter user indicated Fox News' other programs would not be enough to keep them interested in the network or its streaming service. "Just canceled my subscription to Fox Nation and promptly turned the channel. Only 3 shows interest me – The Five, Jesse Watters and Gutfled! And I can miss these without a problem. I never missed Tucker. What a loss."
It's unclear how many subscribers Fox Nation has lost in the day since announcing Carlson's departure from the broader Fox.
Loading...