---
Turkish Lira Crashes To Record Low After Another Central Bank Surprise
The central bank of Turkey continues to surprise markets.
One month after the Turkish central bank stunned FX traders on Sept 24 when the covid-cripped economy whose FX reserves are collapsing announced a 200bps rate hike, going into today's meeting the consensus of 27 analysts was for the CBRT to hike by another 150-200 bps with a median forecast for an increase of 175 basis points to 12%, and the lira surging in recent days to reflect that.
However, it was not meant to be, and in the second Turkish shock in one month, the Turkish central bank instead left the reference rate on hold. The press release said that "a significant tightening in financial conditions has been achieved, following the monetary policy and liquidity management steps taken to contain inflation expectations and risks to the inflation outlook. Accordingly, the Committee has decided to keep the policy rate unchanged, while enhancing flexibility in liquidity management and continuing with liquidity measures until inflation outlook displays a significant improvement."
The bank also said that the "expected moderation in imports has started with the phasing out of pandemic-related supportive policies" and added that "the strong recovery in exports of goods, relatively low levels of commodity prices and the level of the real exchange rate will support the current account balance in the upcoming periods. As a result of fast economic recovery with strong credit momentum, and financial market developments, inflation followed a higher-than-envisaged path."
At this point it is unclear if the Erdogan regime believes in lower or higher rates to fight inflation.
However in yet another surprise, while the CBRT kept the policy rate on hold, the central bank adopted unconventional tightening by raising the upper bound of its interest-rate corridor. Specifically, the CBRT set the margin between the CBRT Late Liquidity Window lending rate and overnight lending rate as 300bps. That means the LLW lending rate is now 14.75% vs 13.25% prior and that the central bank will prefer less conventional measures going forward, in what appears to be a market test of how traders would respond.
Sadly for Erdogan, they did not respond as the CBRT had desired because in kneejerk reaction, the USDTRY rallied 2% on the decision, as the Lira plunged to a new record low of 7.9797...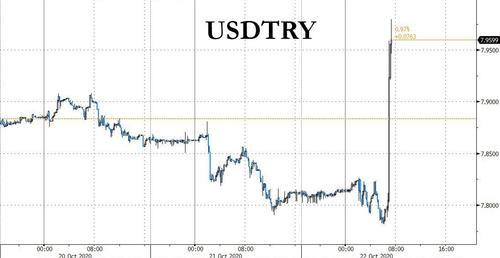 ... and just shy of the 8.00 psychological level, as all those who were expecting a continuation of the tightening cycle were just stopped out.
And that's how you lose money in an instant if you expect continuity from an authoritarian ruler.