---
Turkish Lira Crashes To Record Low, CDS Spike As 'Plan Z' Fails
Despite Turkey's draconian "Plan Z" measures where it effectively nationalizes the FX market,  the world is rejecting Turkish Lira today, sending Erdogan's currency to a new record low against the dollar...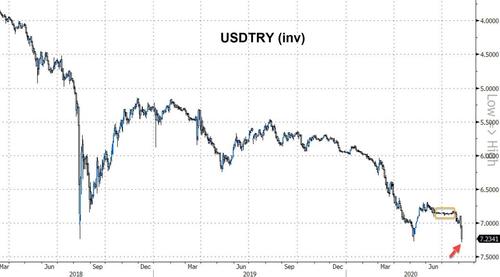 Additionally, the CDS markets are starting to price in an economy is on the verge of collapse,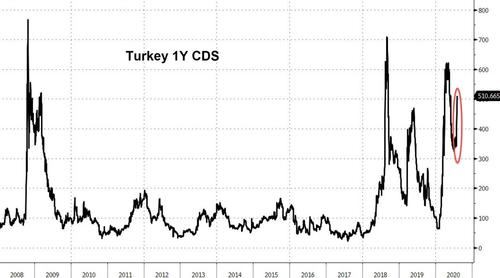 A view, as we recentlky detailed, reaffirmed by the FT which writes that Turkey's tourism sector - a key source of economic growth - continues to reel due to convid.
At this time of year, Murat Tugay, who runs the 240-room Hotel Aqua in the Mediterranean resort of Marmaris, should be dealing with a packed guestbook and all the challenges of peak season. Instead, the hotel is closed and Mr Tugay is banking on a late summer recovery. "We still have August. We still have September," he says.
This implosion in Turkey's tourism sector comes at a time when President Recep Tayyip Erdogan has been desperately seeking to assure the population (and much needed foreign investors) that all is well, hailing a sharp fall in interest rates and praised measures taken to block "malicious" attacks on the Turkish lira. Such steps, he said, were "strengthening the immune system of our economy against global turbulence."
That could not be further from how most economists see the Turkish picture. The collapse in tourism as a result of the coronavirus pandemic has left a gaping hole in the country's finances. Foreign investors have fled, pulling out a large volume of funds from the country's local-currency bonds and stocks over the past 12 months.
In the face of those outflows, the country has burnt through tens of billions of dollars of reserves this year in a bid to maintain an unofficial currency peg - a move that marks a rupture with a two-decade policy of allowing a free float. But, in a sign that those efforts are floundering, as we showed last week, the lira lurched towards a record low against the dollar even as authorities spent billions trying to defend it.
And now, it appears that Turkey is running out of reserves to sell and "control" the lira, and instead it is resorting to the bazooka approach, one which it can use to nuke the occasional short here and there, but which in the longer run will cripple the Turkish economy, and merely accelerate its downfall.
And sure enough, after the lira briefly strengthened in the spot market on Tuesday - as a result of record surge in overnight rates - it has promptly plunged to a new record low again suggesting that it is no longer shorts that are in the driver's seat, that Turkey's panicked attempt to punish them will have little impact on the continued decline in the currency, and that a full blown currency crisis in Turkey may be about to hit.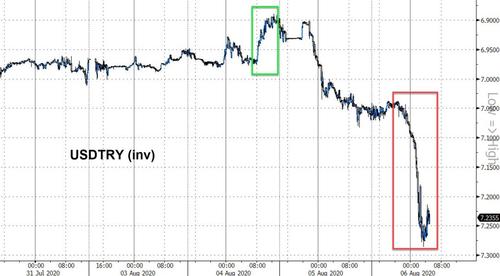 Finally, things are not about to get any better for the ,as we noted recently, it is not surprising that young Turks in the 21st century do not want to be strangled by the unpredictable dictates of an Islamist regime. Erdoğan might sit down and ask himself: Why do the youths whom he wanted to make "devout" want to flee their Muslim country and live in "infidel" lands?