---
Turkish Stock Market Closed For Another Week After Quake Devastation
Update (0941ET):
Turkey's stock exchange will lift a trading halt on Feb. 15, according to a statement released by Borsa Istanbul.
Following Monday's devastating quakes, the trading suspension came after a $35 billion wipeout of market value in main equities. 
Meanwhile, in New York, iShares MSCI Turkey Exchange Traded Fund, the largest ETF concentrated on Turkish stocks, is down nearly 6% this morning. 
Turkish stocks can still be traded -- just through US ETFs. 
And somehow, the Turkish lira is magically supported through the worst quake devastation in decades.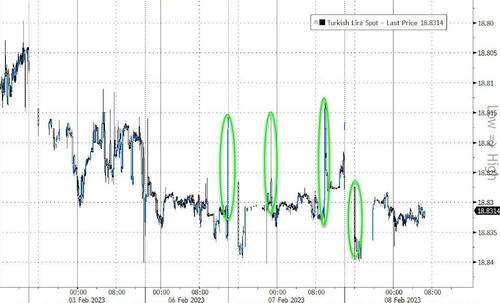 *   *   *  
Turkey's stock exchange halted trading of equities and derivatives Wednesday (for the first time in two decades) after a multi-day selloff wiped tens of billions of dollars from the value of its main equities following Monday's powerful quakes that killed more than 11,000 in the quake-stricken areas of southern Turkey and Syria.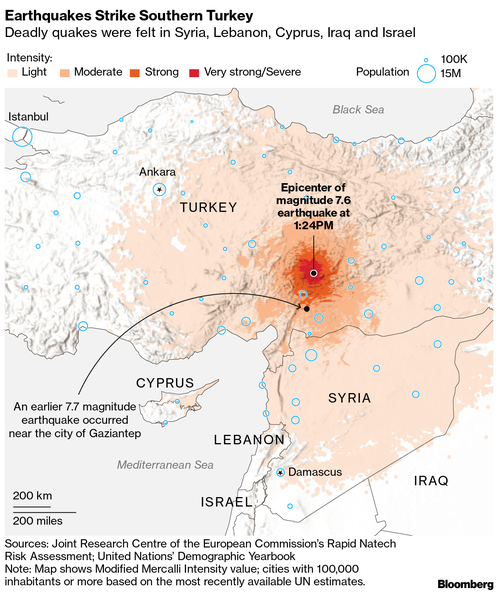 "Our stock exchange has decided to halt trading in equities, futures, and options markets," Borsa Istanbul wrote in a statement Wednesday. There was no timeline on when trading would resume. 
The Borsa Istanbul 100 index plunged by 7.1% in today's trading as traders fear widespread damage to infrastructure, logistical problems, and a partial shutdown of the economy could severely impact economic growth in the months ahead. Since the quake, the leading equity index has lost 16.24%. The index has also tumbled into a bear market after peaking in January.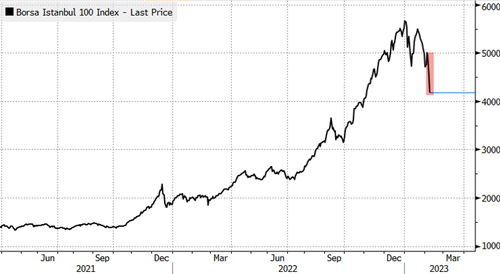 The week-to-date loss of 16% puts the index on track for the worst week since October 2008. 
In New York, iShares MSCI Turkey Exchange Traded Fund, the largest ETF concentrated on Turkish stocks, tumbled 5.2% in premarket trading. 
Meanwhile, the Turkish lira was stable against the dollar as its tightly managed by the central bank. 
"At times of catastrophes like this, suspending trading in the stock market is a better decision in order to protect investors," Haydar Acun, managing partner of Marmara Capital in Istanbul, told Bloomberg. 
The latest death toll figures from the NYTimes topped 11,000 in quake-stricken areas of Turkey and Syria. 
Drone shows quake devastation in Turkey pic.twitter.com/3D0MlGmSsH

— DE La Roca (@guildo_jose) February 8, 2023
Kahraman Maraş southern Turkey, before and after the #Earthquake pic.twitter.com/XvdQBcXO46

— Asaad Sam Hanna (@AsaadHannaa) February 7, 2023
Rescue crews have so far pulled out more than 8,000 people from collapsed buildings. The quake severely damaged 11,000 buildings -- many of which are multi-family structures. 
Loading...