---
"Turning Lies Into Cash" - Twitter User Arrested For Pump-And-Dump Scheme
The Department of Justice arrested a Twitter user for pumping dumping penny stocks that earned him well over $1 million in illegal proceeds. 
According to the DoJ press release, Steven Gallagher, 50, was arrested in Ohio Tuesday and charged in a complaint in Manhattan federal court with securities fraud, wire fraud, and market manipulation. 
The Feds allege Gallagher used a Twitter alias "Alex DeLarge 655321," to pump and dump stocks to unsuspecting followers.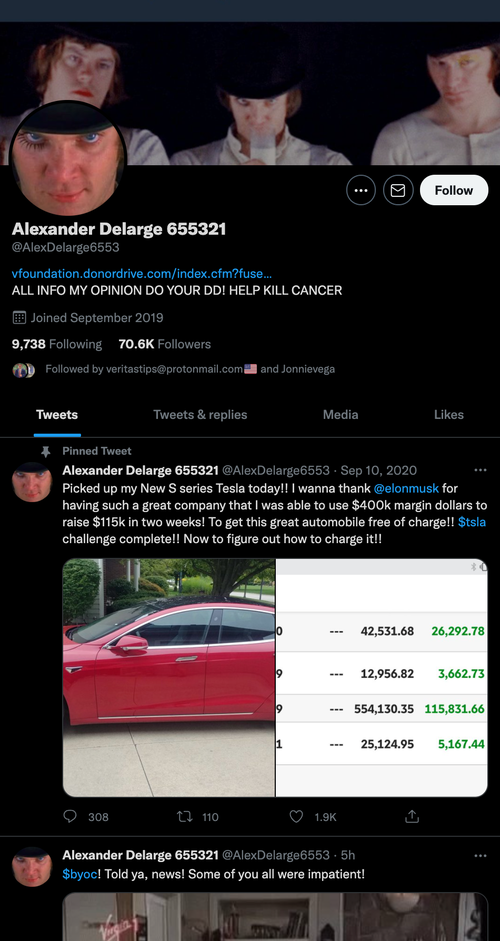 "GALLAGHER used that account to tout certain over-the-counter penny stocks and to disseminate false and misleading information about his trading in those stocks in order to induce his followers to purchase those stocks and drive up their prices," Feds say. 
Gallagher's pump and dump tweeting campaign earned him more than $1 million in profits as he secretly unloaded his holdings onto unsuspecting Twitter users he told he was in for the long game. 
"As alleged, Steven Gallagher brought old-school boiler room tactics to the Twitter age, and operated a social media pump-and-dump scam that defrauded ordinary investors, all so that he could make over $1 million in profits," US Attorney Damian Williams said in a statement. 
"Today's arrest of Gallagher demonstrates that this Office and our law enforcement partners will be vigilant as securities fraud schemes move onto Twitter and other forms of social media," said Williams. 
The New York Field Office of Homeland Security Investigations Special Agent-in-Charge Ricky J. Patel said Gallagher was "turning lies into cash in a penny stock "pump and dump schemes" where he unloaded shares to unsuspecting Fintwit users. 
"Like so many Hollywood movies which have portrayed stock frauds, Gallagher met the same fate as those storylines, he was arrested and will now face justice," Patel said. 
Gallagher has touted more than 60 stocks since late 2019 and his alias, Alexander Delarge, is the name of the sociopathic gang leader who Malcolm McDowell played in an early 1970s film called A Clockwork Orange."
The SEC appears to be finally cracking down on Twitter users who pump and dump penny stocks. There was no word if Gallagher was a stock promoter.