---
Twin Crisis Rocks Bayer, Shares Crash Most On Record, Hitting Levels Not Seen Since GFC
Bayer shares in Germany experienced their largest-ever intra-day crash, tumbling as much as 21% to lows not seen since the Great Financial Crisis, following a double whammy of news:
First, Bayer AG's Monsanto unit was ordered by a Missouri jury to pay more than $1.5 billion damages to three former users of its Roundup weedkiller on Friday.

Second, on Sunday, the German agropharmaceutical giant halted the development of an experimental drug because of a lack of efficacy. 
Over the weekend, we explained that Monsanto's largest trial loss in the five-year litigation over Roundup weedkiller was devastating. There appears to be no end as the company faces a second wave of lawsuits. It has already set aside $16 billion for the Roundup lawsuits. Also, this is a historic value destruction, who purchased Monsanto for $63 billion five years ago. 
Meanwhile, Bayer said Monday its pharma division halted the primary study of its top experimental drug because of a lack of efficacy. 
Bayer wrote in a statement that in a Phase III trial, its experimental anticoagulant asundexian was inferior to Pfizer and Bristol-Myers Squibb's Eliquis drug in preventing strokes in high-risk patients. 
Bayer was positioning asundexian to replace revenue from blood thinner Xarelto, one of its biggest sellers, which will lose protection from European patents in two years. 
Jefferies analyst Charles Bentley said, "This is a significant blow to the Bayer Pharma pipeline... Overall, this setback increases challenges facing its new CEO [Bill Anderson] -- pipeline weakness and needing investment while leverage is high and beset by litigation." 
As a result of the two crises, Bayer shares in Germany crashed as much as 21% to the lowest levels since March 2009. Around 0800 ET, shares recovered some losses but were still down 19%.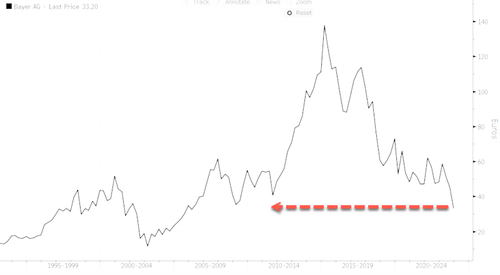 Here's what other Wall Street analysts are saying about the crisis at Bayer (list courtesy of Bloomberg):
JPMorgan, Richard Vosser (neutral)

Calls asundexian stroke-prevention trial failure a "significant disappointment," removing an asset possibly worth as as much as €11.7 a share
Says failure makes it "even harder for Pharma business to grow following the Xarelto and Eylea patent expiries in 2026/2027 and 2025"
On Roundup trial, says that while damages are likely to be reduced in appeals process, it highlights Bayer "still has work to do" related to remaining Roundup litigation

Barclays, Emily Field (equal weight)

Cuts recommendation on Bayer to equal weight as a consequence of asundexian trial failure as drug was key reason in April 2022 upgrade to overweight; says news comes as "total surprise"
"Removing asundexian from our model suggests significant challenges ahead for the company's Pharma business," Field writes; does, however, flag there is potential for strategic optionality ahead of Bayer's March 5 capital markets day

Citi, Peter Verdult (buy)

Sees a "double whammy" for the Bayer investment case 
Says trial setback will "also likely raise concerns about Healthcare being able to return to top line revenue growth post Xarelto/Eyelea"
Flags that US rival asset from Bristol-Myers Squibb and Johnson & Johnson is currently in late-stage Phase III trial investigating milvexian and risk of stroke

Morgan Staney analyst Thibault Boutherin (equal-weight)

Says halting main study for asundexian is a "meaningful" negative; asundexian was Bayer's key pipeline drug, and the trial was for main indication
Removing indication from MS's estimate would suggest €2/4% impact to €52/share PT; flags that secondary stroke prevention trial continues, although is a smaller opportunity
In a separate note on Roundup trial, says adverse ruling is an incremental negative, even if the $1.5b in punitive damages to three plaintiffs in the latest trial is reduced
Notes it's the fourth Roundup trial Bayer has lost

Jefferies, Charlie Bentley (buy)

Calls trial halt a "significant blow" to Bayer's pharmaceutical pipeline; news limits firm's factor-XI asundexian program, originally slated to replace key drug Xarelto, which is facing a patent cliff
Setback adds to challenges facing new CEO, others being another glyphosate trial loss, continued drug pipeline weakness and investment needs amid high leverage

Bloomberg Intelligence, Holly Froum (no rating)

Calls asundexian trial failure a "major setback" ahead of Xarelto and Eylea's upcoming patent cliffs; adds that while there is another study for asundexian use in stroke, atrial fibrillation represented a "significant percentage" of sales potential
Loading...