---
Two Million Restaurants Worldwide At Risk Of Collapse 
After several months of a slow recovery in restaurant dining data in the U.S. and across the globe, there is absolutely no evidence of a V-shaped recovery in the food industry and suggests millions of eateries are on the brink of collapse, consulting firm Aaron Allen & Associates told Bloomberg.
"Based on our estimates, we believe up to 10% of all restaurants globally will disappear, with 20% or more also going through a restructuring process," said founder Aaron Allen. "This is a conservative case, in our view." 
Of the roughly 22 million restaurants worldwide, about 2.2 million are expected to shutter operations. Global restaurant traffic data via OpenTable shows little improvement in late June.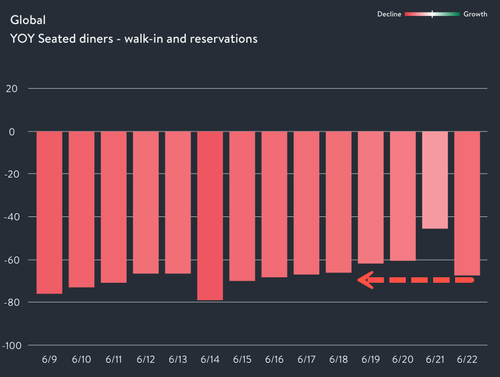 We noted, on Sunday, June 14, after months of slow improvement, restaurant traffic suddenly plunged, sliding from a -66.5% y/y decline as of June 13 to -78.8% globally. The plunge was mostly due to a sharp drop in U.S. restaurant diners, which plunged by 13% - from -65% to -78% - the biggest one day drop since the start of the shutdown in the U.S., and the second biggest one day drop on record.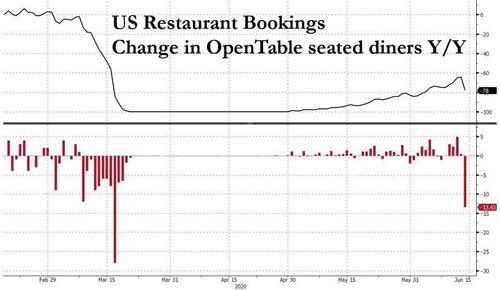 Another sharp drop in U.S. restaurant traffic was noticed on Monday, June 22, due mostly because of the emergence of the second virus wave in some states, Bloomberg reports:
Cases are surging in Texas, Florida, Arizona, and in California, which on Tuesday broke its record for new cases for the fourth day in the past week. Even in New Jersey, where numbers have been falling, Governor Phil Murphy warned that the transmission rate is "beginning to creep up."

Coronavirus cases in the U.S. increased by 35,695 from the same time Monday to 2.33 million, according to data collected by Johns Hopkins University and Bloomberg News. The 1.6% gain was higher than the average daily increase of 1.3% the past seven days. Deaths rose 0.7% to 120,913....
So with the emergence of a second virus wave in the U.S., and, in fact, cases globally are rising, slumping restaurant traffic is going to be disastrous for heavily indebted eateries betting on a reopening.
 Several bankruptcies have already been seen, including Le Pain Quotidien and Garden Fresh Restaurants, the owner of Souplantation and Sweet Tomatoes. Also, TGI Fridays and Cousins Subs have reduced their retail footprint.  
"Weaker businesses are searching for pre-Chapter 11 solutions," said John Gordon, principal at Pacific Management Consulting Group, an eatery consultancy. "There will be many closings, particularly independents."
Allen said the emergence of the virus could supercharge the restaurant bankruptcy wave. 
OpenTable recently warned that 25% of all U.S. restaurants would never reopen. 
For restaurants with the most robust balance sheets - some are finding new ways to survive, from offering substantial discounts to outside seating to curbside pickup to selling groceries. The staff has been reduced to skeleton size, and menus have been significantly trimmed. 
The survival of the fittest has transformed big chains and small restaurants' business models to now offer selling groceries. Panera Bread and Tijuana Flats, for example, are now offering meat by the pound, milk, and veggies to customers. 
"We can almost live in between this space between meal kits and online grocery delivery," New York-based chain Just Salad's CEO Nick Kenner said. He estimates groceries could be a quarter of sales this year. 
Pacific Management's Gordon said a recovery in restaurants could be seen in 2022. 
"On the whole, most quick-service restaurant brands are in fair shape, while some fast-casual and casual dining brands are still struggling," he said. "Fine dining brands need business travel to resume before they see traffic recovery."
With 15.6 million workers employed in the US restaraunt industry, and tens of millions worldwide, the current state of the restaraunt industry does not suggest a V-shaped economic recovery narrative for this year.