---
Uber And Lyft Now Face Driver Shortages, Biden Unveils More Anti-Business, 'Gig Worker' Regulatory Threats
Update (0915ET): The Biden administration has canceled a signature Trump-era rule that would've eased businesses' ability to legally consider workers as independent contractors.
The U.S. Labor Department said the rollback was necessary to broadly extend wage protections while cracking down on employer abuses.
A final rule, issued Wednesday, rescinded the pro-business regulation without replacing it with a new interpretation of when workers can function as independent contractors and when they must be classified as employees under federal law, who are entitled to minimum wage and overtime pay.
For some reason the shares of Uber and Lyft are up on this anti-business move...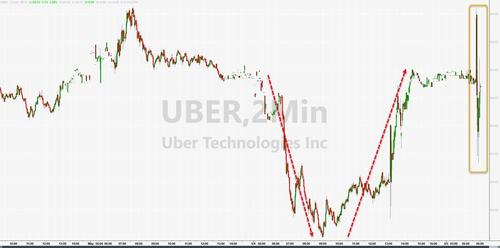 *  *  *
In addition to dealing with potential looming regulation nationwide that could turn "contractors" into "employees" - essentially eviscerating their entire business models - Uber and Lyft are also in the midst of dealing with a nationwide shortage in drivers. 
"A lot of gig workers should be classified as employees," U.S. Labor Secretary Marty Walsh said last week, according to Reuters. This added to President Joe Biden's campaign promises of making sure that gig workers received benefits. 
The comments cause shares of Uber and Lyft to temporarily plunge, with both names falling between 8% and 12%, before recovering. 
In addition to the looming threat to their business models, the companies are also having trouble serving the increased demand. Reuters notes that "many U.S. drivers still unwilling to return to the road over safety and financial concerns, meaning the companies risk disgruntled customers or higher costs to incentivize drivers to return."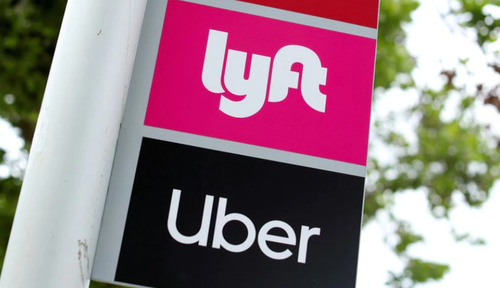 Bernstein said in a recent note: "(It's) a better problem to have, but one that could put wrinkles in profitability timelines it if persists."
Lyft reported earnings on Tuesday after the bell, showing signs of a continued pandemic recovery and beating top and bottom line expectations, according to CNBC. Uber is expected to report earnings on Wednesday after the bell. The consensus EPS estimate for Uber heading into Wednesday is -$0.35 and revenue is expected to come in at $3.28 billion.
"We continue to believe there is still significant pent-up demand for mobility that will take time to play out," Lyft CEO Logan Green said on the company's conference call.
If they can find the drivers...