---
Uber, Lyft Shift Into Gear As California Court Rules Gig Workers Are Contractors
Shares of Uber Technologies Inc. and Lyft Inc. traded higher today following the decision of a California appeals court to uphold the law that categorizes gig workers as independent contractors rather than employees. 
The 132-page decision, released on Monday evening, struck down a lower-court ruling that found Proposition 22, the state measure that lets companies classify workers as independent contractors, violated California's constitution.
This means the so-called gig economy business model is preserved for now. 
Gig economy companies spent a whopping $200 million convincing drivers that Prop. 22 would provide them with more flexibility and some benefits. 
"Across the state, drivers and couriers have said they are happy with Prop. 22, which affords them new benefits while preserving the unique flexibility of app-based work," Tony West, Uber's chief legal officer, told Bloomberg.

"We're pleased that the court respected the will of the people, and that Prop. 22 will remain in force," West said. 
Uber and Lyft shares were both up over 5% in the pre-market after the three-judge panel of the state appeals court ruled in favor of the companies, but LYFT gave back most of those gains as the day wore on with UBER outperforming.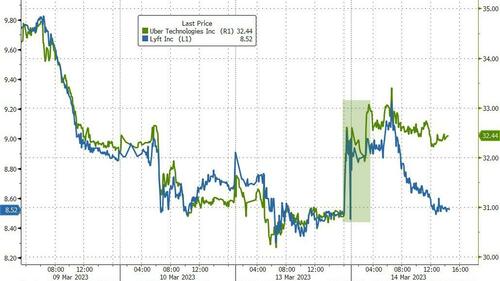 According to Jefferies analysts, Lyft, DoorDash, and Uber have managed to evade a potential impact of $20 million to $170 million on their 2024 core earnings.
"The ruling clears the path for Uber's continued stock outperformance," Jefferies analyst John Colantuoni wrote.
The analysts anticipate that the decision will likely face a challenge in the California Supreme Court.
Loading...