---
UBS Brings Back Ex-CEO To Lead Credit Suisse Takeover
In a surprise announcement, UBS Group AG revealed that its previous head, Sergio Ermotti, will reassume the role of CEO next week to supervise the historic acquisition of Credit Suisse Group AG.
Ermotti, who previously ran UBS for nine years, will start on April 5 after the bank's annual meeting. He will succeed Ralph Hamers, who has agreed to step down. 
"The Board took the decision in light of the new challenges and priorities facing UBS after the announcement of the acquisition," UBS said. 
Sergio Ermotti
The $3.2 billion acquisition of Credit Suisse by UBS, which occurred during an intense weekend earlier this month with the aid of the Swiss government to avert a broader bank crisis, unites the largest Swiss banks, essentially forming a megabank.
UBS shares in Zurich jumped as much as 3% at the start of the session on Wednesday, trading at about 1.5% as of early afternoon.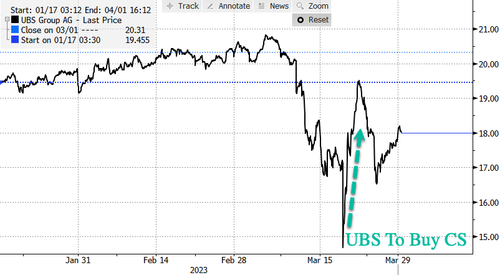 A brief overview of Ermotti's background: He was in charge of UBS from 2011 until February 2020, playing a pivotal role in the bank's resurgence after the 2008 financial crisis. Ermotti is credited with restrategizing the bank's core focus to less risky businesses, including scaling down investment bank operations while boosting its wealth management unit.
Colm Kelleher, UBS's chairman, said in a statement:
"With his unique experience, I am very confident that Sergio will deliver the successful integration that is so essential for both banks' clients, employees, and investors, and for Switzerland."
Once Ermotti assumes control next week of the biggest banks in Switzerland, he will likely begin by winding down Credit Suisse's investment banking operations and implementing extensive layoffs in overlapping divisions. 
Loading...