---
Ugly, Tailing 10Y Auction Sees Slumping Foreign Demand
After yesterday's strong 3Y auction, moments ago the Treasury sold 10 Year paper in a 9-Year 11-Month reopening of Cusip AE1, which unlike most recent sales was not the biggest amount offered on record, and instead at $35 billion was down $3 billion from last month's $38 billion.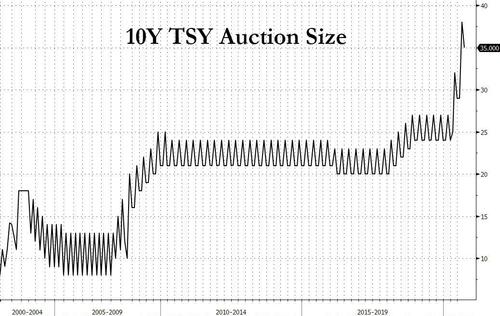 That's not the only difference from yesterday's record 3Y auction, because while demand for Tuesday's sale was superb, today's auction was mediocre at best. Pricing at a high yield of 0.704%, this was not only well above last month's 0.677% (and a ways away from the 0.6530% in July), but also tailed the When Issued 0.696% by 0.8bps.
Continuing the ugly metrics, the bid to cover slumped from 2.41 to to 2.30, the lowest since June and below the 6-auction average of 2.41.
The internals were just as ugly, with Indirects sliding from 65.4% to 58.3%, yet Direct demand jumped from 19.8% to 27.1%, the highest since June, leaving Dealers holdings14.6% of the auction, the lowest since June.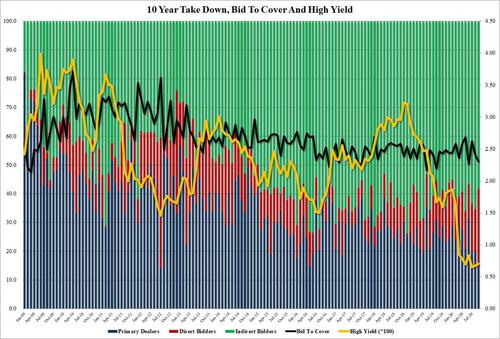 Overall, an ugly auction and the bond market clearly agrees, with 10Y yields jumping to session highs in kneejerk response to the auction results.