---
CDC Says "No Evidence" UK COVID Mutation Is Deadlier, Or More Severe: Live Updates
Summary:
SC Gov McMaster quaratines after COVID tests positive.
CDC says 'no evidence' new COVID strain causes 'increased risk of death'
Dr. Fauci vaccinated with Moderna jab
France allows truckers from UK with negative COVID test
US 7-day deaths average
* * *
Update (1300ET): Canada just followed in the steps of the CDC, as its chief drug regulator warned that it's "too soon" to say whether the new mutation will impact Canada in a serious way, following a similar remark earlier in the day.
Now, despite the EU's practically non-stop warnings, anxiety about the new variation is growing intensely.
* * *
Update (1145ET): As the world continues to panic about the new COVID mutation discovered in southern England (while others wonder about the 'hard evidence', of which there appears to be none), the CDC has officially weighed in for the first time, with the agency stating that there's "no evidence" the variation causes more severe illness, or in any way increases the risk of death.
The variant, which is knownby the name "B.1.1.7." also has yet to be identified by scientists in the US, though former FDA chief Scott Gottlieb said during an interview earlier that the new strain has almost certainly already made its way here.
Here's the rest of the executive summary:
A new variant strain of SARS-CoV-2 that contains a series of mutations has been described in the United Kingdom (UK) and become highly prevalent in London and southeast England. Based on these mutations, this variant strain has been predicted to potentially be more rapidly transmissible than other circulating strains of SARS-CoV-2. Although a variant may predominate in a geographic area, that fact alone does not mean that the variant is more infectious. Scientists are working to learn more about this variant to better understand how easily it might be transmitted and whether currently authorized vaccines will protect people against it. At this time, there is no evidence that this variant causes more severe illness or increased risk of death. Information regarding the virologic, epidemiologic, and clinical characteristics of the variant are rapidly emerging. CDC, in collaboration with other public health agencies, is monitoring the situation closely. CDC will communicate new information as it becomes available.
The CDC also clarified some basic facts about the mutated variant discovered in South Africa, which has been reported to be the same as the strain found in southern England, was actually formed by a completely separate series of mutations, not migration from the UK to SA.
In other news from a slow pre-holiday Tuesday: Dr. Fauci has just received the Moderna jab. Live on TV.
Dr. Anthony Fauci gives a thumbs up as he receives the Moderna vaccine, saying feels "extreme confidence in the safety and the efficacy of this vaccine" and encourages "everyone who has the opportunity to get vaccinated." https://t.co/u4XHEtO9Dc pic.twitter.com/KAFwgbHxV4

— ABC News (@ABC) December 22, 2020
* * *
Boris Johnson managed to keep his promise to the British people, and on Tuesday morning, the French lifted restrictions on British travelers and truckers - with one important catch: to cross into France, truckers and travelers must provide a recent negative test for COVID-19 taken during the last three days.
The US, meanwhile, is reportedly considering whether to impose travel restrictions, though we suspect these leaked reports are merely a response to Gov. Cuomo's demands that all British travelers arriving at JFK be tested for COVID.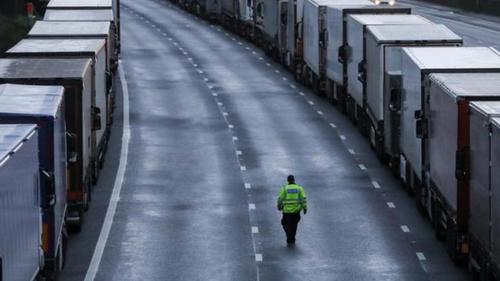 In other news during what many are hoping will be a quiet, holiday-shortened week in the US, we have some major news out of Taiwan, which has just recorded its first case of COVID-19 in more than eight months, ending the world's longest-stretch without a domestic infection. Late last month, Vietnam snapped a nearly 3-month streak. Both countries have been models for the international community, as other countries in the region - including Thailand, South Korea and Australia - have been unable to keep a lid on outbreaks.
As the world continues to worry about the mutated virus purportedly discovered in southern England and a few other areas around the globe, the EU has called on all its member states to at least reopen freight links with the UK.
Hospitalizations continued to climb across the US, while the number of new cases reported has declined for a second day.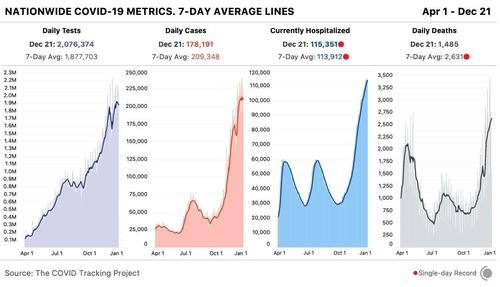 But deaths nationwide are reaching new record daily tallies, with the 7-day average at a record 2.6K.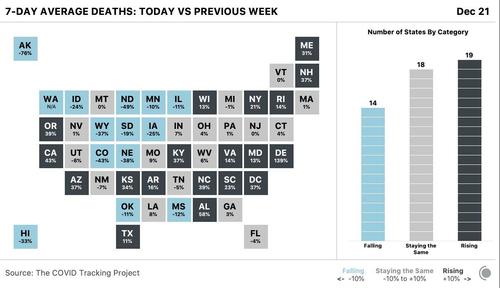 For months, scientists have been warning that the virus hasn't seen any notable mutations. But in yet another example of how our understanding of the vaccine can change at the drop of a hat, the world is now panicking about a mutation found in southern England and a handful of other places, which scientists fear could be as much as 70% more infectious than the 'original' COVID-19.
Elsewhere in Europe, the Netherlands has just joined Stockholm in placing all non-urgent health care on hold to allow hospitals to better care for the crush of Covid patients, as some are even being transferred to neighboring Germany. Speaking of Germany, Robert Koch Institute President Lothar Wieler said that while the variant hasn't yet been identified in Europe's biggest economy, it's only a matter of time. The country has already banned travelers from England and Northern Ireland, as well as South Africa.
"I would estimate that the likelihood that it's already in Germany but not yet detected is very, very high," Wieler said.
Here's some more COVID news from overnigth and Tuesday morning:
Switzerland is trying to locate about 10,000 Britons who entered the country after Dec. 14 and must now quarantine for 10 days after the Alpine nation blocked borders for tourists coming from the U.K., according to Swiss newspaper Tages Anzeiger. The government will use passenger logs for about 92 flights to track down the visitors, many of whom traveled to ski resorts in southwestern Switzerland.
Hungary registered 1,238 new infections, the lowest daily tally in two months, according to official data released Tuesday. The number of deaths remained near record highs at 180, and infection figures have often been skewed by a low rate of testing.
Ireland is expected to close pubs and restaurants from Dec. 24 in an effort to contain the spread of the coronavirus, state broadcaster RTE reported.
* * *
FiFBU NUnally, BioNTech's CEO said Monday evening that it is pursuing all its options to produce more vaccine doses than the 1.3BN the companies had promised to produce next year.