---
HSBC Pays £1 For Silicon Valley Bank's UK Unit In Rescue Deal 
Update (0752ET):
Banking regulators in the Western world are taking urgent action to prevent a crisis in 'confidence' from further spreading across regional banks following the collapse of Silicon Valley Bank and Signature Bank. In the US, on Sunday, the Federal Reserve, Treasury, and Federal Deposit Insurance Corporation said all deposits at SVB, including insured and uninsured, would be fully paid. 
Across the Atlantic, UK regulators rushed a deal with HSBC UK Bank plc to take over the UK arm of SVB to restore confidence in the banking sector. 
HSBC acquired SVB UK for the nominal sum of £1 (equivalent to $1.21 at current exchange rates). The transaction has been completed with immediate effect, and funding will be sourced from HSBC's existing resources.
The acquisition means SVB UK "can continue to bank as usual, safe in the knowledge that their deposits are backed by the strength, safety, and security of HSBC," CEO of HSBC Group Noel Quinn stated. 
According to an email response received by Decrypt, the UK finance ministry said, "customers of SVB UK will be able to access their deposits and banking services as normal from today," while the UK's Chancellor of the Exchequer Jeremy Hunt ensured in a tweet that deposits are 'safe.' 
This morning, the Government and the Bank of England facilitated a private sale of Silicon Valley Bank UK to HSBC

Deposits will be protected, with no taxpayer support

I said yesterday that we would look after our tech sector, and we have worked urgently to deliver that promise

— Jeremy Hunt (@Jeremy_Hunt) March 13, 2023
Shore Capital analyst Gary Greenwood wrote in a note to clients that the regulator's move to quickly find a buyer for SVB UK is a "good solution for all." 
Hunt's office told Decrypt:
"The UK's tech sector is genuinely world-leading and of huge importance to the British economy, supporting hundreds of thousands of jobs. I said yesterday that we would look after our tech sector, and we have worked urgently to deliver on that promise and find a solution that will provide SVB UK's customers with confidence."
Some folks are increasingly worried that the measures being implemented by Western regulators may not be adequate to address the banking crisis. They fear that this moment could signify the beginning of a much larger problem of confidence across the banking industry, which might ultimately result in more bank failures. 
ETA until market realizes $25BN is nowhere near enough and futs react appropriately?

— zerohedge (@zerohedge) March 12, 2023
*    *    *
Authored by Alexander Zhang via The Epoch Times,
There is a "serious risk" to the UK's technology and life sciences sectors from the collapse of the UK branch of the California-based Silicon Valley Bank, Chancellor Jeremy Hunt has warned.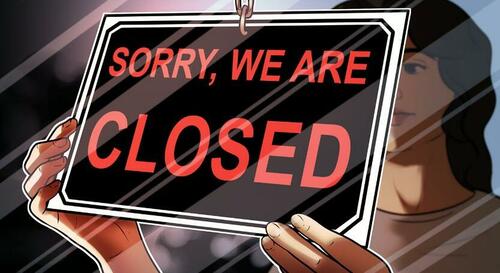 U.S. federal banking regulators on March 10 assumed control of Silicon Valley Bank (SVB), a top lender for American tech and life sciences firms and start-ups.
The collapse of SVB, the 16th biggest bank in the United States, is the largest bank failure since Washington Mutual in 2008, during the last major bank crisis.
The Bank of England (BoE), the UK's central bank, announced on March 11 that Silicon Valley Bank UK (SVBUK) is also set to enter insolvency.
The company will stop making payments and accepting deposits, said the BoE.
Talking to Sky News on Sunday, Hunt said the collapse poses "no systemic risk" to Britain's financial system.
But he said, "There is a serious risk to our technology and life sciences sectors, many of whom bank with this bank."
Chancellor of the Exchequer Jeremy Hunt (right), with Energy Secretary Grant Shapps, speaking at a meeting of senior leaders from across UK green industries at Queen Elizabeth Olympic Park, east London, on Feb. 21, 2023. (Stefan Rousseau/PA Media)
'Significant Impact'
In a statement on Sunday morning, the Treasury said it was treating the issue "as a high priority."
"The government and the Bank understand the level of concern that this raises for customers of Silicon Valley Bank UK, and especially how it may impact on cash flow positions in the short term," the statement said.
It added that the government recognises SVBUK's failure "could have a significant impact on the liquidity of the tech ecosystem."
While Silicon Valley Bank has a limited presence in the UK and does not perform functions critical to the financial system, the Coalition for a Digital Economy (Coadec) warned that its collapse could have a significant impact on tech start-ups.
Coadec executive director Dom Hallas said on Saturday:
"We know that there are a large number of start-ups and investors in the ecosystem who have significant exposure to SVBUK and will be very concerned.

"We have been engaging with the UK government, including Treasury and Number 10, about the potential impact and I know that work has been going on overnight on policy options."
'Everything We Can'
The chancellor said the government and the Bank of England will do "everything we can" to protect the firms that stand to lose millions from the collapse of SVBUK.
"The prime minister and I and the governor of the Bank of England are absolutely determined to do everything we can to protect the future of these very, very important companies," he told Sky News.

"We will come forward with a solution that helps those very, very important companies with things like payroll and their cash flow requirements, but we also want to put in place a longer-term solution so that their futures are secure."
Asked if that could mean stepping in with taxpayers' money, he said he did not "want to go into what the solution is."
Hunt also declined to say whether the government will guarantee all the deposits of the companies in the collapsed bank.
He told the BBC:
"We want to find a way that minimises or, if we possibly can, avoids all losses to those incredibly promising companies. What we will do is bring forward very quickly a plan to make sure that they can meet their operational cash flow requirements."
Labour Calls for 'Specific Plans'
The main opposition Labour Party has accused the Conservative government of lacking "urgency" in its handling of the collapse of SVBUK.
Labour's shadow chancellor Rachel Reeves urged the government to offer more than "warm words" to the affected companies.
She told Sky News on Sunday:
"I am slightly concerned about the urgency that you heard from the chancellor there, because when markets open tomorrow morning, a lot of businesses in the UK are not going to be clear about how they can pay the wages of their staff and whether their deposits with Silicon Valley Bank and their financing arrangements are still in place.

"So, I would urge the government to do more than offer warm words, but come forward with specific plans."
Talking to the BBC, Reeves said the British start-up industry must not "pay the price" for the failure of the bank.
She said: "We need tomorrow morning to hear from the government how they are going to protect them."
"We cannot let the British start-up community pay the price for this bank failure, because it will be the British economy then that ultimately pays the price," she added.
Loading...