---
Ukraine Sparks Market Mayhem As Traders See Fed Panic Ahead, Price-In Rate-Cuts Next Year
Clown market exposed once again...
Ukrainian leader Volodymyr Zelenskiy spooked markets with what turned out to be a sarcastic comment about the rest of the world predicting a date for a Russian attack, which he said should be a day of unity instead.
BREAKING: THE SIMPSONS TO HIRE ZELENSKY AS KRUSTY THE CLOWN REPLACEMENT pic.twitter.com/r9HsTIjKuB

— Newsquawk (@Newsquawk) February 14, 2022
Earlier in the day, St.Louis Fed's Jim Bullard was on CNBC for what many expected to be a mea culpa walkback of his hawkish comments. Instead he doubled down on the need for accelerating, front-loading rate-hikes and QT and warned "The Fed's credibility is on the line."
That sent the odds of a 50bps hike in March jumping higher...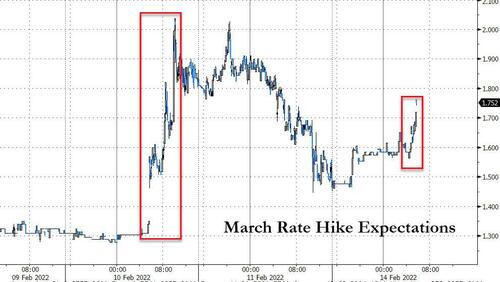 Source: Bloomberg
But, the market is now predicting The Fed's tightening cycle will be swift, aggressive, and over very quickly.
At the same time as rate-hike odds this year soar, the forward-OIS curve is increasingly inverted, pricing in a rate-cut next year...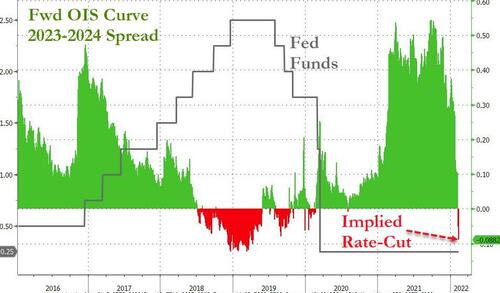 Source: Bloomberg
In fact, as Bloomberg's Ed Bolingbroke notes, in the eurodollar futures markets, the spread between the December 2023 and December 2025 contracts has dropped further into negative territory on Monday - implying a near-25 basis point cut in the federal funds benchmark over this 24-month timeframe.
Which makes sense given that the forward Treasury curve implies a 2s30s inversion one year out, signaling recessionary fears being priced in...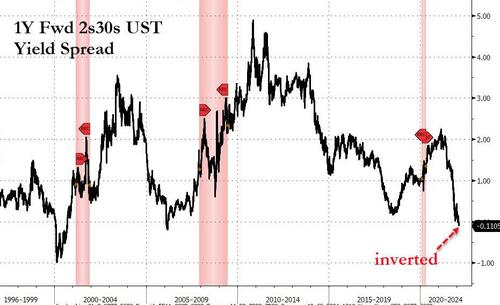 Source: Bloomberg
Stocks were a shitshow of vertical buying and selling panics. Mounting tension overnight sent futures down hard, then they ripped higher on Lavrov's "diplomatic" comments. Stocks dumped after Bullard's hawkish comments, then were bid into the European close. Then Zelenskiy joked about Putin invading on Wednesday and stocks puked again, only to rebound when it was made clear he was being ironic, leaving Nasdaq around unchanged and the red of the majors in the red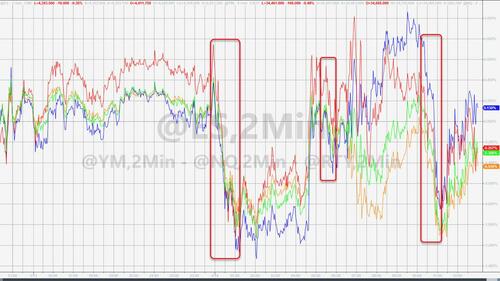 VIX continues to play catch-up to credit's anxiety...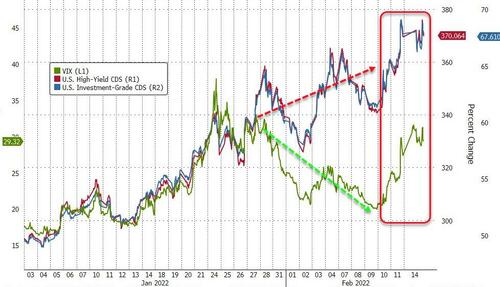 Source: Bloomberg
Bonds were just as choppy, triggered one way by Bullard and the other by Zelenskiy and so on wit the short-end underperforming on the day (2Y +8bps, 30Y+5bps). 10Y tested 2,00% but could not hold it...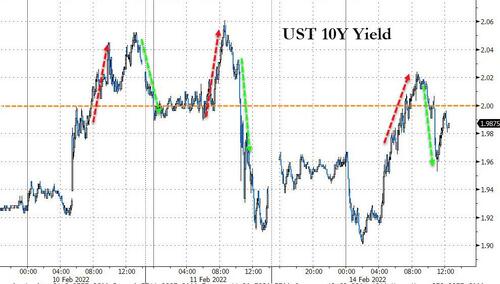 Source: Bloomberg
The yield curve flattened on the day though, building momentum towards an implied Fed policy error...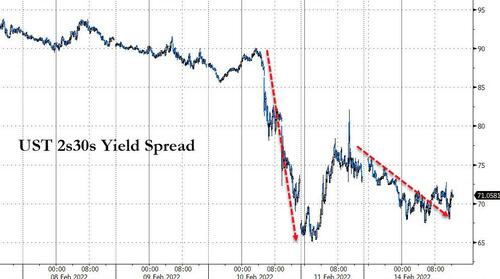 Source: Bloomberg
The dollar rallied back to 2-week highs, just above the pre-FOMC levels...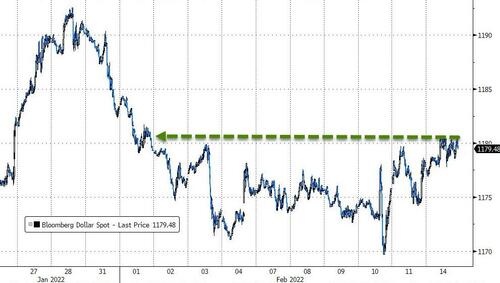 Source: Bloomberg
Notably the dollar broke back above its 50DMA...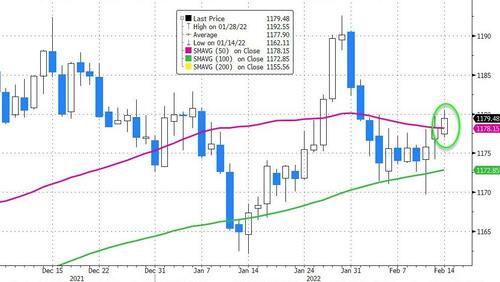 Source: Bloomberg
Bitcoin has traded in a relatively narrow range for the last three days, pumping-and-dumping each day and finding support at $42k...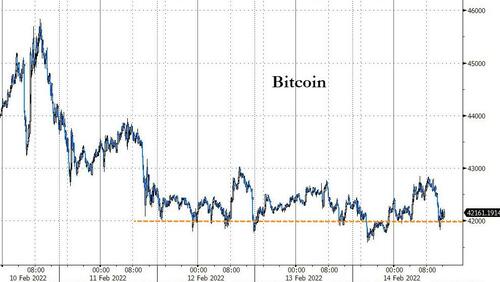 Source: Bloomberg
Notably, Bitcoin is finding support (in a downtrend) at its 50DMA...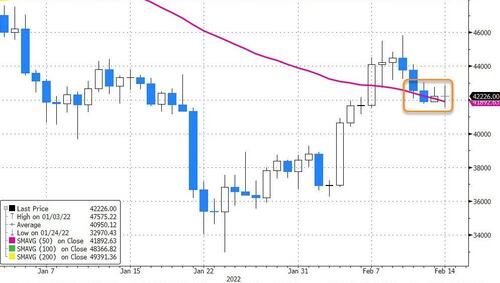 Source: Bloomberg
Gold ripped back up to $1875 - 3 month highs...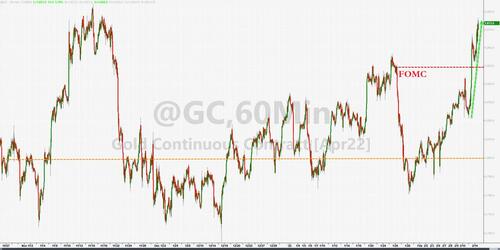 Oil dumped and pumped on every headline of tensions easing and escalating...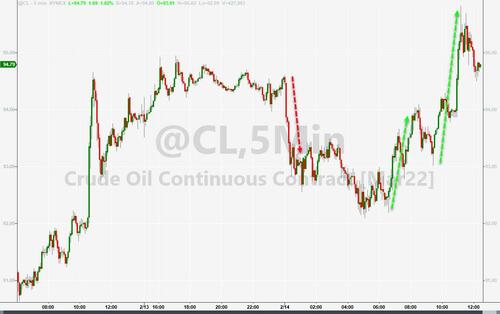 But we're still waiting for that imminent invasion...
In Ukraine, waiting for the Russian invasion pic.twitter.com/BvN8jkLUBT

— Sharmine Narwani (@snarwani) February 14, 2022
Finally, something odd happened in the gold/bond futures markets today.
A major spike in TY futs volume around 1130ET marked the lows in gold futures. Then a major spike in gold futures around 1330ET market the highs of the day in TY futs...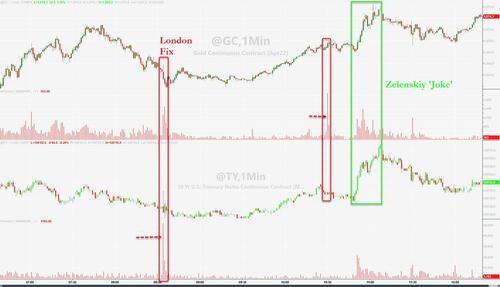 No idea what's going on there, but we will leave you this champion (in more ways than one!)...
And remember the last the Rams (St.Louis) won the Super Bowl?