---
Ukrainian Kamikaze Drones Blow Up Crimean Fuel Depot, 'Answering' Yesterday's Air Strikes
The day after Russia mounted large-scale airstrikes and cruise missile attacks on cities across Ukraine, drones penetrated Crimea air defenses on Saturday and blew up a fuel depot in the peninsula's main port of Sevastopol. 
Home to Russia's Black Sea Fleet, the port city has throughout the war come under sporadic long-distance drone attacks from Ukraine, also as President Zelensky has continued to promised its "liberation".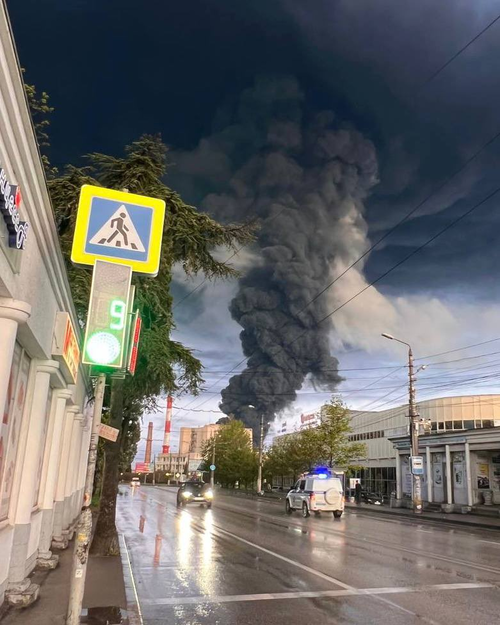 Throughout much of Saturday a huge fire raged in the Kazachya Bay district of the city, with governor of Sevastopol Mikhail Razvozhayev first announcing on Telegram that "according to preliminary information, it was caused by a drone strike."
He also confirmed the fire's very large size, at "around 1,000 square meters" - as social media images and footage circulate showing a massive fireball and smoke cloud. 
"There is no threat to civilian infrastructure," he said of the attack which resulted in no fatalities or injuries. Later in the day the fire was reported to be under control and contained by emergency responders.
A video after 2 hours since the explosions atbthe oil terminal in Kozacha bay pic.twitter.com/J7hdIEf6dK

— Giorgi Revishvili (@revishvilig) April 29, 2023
According to more from Russian state media, "The governor also revealed that the oil storage had been targeted by at least two unmanned aircraft, the first of which was shot down by the depot's guards." And further, "The second one, however, made it through, causing the massive fire."
Ukrainian UAVs have of late also been making it deep into Russia-proper, with a drone on Monday being found crashed in a forest outside of Moscow.
Ukrainian forces are trying to make life uncomfortable for Russian leadership, given the recent rumors of "assassination" attempts using drones. 
BREAKING: Massive smoke spotted from miles away after an oil storage facility in the city of Sevastopol in Crimea was targeted in a drone attack pic.twitter.com/tDM3kt06Xu

— Insider Paper (@TheInsiderPaper) April 29, 2023
Last month President Putin himself visited Crimea for ceremonies marking the the ninth anniversary of its annexation from Ukraine through the 'popular referendum' held by authorities there, which resulted in an overwhelming vote to join the Russian Federation. 
Loading...