---
Unilever Reveals "Shocking" Margin Outlook Blamed On Soaring Commodity Costs
Global investors are on the edge of their seats this morning ahead of the inflation data from the US. The print could show January accelerated .4%, for a 7.2% increase from one year ago, which would be one of the highest inflation readings in four decades. This reading would imply tighter monetary policy from the Federal Reserve.
Ahead of US inflation data, European investors were "shocked" by Unilever Plc's awful margin outlook due to soaring inflation costs. It appears 4Q21 sales were better than expected, but that's not what investors focused on, as it became apparent the market concentrated on margin compression, eroding the benefits of faster growth. 
Diving into the earnings report, the British multinational consumer goods company that makes food, condiments, ice cream, wellbeing vitamins, minerals, and supplements, among many other things, expects raw material costs to increase by $2.3 billion. The company said its operating margin will shrink by 2.4 percentage points in 2022, adding it doesn't expect margin recovery until 2023 and complete recovery by 2024.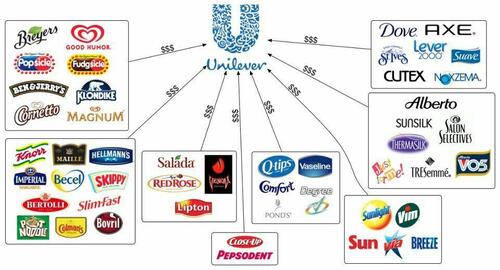 Chief Financial Officer Graeme Pitkethly told investors that Unilever is passing along costs to consumers, with pricing last quarter at the highest in a decade. He blamed soaring commodity costs. 
Pitkethly said the rapid increase of crude oil, palm oil, soybean oil, and other commodities used to produce consumer goods are some of the leading causes of rising costs. "This hasn't happened in well over a decade, if ever," he warned. 
None of this is shocking as Goldman's head commodity strategist and one of the closest-followed analysts on Wall Street, Jeff Currie, said earlier this week he's never seen commodity markets pricing in the shortages they are right now.
"I've been doing this 30 years and I've never seen markets like this," Currie told Bloomberg TV in an interview on Monday. "This is a molecule crisis. We're out of everything, I don't care if it's oil, gas, coal, copper, aluminum, you name it we're out of it."
European equity strategist at Bank of America Milla Savova warned about intensifying pressure on margins for European companies. She explained the earnings-per-share beats relative to sales beats in the last quarter were the lowest level since the firm began tracking in 2012, "pointing to increased margin pressure."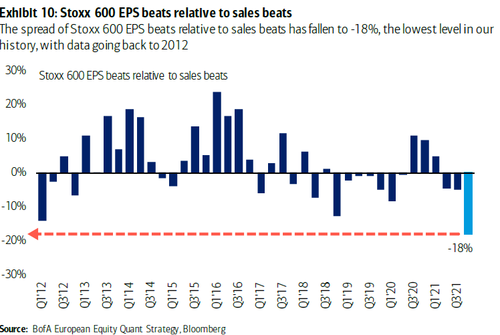 It appears Unilever Plc today was the latest victim of this trend. Here's what other analysts are saying about the consumer goods company (courtesy of Bloomberg):
Barclays, Warren Ackerman (equal-weight):
The margin guidance will probably drive sizeable consensus EPS downgrades and some will see this as a "clearing event" ahead of what activist Nelson Peltz may have been planning to say 
Although the company predicts the restoration of margins in 2022 and 2023, the timing between 2022 and 2023 will be in focus 
The buyback program and the ruling out of major acquisitions are among the positives from Thursday's update 
Bernstein, Bruno Monteyne (underperform):
The margin reset raises more questions than answers, such as what this says about the company's pricing power and its long- term future
The organic sales growth guidance might be challenging given the new margin outlook 
Jefferies, Martin Deboo (buy):
The margin guidance is "dramatic" and seems to be because of commodity pressures instead of any "strategic reset," and suggests consensus estimates being lowered by high-single digits
The management team's credibility will come under further pressure 
RBC, James Edwardes Jones (underperform):
RBC had expected margin guidance to be for -30 bps to -40 bps, so the forecast for -140 bps to -240 bps is "quite shocking" 
 Although the sales growth outlook is strong, RBC says the main focus should be on the margin outlook "and the lack of pricing power that it implies"
What's surprising is that Unilever doesn't have pricing power compared to its quality peers because management has been focused on ESG. Unilever's management needs a shake-up, and an activist investor needs to step up to save the company from their "go woke" and now "going broke" trend.