---
Uranium Stocks Surge On Flurry Of Producer Purchases In The Spot Market
Uranium stocks soared on Tuesday following a burst of reports from top producers who are in the market for uranium in the spot market.
It started with Kazatomprom, the world's largest uranium producer, which Bloomberg reported may buy the nuclear fuel in the spot market after a London-based investment company exercised an option to purchase the metal. Yellow Cake Plc, which bets on uranium prices, said on Monday that it had exercised a $100 million purchase option with Kazatomprom. Yellow Cake also said it plans to make additional purchases if it sees value opportunities.
"We will evaluate our inventories and it's possible we will buy material from market" to cover part of our deal obligations, Askar Batyrbayev, chief commercial officer at Kazatomprom, said in interview. The miner's uranium inventory fell by 21% to 6,761 tons last year as production declined, but remained within its target range, it said on Tuesday.
The state-controlled Kazakh miner charged 10% more for its uranium last year as the coronavirus pandemic pushed up prices. As reported previously, both Kazatomprom and Canada's Cameco have also cut output to reducing the global glut that built up following the 2011 Fukushima disaster in Japan.
In a note this morning from GLJ Research founder Gordon L Johnson, he reiterated his bullishness on the sector which is "nearing an inflection point" due to three catalysts. Following up on the Kazatomprom news, he wrote that Yellow Cake also announced the purchase of an additional 440K pounds of U3O8 at a price of $27.34/lb in the spot market. This followed the company's recent acquisition of 3.5 million pounds U3O8 from Kazatomprom. As GLJ explained:
we see this as (very) bullish owing to: (a) the fact that Yellow Cake's price paid was higher than last week's spot price, (b) Yellow Cake is stocking up on physical uranium - for investment purposes - suggesting the company sees the uranium price as near-bottom, (c) this should work to remove concerns of spot market oversupply, and (d) with total inventory at Yellow Cake now at ~13.3mn lbs U3O8, at an average price of ~$24/lb, others may be encouraged to procure U3O8 uranium at current prices out of fear of being undercut buy more opportunistic competitors
Johnson's second catalyst is Denison Mines announcing financing to fund purchase of about 2 million pounds U3O8 uranium around $30/lb shows a large bet for higher prices: "stated differently, we see this as a fairly strong statement demonstrating a large bet for higher prices, while also taking more product off of the market."
The third and final catalyst noted by Johnson is that Denison and NexGen were being added to Canada's benchmark index S&P/TSX, which means that ETF's that track the index will be buying shares of these uranium stocks: "given Cameco (CCO; BUY) is currently the only uranium stock in the S&P/TSX, and our work suggests the direct index buying for NXE, alone, will come in around 16mn shares (i.e., 4% of the 377mn share float), we believe Monday Mar. 22, 2021 could be a great day to be long the global uranium space."
Separately, and also on Tuesday, Uranium Energy Corp (UEC) announced it was establishing a physical uranium inventory to take advantage of spot purchases below most industry production costs, adding additional asset value to the balance sheet. According to the PR, the uranium inventory will provide greater marketing flexibility for utilities, while freeing up UEC's domestic mine production for the U.S. Uranium Reserve, and other U.S. origin specific opportunities. The company said it had entered into agreements totaling $10.9 million to purchase 400,000 pounds of uranium concentrates at ConverDyn in Metropolis, Illinois at a volume weighted average price of $27.29 per pound.
Why does all this matter? Because as GLJ explains, the recent spike of Uranium spot market purchases from a flurry of producers/funds who have all simultaneously entered the spot market at the same time "is the most aggressive buying we've seen since we started following the Uranium sector in 2010. And, as would expected, the Uranium spot price is responding, now up over $29/lb, and +6% since yesterday's open, which is the largest one-day move in spot since Mar. 2020 (Ex. 1)."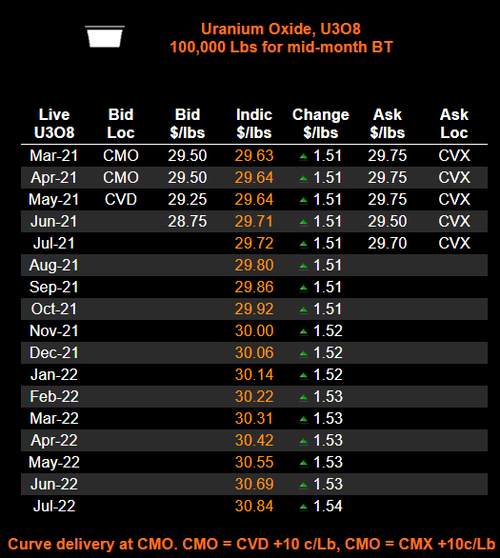 It wasn't just GLJ that noticed the flurry of spot market purchases: in a note from Red Cloud analyst David Talbot, he writes that "uranium miners buying the physical commodity in the spot market, with the expectation of higher prices in the future, is something new in the sector and positive for prices" adding that "we can't recall seeing uranium producers enter the market with such vigor with the intent of holding physical uranium."
The report went on to note that these purchases by experienced uranium miners "show that they have become confident enough to speculate on the expected upwards trajectory of uranium price" and that they are "putting their money where their mouth is."
Following the reports of spot buying as well as the bullish sentiment, uranium stocks surged, with UEC rose as much as 35%, DML CN fell 9.8% intraday; among other peers, NXE CN was up as much as 9.8%, EFR CN +9.1% (before paring most of the gains) and CCJ +5.9%.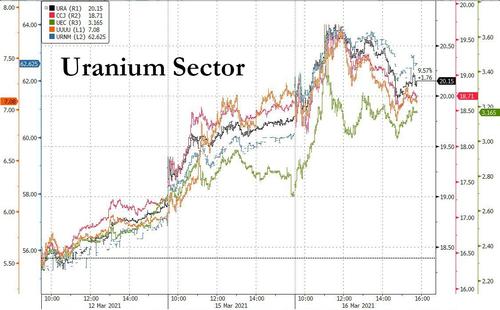 Expect much more upside if indeed the producers now are putting their money where their mouth is and are betting on much higher spot prices in the future.