---
Airlines Beg For Bigger Bailouts Despite 'Optimistic' Headlines On US Air Travel Rebound
About 3.3 million passengers passed through the Transportation Security Administration's (TSA) checkpoints over Labor Day weekend, with 968,673 passengers boarding flights on Sept. 4 and 935,000 on Sept. 7. The late summer bump in air travel resulted in most people flying since March 16, or about a six-month high. 
"Passenger volume on the busiest day of the Labor Day weekend was up 30% from the busiest day of the July 4 holiday weekend," said TSA Administrator David Pekoske, who was quoted by Axios. 
"This is an encouraging trend for the aviation sector as airports, airlines and TSA work together to ensure a secure and safe travel experience for passengers," Pekoske said.
However, CNBC points out, from Memorial Day through Labor Day weekend, TSA agents screened 65 million people, down 76% from the 269 million screened over the same period last year.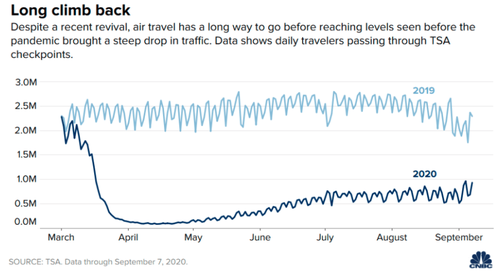 The latest improvement in air travel is a welcoming sign considering the crash in the travel and tourism industry. However, the overall trend in air travel doesn't resemble a "V" shaped recovery. A recovery in the airline industry could take a couple of years. 
American Airlines and United Airlines have recently announced new measures to scale back operations, including laying off thousands of jobs ahead of the presidential election in November.
The threat is clear from the press releases - if the industry doesn't receive another round of cash from the government then further downward pressure would result in additional fleet reductions, new plane cancellations, more layoffs, and or possibly a bankruptcy wave.