---
"Cars Are 2021's Toilet Paper" - US Automakers Report Blowout First Quarter As EV Sales Soar
The major automakers look to finally be back. And this time around, they're selling EVs, too.
What's selling? "Everything," said one Ford dealer.
"The only explanation that I can even muster is that cars are 2021's version of toilet paper in 2020," said Chad Wilson, general manager of Wilson Ford in Saginaw and Midland Ford.

"We are taking a lot of retail orders because we don't have anything (in stock). Normally between our two stores, we'd have 150-180 F-series in stock. I think right now there might be 10. I do think there's an element of fear of missing out."
GM said its U.S. retail deliveries were up 19% in Q1, the company's first number reported against pandemic-impacted comps. The automaker sold 642,250 vehicles in the U.S. in the first quarter of 2021, according to Bloomberg. While retail sales were up 19%, fleet sales were down 35%
The automaker said its truck and full size SUV plants are currently at full capacity and that it's seeking to recover lost car and crossover production in the second half of 2021. 
GM also said it was dealing with the semiconductor shortage by building some models without certain components, stating in its press release: "GM is building some vehicles without certain modules when necessary. They will be completed as soon as more semiconductors become available, which will help GM quickly meet strong expected customer demand during the year. GM also targets recovering lost car and crossover production where possible in the second half of the year."
Toyota sold 603,066 vehicles in the quarter, a 22% rise from Q1 2020, according to IBD. Even more pronounced was the company's numbers for March, which were up 87% against the first month of coronavirus lockdowns in 2020.
Volkswagen also posted blowout comps, as sales rose 21% in Q1 to 90,853 vehicles sold. The company was helped along by robust SUV demand while also selling 474 units of its new ID.4, which only went on sale in the U.S. in late March.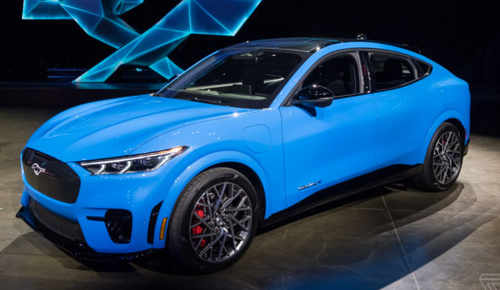 Ford saw its sales rise 1% for the quarter, but sales were up 5% for trucks and 14% for SUVs. Even more notable, however, is the fact that Ford sold 6,613 Mustang Mach-E electric crossovers, up from just 3 sold in Q4. Ford said that "the fully electric Mustang Mach-E turning on dealer lots in just 7 days."
Andrew Frick, vice president, Ford Sales U.S. and Canada, said: "Ford's retail sales exceeded 2020 and 2019 sales levels. Our customers are really embracing our new electrified vehicle lineup. The all-new fully electric Mustang Mach-E and the F-150 PowerBoostHybrid lifted Ford's overall electrified vehicle sales to a record start in the first quarter with sales up 74 percent over a year ago. Our all-new Bronco Sport posted record monthly sales in March and helped power Ford Brand SUVs to their best start in 20 years."
Shoring up the supply chain has become crucial for all automakers heading into 2021. The auto industry, as a whole is rethinking its cost cutting measures in the midst of both the pandemic and the chip shortage, Reuters reported this week. Companies are stockpiling key commodities at higher inventory levels and using software to track the integrity of the supply chains that they order from. 
Richard Barnett, chief marketing officer of Supplyframe, which provides market intelligence to companies across the global electronics sectors, told Reuters: "The whole issue is exposing the brittleness, the fragility of the automotive supply chain. We're trying to dual-source whenever possible critical components."
Ford's chief product platform and operations officer, Hau Thai-Tang, said: "If you're down for 30 days at the F-150 plant, what's the cost to the Ford Motor Co versus paying this insurance to stockpile these chips? That's the way we would think through it."