---
US Bank Deposit Outflows Continue, Small Bank Loans Collapse
As we detailed extensively last week, the big headline from The Fed's H.8 report was the significant divergence between seasonally- and non-seasonally-adjusted commercial bank deposit data (inflows for the former and big outflows for the latter).
Yesterday's continued surge of inflows into money market funds and increased usage of The Fed's bank bailout facilities set the scene for the ugly data from last week's NSA deposits to accelerate.
According to the latest H8 report from The Fed, on a seasonally-adjusted basis, total US Commercial Bank deposits fell by $13.8 billion during the week ended 5/3 - the second straight week...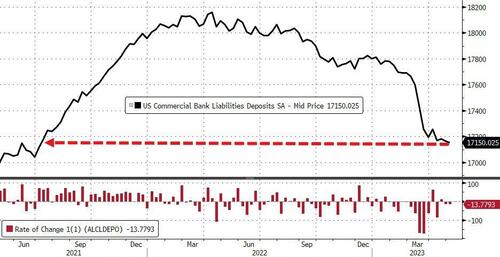 Source: Bloomberg
However, on a seasonally adjusted basis, US commercial bank deposits (ex-large time deposits) decreased $25.4bn last week (during the week-ending 5/3), after rising $10.92 billion the week before. That is the lowest since March 2021...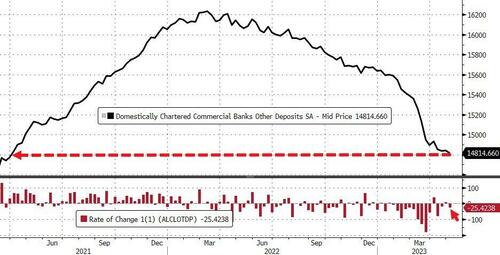 Source: Bloomberg
On a non-seasonally-adjusted basis, US commercial bank deposits (ex-large time deposits) jumped $63.8 billion (the first weekly jump in 4 weeks)...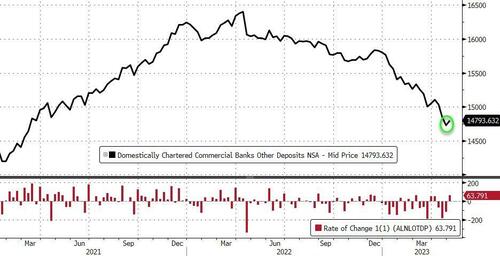 Source: Bloomberg
And judging by yesterday's money market inflows, the deposit outflows continued this week (remember, deposit data is lagged a week to money market and Fed balance sheet data)...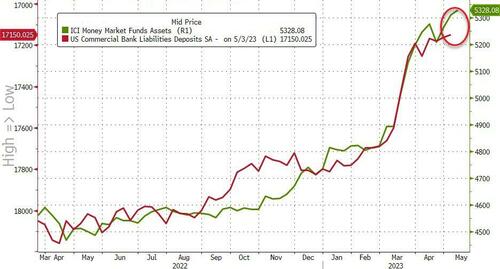 Source: Bloomberg
On a seasonally-adjusted basis, Large and Small banks both saw outflows last week, foreign banks inflows...
Source: Bloomberg
Large banks saw the biggest outflows:
Large Banks -$17.2bn

Small Banks -$8.2bn

Foreign Banks +$4.9bn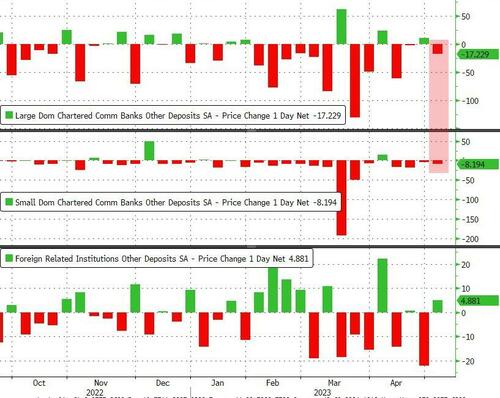 Source: Bloomberg
However, before we move on, it is key to note that there was a literally massive revision to all of these time series this week with around $100 billion of deposits removed from Small Banks and 'adjusted' up to Large Banks...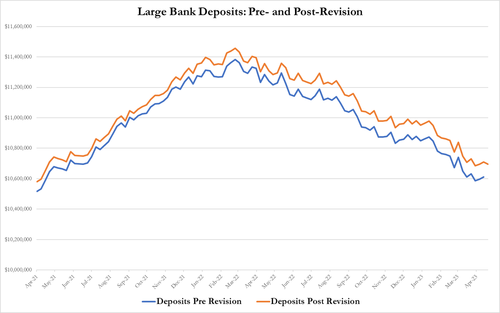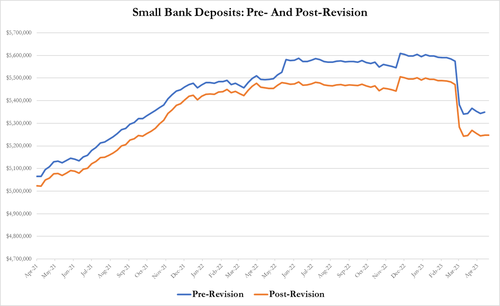 On the other side of the ledger, Commercial bank lending tumbled $15.7 billion in the week ended May 3rd after increasing $41.9 billion the prior week, according to seasonally adjusted data. Small Bank loans fell $13.6bn...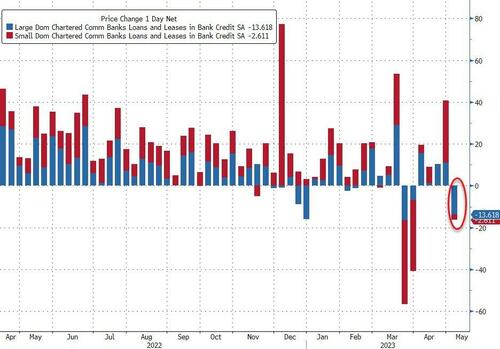 Source: Bloomberg
Finally, in case you still believe the worst is over, regional banks had another ugly week, pushing their relative strength to its weakest on record relative top the S&P 500...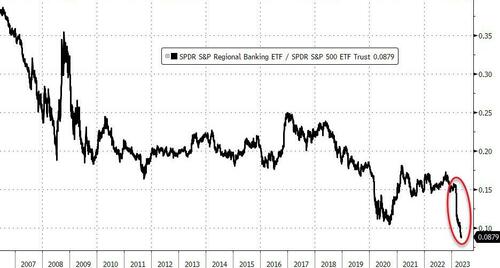 Source: Bloomberg
The good news is that Small Banks moved very modestly further away from the critical 'reserve constraint' line last week...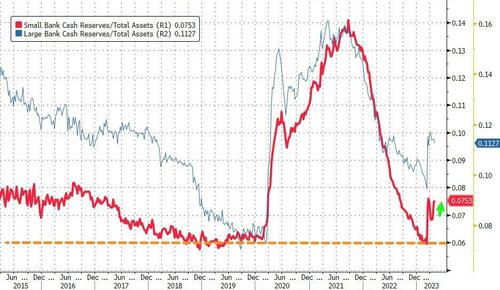 Source: Bloomberg
This data does not include (given the lag) the time period when PACW described losing 10% of its deposits and the size of the revisions make the data questionable at best.
Even The Fed Whisperer knows things aren't good...
If you exclude large time deposits (certificates of deposit over $100,000), deposits have resumed their pre-SVB downward sloping trend

(These figures are seasonally adjusted) pic.twitter.com/KDfa0X6PKu

— Nick Timiraos (@NickTimiraos) May 12, 2023
Finally, while the SA vs NSA data (and all the revisions) makes this is a mess, what sticks out to us is that the last three weeks there are $210.5BN in NSA  bank outflows, while SA the number is am OUTFLOW of only $18.1BN...

So the Fed is claiming there are still about $192BN in tax-payment related deposits expected to return to banks.
And if The Fed is right (which we strongly doubt), US Commercial Bank Residual Equity has never been higher...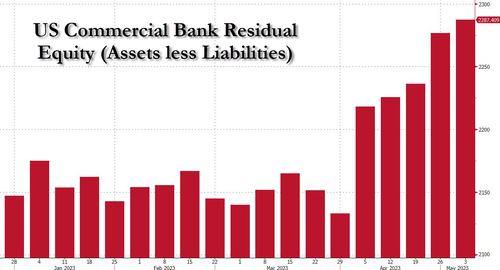 We shall see!
Loading...