---
US Bank 'Jog' Is Back - Deposit Outflows Soar Most Since SVB
The flow of funds continues into retail money-market accounts and banks' usage of The Fed's bank bailout fund remains at record highs (above $100 billion), but tonight we get to see The Fed's latest efforts in obfuscation and seasonal-shenanigans about US banks' deposits and loans.
Seasonally-adjusted, total deposits plunged $78.7 billion last week - the biggest weekly 'run' since March 22nd (right after SVB)...
Source: Bloomberg
And, for a nice change, non-seasonally-adjusted total deposits agreed, with a $90 billion deposit disappearance...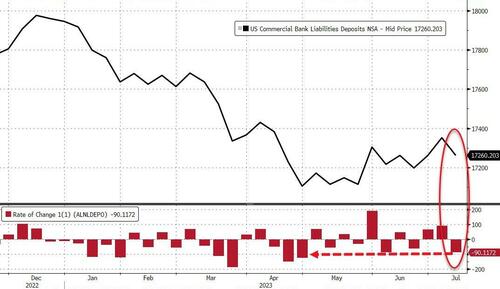 Source: Bloomberg
Which means the divergence between money-market funds and bank deposits starting to close...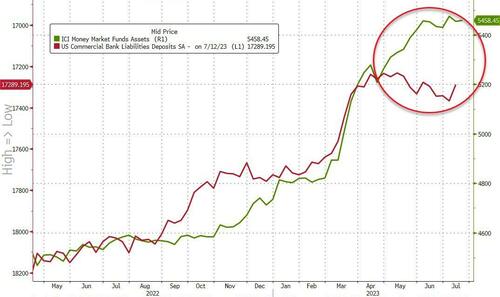 Source: Bloomberg
Large Banks saw a massive $78bn  (SA) deposit outflow last week (the biggest outflow since Oct '22) with Small Banks seeing a small $1.25bn outflow...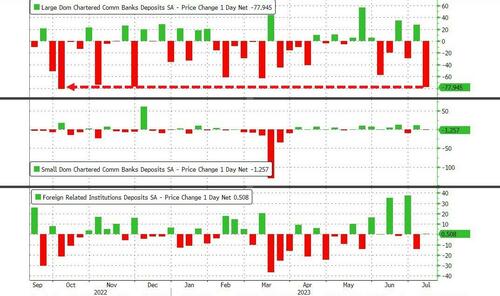 Source: Bloomberg
Non-seasonally-adjusted, large banks saw deposit outflows top $100 billion and Small Banks lost $6.5 billion in deposits...
Source: Bloomberg
So, Domestically, the bank run is back - with significant deposit outflows (on both SA and NSA basis)...
Source: Bloomberg
Interestingly, on the other side of the ledger, the picture was more mixed with Small banks seeing loan volumes shrink marginally by $103mm while Large banks saw loan volumes increase by $4.7bn.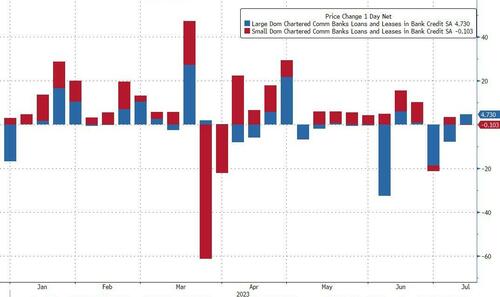 Source: Bloomberg
Will the 'smaller' banks be able to relieve themselves of the $100-billion-plus of BTFP Fed-bailout program borrowing within the next 8 months?
Not if this deposit run continues!
Loading...