---
US Building Permits Collapse In November, Multi-Family Plans Plunge
After the dismal homebuilder sentiment data earlier in the week, it is no surprise that analysts expected a drop in both housing starts and building permits for November (the latest data) and they were right. While Housing Starts fell 0.5% MoM (better than the 1.8% drop expected) - as incentives dominated inventory liquidation, forward-looking building permits collapsed 11.2% MoM (vs -2.1% exp). That is the biggest MoM drop since the peak of the COVID lockdowns...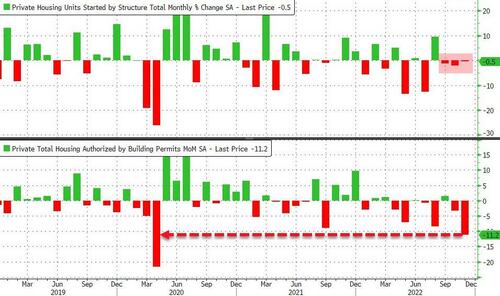 Source: Bloomberg
This leaves the total number of housing starts (SAAR) at the lowest since June 2020 for permits...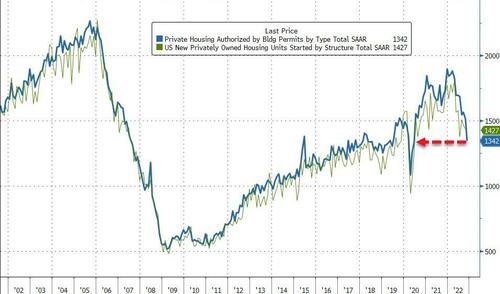 Source: Bloomberg
Housing Permits are down over 22% YoY - the biggest drop since 2009 (with single-family permits -29.7% YoY and multi-family down 10.7%)...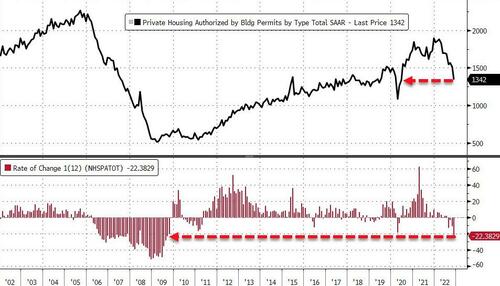 Source: Bloomberg
Under the hood, this is the 9th straight month of single-family housing unit permits declines. But more notably multi-family permits plunged. On the Starts side, signle-family dropped for 8th month of the 9 while multi-family starts managed a small rise MoM...
Source: Bloomberg
Single-Family Permits dropped 7.1% from 841K SAAR to 781K, the lowest since May 2020. Multi-Family permits tumbled 17.9% from 620K to 509K, the lowest since May 2021.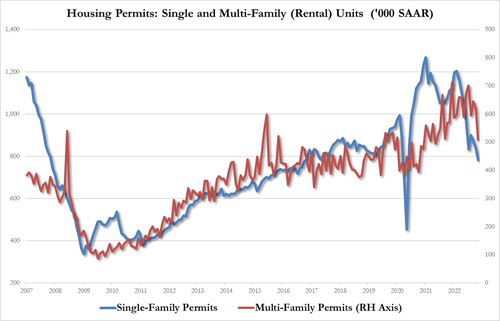 Single-Family starts dropped 4.1% from 863K to 828K SAAR, lowest since May 2020. Multi-Family starts rose 4.8% from 557K to 584K, highest since April 2022.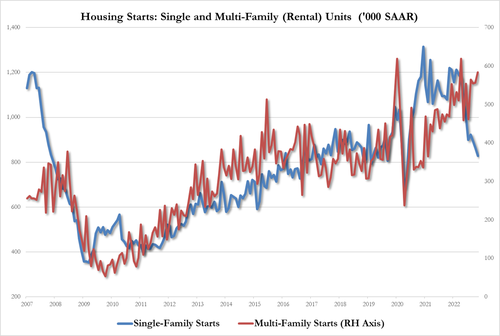 Finally, circling back to the start of this note, we suspect building permits (forward-looking) face significantly more pressure as homebuilder expectations for future sales is at decade lows...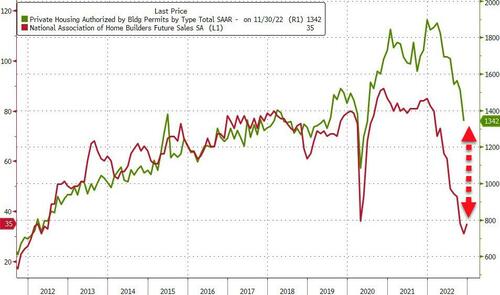 Source: Bloomberg
Is that really what Jay Powell wants?
Loading...