---
US Commercial Bank Deposits & Loans Rose Last Week; Small Bank Depos Up Most In 4 Months
It's late on a Friday afternoon, but there's still more things to worry about as The Fed's H.8 (commercial bank deposit data) just dropped.
US commercial bank deposits (ex-large time deposits) rose (during the week-ending 4/5) - breaking a 10-week streak of outflows, up $37 billion - the biggest deposit inflow since early December...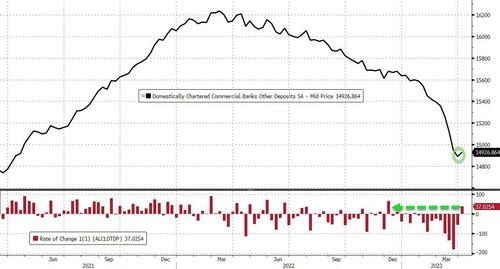 Source: Bloomberg
On a non-seasonally-adjusted basis, we saw a second straight week of deposit inflows (we had seen a surprise $54bn rise in deposits in the prior week and an additional $47.8bn last week)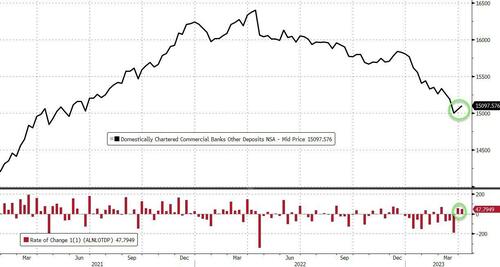 Source: Bloomberg
As a reminder, we noted yesterday the ongoing (but slowing) rise in inflows to money-market funds as a silver lining, suggesting overall deposit outflows may also be slowing. Well in fact, as we noted above, they are now inflows...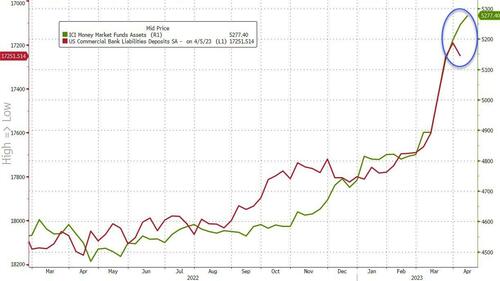 Source: Bloomberg
Large, Small, and Foreign commercial banks all saw deposit inflows (seasonally-adjusted) last week...
Source: Bloomberg
Foreign bank inflows were the largest since July 2021..
Large Banks +$23.55bn

Small Banks +13.47bn

Foreign Banks +22.2bn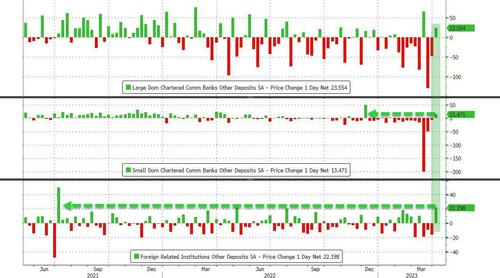 Source: Bloomberg
On the other side of the ledger, commercial bank lending increased $10.2 billion in the week ended April 5, according to seasonally adjusted data from the Federal Reserve out Friday. On an unadjusted basis, loans and leases fell $5.6 billion.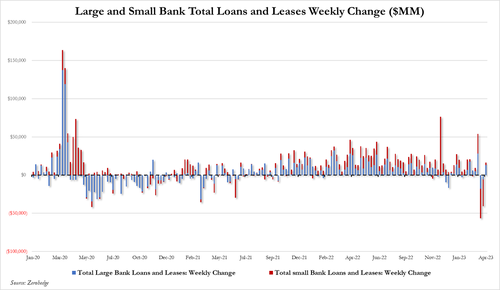 Large banks saw total loans and leases rise $13.2bn...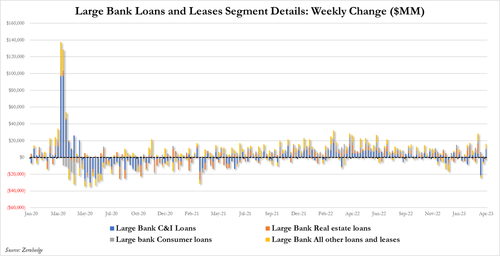 Small banks saw a $3.12bn rise in total loans and leases...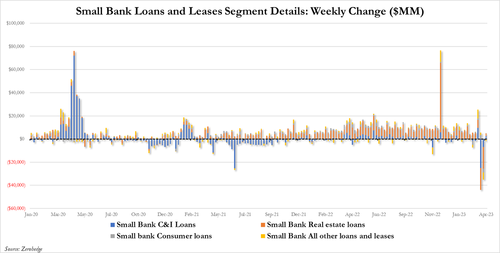 The Fed's 'fill the gap' exercise appears to have worked for now and is unwinding...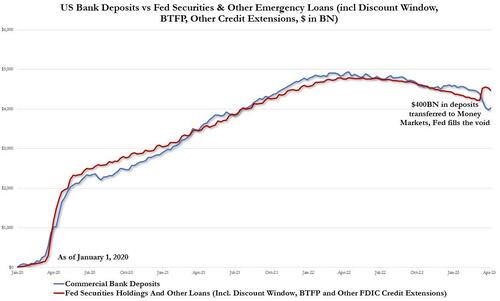 Will this 'good' news breathe life back into regional banks, which just can't bounce even as big banks soared this week...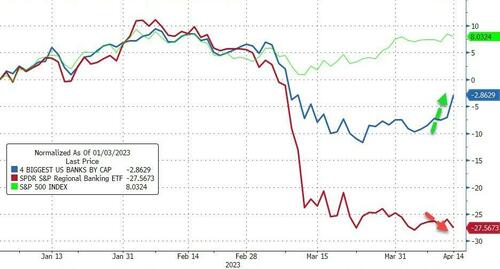 Is this the all-clear for The Fed to re-ignite its hawkish tone - higher for longer?
Loading...