---
In Major Reversal, Texas Gov Makes Mask-Wearing Mandatory: Live Updates
Summary:
Texas Gov makes mask wearing mandatory in public
Herman Cain test positive
Moderna reportedly delays start to major vaccine trial
Houston hospitals open up more surge capacity
9 more NBA players test positive
Arizona reports 3,333 new cases, down from yesterday
NY reports 800+ cases
Alabama sees biggest jump in hospitalizations
Texas whisper number tops 7k
Florida positivity rate at record 16.7%
UK sees infections finally level off
Fla sees highest daily death toll in a month
Pence says Trump supports some economy closures
NYC to open streets nightly to accommodate restaurants
Refuses to support mandatory mask wearing
US reports ~50k deaths largest daily total yet
Texas hospitalizations pass California's for 1st time
Dr. Gottlieb: 'Outbreak will peter out by January, one way or another'
Russia sees daily cases slowing modestly
Brazilian death toll tops 60k
India cases top 600k
Mexico passes Spain for world's 6th-biggest death toll
Tokyo reports another 100 cases
* * *
Update (1650ET): Texas Gov Greg Abbott just did a major reversal and issued an executive order mandating that masks be worn in public in all counties across Texas with more than 20 confirmed cases.
Wearing a face covering in public is proven to be one of the most effective ways to slow the spread of #COVID19 while continuing to keep Texas businesses open.

Texans should wear a face covering for the health of their families, friends, and for all fellow Texans. pic.twitter.com/5oWVfZMsph

— Gov. Greg Abbott (@GovAbbott) July 2, 2020
The dramatic reversal underscores the seriousness of the outbreak in the state, as the city of Houston has started moving some patients in ICU to hospitals as far as 50 miles away.
"Wearing a face covering in public is proven to be one of the most effective ways we have to slow the spread of COVID-19. We have the ability to keep businesses open and move our economy forward so that Texans can continue to earn a paycheck, but it requires each of us to do our part to protect one another — and that means wearing a face covering in public spaces."
The decision will ratchet up pressure on FLA Gov Ron DeSantis to follow suit. DeSantis said during a press briefing earlier that the outbreak in his state has gotten way out of hand, and that people seem to be paying more attention to the virus in Fla than they did a month ago.
As cases began to climb, Abbott urged Texans last week to stay home because the virus was spreading at an "unacceptable rate." He then took the dramatic step of pausing Texas' reopening plan as the virus threatened to overwhelm hospitals. Abbott admitted in a radio interview last week that if he could redo anything, he would have slowed down the reopening of bars.
* * *
Update (1600ET): Herman Cain, a one-time candidate to fill a vacant seat on the Fed board of governors, has reportedly tested positive for COVID-19 after attending President Trump's Tulsa rally.
A handful of Trump Campaign advance workers also tested positive.
* * *
Update (1300ET): Following reports last week that Moderna's heavily hyped 30k-subject trial might start as soon as early July, a fresh report from STATNews just hit the tape Thursday afternoon warning that the trial had been delayed.
Interestingly, the news follows a top WHO official remarking that more analysis is needed to understand the efficacy of Gilead's remdesivir.
Already, CNBC's Meg Tirrell is running defense for Moderna, telling Kelly Evans that she was already on the phone with Moderna CEO Stephane Bancel, who was assuring her that the trial would begin this month.
* * *
Update (1250ET): More alarming headlines about Houston's COVID-19-dedicated hospital capacity.
HOUSTON ON PACE TO TAP 2ND STAGE OF SURGE ICU BEDS ON JULY 14
Earlier reports about Harris Health Systems, which runs Ben Taub and LBJ hospitals in Houston, transferring 33 COVID-19 patients to facilities in Houston and in surrounding areas, according to ABC News. The hospital was reportedly in the process of transferring 15 more more patients when sources spoke to ABC.
Some of those locations include Texas Children's Hospital, which recently admitted adult COVID-19 patients, and UTMB's Galveston hospital, which is more than 50 miles away. As of Thursday morning, Ben Taub's ICU was at 73% occupancy, while LBJ's ICU was at 96% occupancy. Half of ICU patients were being treated for the virus.
"We're running out of ICU beds," one doctor told ABC.
* * *
Update (1240ET): 9 more NBA players have tested positive for COVID-19, the league announced just minutes ago...
9 Additional NBA Players have tested positive for the RONA before heading to Disney Bubble pic.twitter.com/eHmhwgxe8K

— BlackSportsOnline (@BSO) July 2, 2020
NBA announces that 9 of 344 players (2.6%) tested June 24-29 were positive for COVID-19.

Of the 351 total players tested, there were 25 positive cases (7.1%).

Among team staff members, it's 10 positives of 880 (1.1%).

— Rod Beard (@detnewsRodBeard) July 2, 2020
So 25 players have tested positive, along with 10 staff.
* * *
Update (1132ET): Arizona just reported 3,333 new coronavirus cases, less than yesterday's total but still well above the 7-day averages from two weeks ago, but its case numbers aren't growing as fast as some other sun belt states (*cough* Florida *cough*).
Spot the difference:
Arizona new #Covid cases today compared to last Friday: +9.1%
Florida: +102.0%
One of these states has actually done something.

— Ian Shepherdson (@IanShepherdson) July 2, 2020
Here's a breakdown of today's data...
Number of deaths: 1,757
Number of cases: 87,425
New cases: 3,333
New deaths: 37
Number of total tested: 735,496 (both PCR and serology tests)
New tests reported: 13,511
Percent positive: 25%
...as well as a breakdown of newly reported cases by county.
Maricopa: 54,757
Pinal: 3,908
Pima: 8,577
Navajo: 3,744
Coconino: 1,986
Yavapai: 814
Cochise: 678
Graham: 117
Santa Cruz: 1,849
Yuma: 6,663
Apache: 2,405
Mohave: 1,248
La Paz: 346
Gila: 314
Greenlee: 19
* * *
Update (1120ET): Alabama just reported more than 1,000 cases for three of the last four days, and its largest jump in hospitalizations.
NEW: Alabama's daily rate of COVID-19 hospitalizations hit a record high yesterday with 797 patients. The state now has 961 deaths and 39,604 confirmed cases. Read More: https://t.co/eKBBMB6bc1 pic.twitter.com/5EYIn0MzOh

— WBHM 90.3 FM (@WBHM) July 2, 2020
As cases and hospitalizations surge, Alabama is nearing the 50k threshold, as well as the 1,000-death mark.
NEW: Alabama's daily rate of COVID-19 hospitalizations hit a record high yesterday with 797 patients. The state now has 961 deaths and 39,604 confirmed cases. Read More: https://t.co/eKBBMB6bc1 pic.twitter.com/5EYIn0MzOh

— WBHM 90.3 FM (@WBHM) July 2, 2020
Meanwhile, as today's COVID-19 numbers diminish the market's appetite for risk, NY Gov Cuomo reports a modest day-over-day increase in the daily case total in NY State.
Today's update on the numbers:

69,945 tests were performed yesterday. 875 tests came back positive (1.25% of total).

Total hospitalizations fell to 878.

Sadly, there were 10 COVID fatalities yesterday. pic.twitter.com/5FbQwQwxMl

— Andrew Cuomo (@NYGovCuomo) July 2, 2020
As reports about Houston hospitals moving COVID-19 patients to 'overflow' facilities (due to worries about capacity) help rattle the market, let's take a look at the cities seeing the biggest daily cases (all in the south; 3 in Fla alone) and the slowest (all in the northeast).
U.S. states reported 50k+ new #COVID19 cases today. Now seeing the fastest growth:
1. Jacksonville
2. Orlando
3. Tampa
4. Charleston
5. San Antonio

Largest slowdown:
1. Trenton
2. Worcester
3. NYC
4. Providence
5. Boston
(Via Evercore ISI) pic.twitter.com/Z27SWMFR9v

— Meg Tirrell (@megtirrell) July 2, 2020
* * *
Update (1030ET): In an interesting, if unrelated, report, tennis star Novak Djokovic said his second COVID-19 test came back negative after he announced last week that he had contracted the virus. He and his wife are now virus-free.
US stocks are giving up gains after those Florida numbers, as investors brace for another record jump in new cases (both in the US, and globally).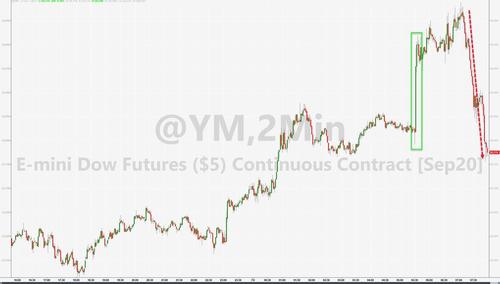 Meanwhile, BBG reports citing data from the British Office for National Statistics, that an average of just 0.04% of the British community was infected, the equivalent of 25,000 people, between June 14 and June 27, a sign that the UK's infection rate has finally leveled off.
* * *
Update (1011ET): VP Mike Pence just said the president supports "some" of states efforts to delay or reverse their economic reopening efforts, officially walking back the White House's line that there wouldn't be any more shutdowns to fight the virus as the number of new cases comes soaring back. Furthermore, the VP claimed the White House would continue to "keep opening up America" while still taking steps to slow the spread of the virus.
VP Mike Pence vows to "keep opening up America" despite a recent surge in coronavirus cases. https://t.co/BCrdk5EN5Q pic.twitter.com/Ctc6GUZa1a

— CNBC (@CNBC) July 2, 2020
However, when asked about making masks mandatory, Pence evaded giving a straight answer, instead promising that America would "get the kids back to school this fall".
Adding a dose of optimism, Pence said the Sunbelt states would recover.
Meanwhile, in NYC, Mayor Bill de Blasio just announced plans to close some streets nightly to give restaurants more room to set up outdoor dining, while also announcing plans for students to return to schools in September, while promising more social distancing.
Finally, Florida just reported another record jump in new cases, reporting more than 10,000 new cases for the first time. That's at least the 4th record daily total for the state in the last 2 weeks. That's a 6.4% increase DoD, roughly a whole percentage point above the 7-day average. The state's positivity rate has returned to a record 16.7%.
FLORIDA CORONAVIRUS CASES RISE BY 10,109 TO 169,106 TOTAL ON THURSDAY, BIGGEST DAILY INCREASE SINCE PANDEMIC STARTED - REUTERS TALLY
The state reported 67 deaths, its highest daily total in a month, bringing its death toll to 3,617. The case total was 169,106.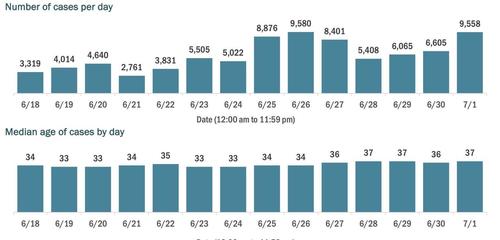 Investors overlook this latest uptick in deaths at their own risk.
ALL of the decline in COVID fatalities for the last 16 days are attributable to the 11 states that had the first wave (defined as Deaths per million > 500). Without those states, we are fully at plateau and about to increase. pic.twitter.com/yWaAdgiOPy

— (((Howard Forman))) (@thehowie) July 2, 2020
* * *
After no fewer than 5 states (including California and Texas) reported record daily totals (with Texas and Arizona also reporting their largest daily body counts in weeks, if not since the beginning of the pandemic), the US reported a new record daily tally, with the daily number surpassing 50k for the first time.
Nationwide, 7% of tests administered are coming back positive, a new high reached even as testing capacity has improved (though parts of Texas and Florida are reportedly still struggling with long lines and poor response times).
According to JHU data, the US confirmed 49,286 cases in 24 hours, while the US death toll hit 128,062.
States reported over 50k cases for the first time today, another new record. The national positivity rate is over 7% now, despite ever higher testing levels.
Hospitalizations are now at late-May levels. pic.twitter.com/erSW8W37jj

— The COVID Tracking Project (@COVID19Tracking) July 1, 2020
The 7-day average for deaths nationwide ticked higher, but only modestly.
We have an update to today's chart of daily deaths with California's (late arriving) number included. The 7-day average was almost unchanged at 520. pic.twitter.com/Ltqn33Sz60

— The COVID Tracking Project (@COVID19Tracking) July 2, 2020
Hospitalizations in Texas surpassed California for the first time.
The number of currently hospitalized COVID patients in Texas surpassed California today. pic.twitter.com/O4Kqm7zD7V

— The COVID Tracking Project (@COVID19Tracking) July 2, 2020
In Georgia, Gov Brian Kemp has watched positive tests triple as testing capacity has expanded only slightly.
Georgia's numbers have started to look quite bad. Over the last few weeks, testing has grown a little while daily new cases have tripled. pic.twitter.com/SoDrf2c1SI

— The COVID Tracking Project (@COVID19Tracking) July 2, 2020
More than one-quarter of US states have reported record daily totals in the past week, and in Arizona, one-quarter of all COVID-19 tests are coming back positive.
In Arizona, cases and hospitalizations continue to spike. Over a quarter of all coronavirus tests now come back positive. Death data has been jumpy from day to day but the rolling average is rising, and the state reported a record number of deaths today. pic.twitter.com/tUYR10XMu7

— The COVID Tracking Project (@COVID19Tracking) July 1, 2020
Globally, more than 200k new cases were reported yesterday.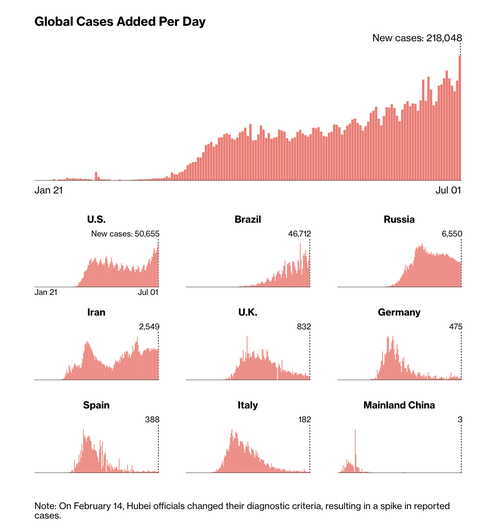 Across California, and more broadly across the country, more states are closing down indoor dining entirely, or, like in New York, pushing back dates for planned reopening, leaving any restaurants without outdoor space entirely dependent on delivery (raising the question: why even own a restaurant?).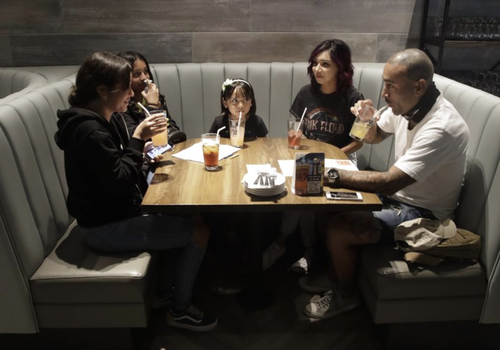 In California - which just shut down indoor dining in 19 counties Confirmed cases in California have increased nearly 50% over the past two weeks, and COVID-19 hospitalizations have gone up 43%. Newsom reported nearly 5,900 new cases and 110 more deaths in 24 hours.
Appearing on CNBC Thursday morning one day before the long holiday weekend, former FDA commisioner Dr. Scott Gottlieb warned that the outbreak likely won't finally be over until January - either because we've found a vaccine, or because by then, so many people will have been infected that it will naturally mitigate the spread.
In a way, Gottlieb's comments echoed a remark from President Trump made during an interview with Fox Business last night where the president was seemingly throwing spaghetti against the wall to see what might stick, hinting that he had plans involving the minimum wage and more handouts to workers in a fabled stimulus bill that has been whispered about, though Mitch McConnell said yesterday that it's making little progress.
"I think we are going to be very good with the coronavirus...I think that, at some point, that's going to sort of just disappear, I hope."
In California, Gov Gavin Newsom lamented the spread as "particularly concerning" before expanding closings,
"The bottom line is the spread of this virus continues at a rate that is particularly concerning," he said.
But the US isn't the only country seeing a resurgence, as we pointed out yesterday, and several times in recent days. Worldwide, daily case numbers are hitting levels previously unseen. Mexico's death toll just passed Spain's, and Brazil's outbreak is still out of control. Peru and Chile have also seen virus numbers climb, as the outbreak worsens across Latin America.
Russia's outbreak has slowed somewhat, though the country still reported 6,760 new infections Thursday, pushing its nationwide tally to 661,165. Officials reported 147 deaths over the last 24 hours, bringing the official death toll to 9,683.
In Japan, Tokyo just reported more than 100 cases as another cluster appears to be emerging in Japan's capital, even though Japan has proved surprisingly resistant to the virus. As expected, India surpassed 600k confirmed infections as the outbreaks in Mumbai in New Delhi continue to rage, along with many other clusters across the country, as officials prepare to conduct a 'covid-19 audit' of New Delhi's entire population of nearly 30 million. Brazil, meanwhile, has seen its death toll pass 60k, with 60,632 deaths.