---
US Economy Braces For Chaos As $1.5 Trillion Student-Loan Pause Ends
After a three-year pause due to the pandemic, some 28 million US borrowers will once again face their student loan obligations - while grappling with scorching inflation.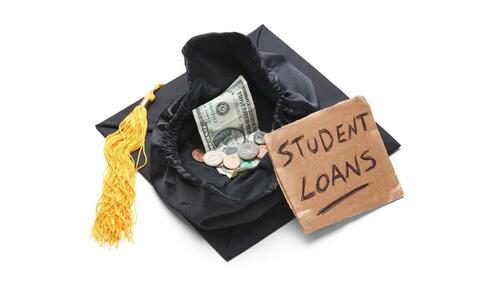 What's more, there are fundamental issues with servicing the deluge of borrowers, according to lenders, consumer advocates and lawmakers. As Bloomberg notes, several loan administrators have slashed staff, are operating on antiquated computer systems, and have provided inadequate training.
The logistics are daunting. Many borrowers were assigned new loan servicers after some of the biggest companies, such as Navient Corp., quit the federal program. The Biden administration's failed attempt to forgive some of the debt has left some folks confused about whether they need to pay at all. Then there's bewilderment over income-driven repayment plans and the legions of scammers sure to be looking for easy marks amid the upheaval. It could be a mess. -Bloomberg
"This is one of the most confusing things I've been through," said 28-year-old Courtney Young, who will be working with the third federal loan servicer assigned to her in four years on her $54,000 in government loans, which she took out to study at Winston-Salem State University in North Carolina.
"I know I'm probably not the only one who's logged in and said 'Hey, what's going on?'" Young told Bloomberg, after her federal servicer said she isn't required to pay anything until April.
According to a letter to servicers written by six Democratic senators led by Elizabeth Warren (MA), "The restart of tens of millions of borrowers' student loan payments marks an unprecedented event with a heightened risk of borrower harm."
That said, the biggest risk to borrowers — assuming they can avoid outright scams — might be time wasted on the administrative hassle related to setting up their accounts and choosing a repayment plan. While interest will begin accruing Sept. 1, borrowers that don't make full payments won't see any demerits on their credit report for the first 12 months.

Loan servicers want to go full-speed ahead, but they're concerned there isn't enough time to communicate with borrowers. Servicers process payments and help struggling borrowers figure out repayment plans. -Bloomberg
In an attempt to streamline the process, the Biden administration has launched a 'beta version' of a revised, income-driven student loan repayment platform, SAVE, following a June 30 decision by the US Supreme Court to strike down the Biden administration's controversial student loan forgiveness plan, which would have knocked as much as $20,000 off the balances of around 40 million borrowers.
At present, the DOE offers four Income-Driven Repayment plans for students to pay off their debts—Revised Pay As You Earn Repayment Plan (REPAYE Plan), Pay As You Earn Repayment Plan (PAYE Plan), Income-Based Repayment Plan (IBR Plan), and Income-Contingent Repayment Plan (ICR Plan).

The SAVE plan is intended to replace the REPAYE plan, which is one of the most widely used of the four existing plans. The remaining three will be phased out or limited by the DOE.

Borrowers who are already enrolled in the REPAYE plan or recently applied for it will automatically be transferred to the SAVE plan. There is no need to reapply for such borrowers. -Epoch Times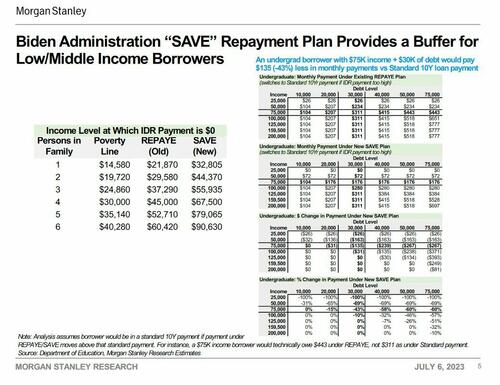 Here's where the impact will be most felt
According to Morgan Stanley, households are less able to make student loan payments than they were a year ago, with those making under $50,000 obviously in the most trouble. Of that cohort, 47% say they won't be able to make all of their monthly student loan payments. That drops down to 29% of those making between $50,000 and $99,999, and 14% of those making over $100,000.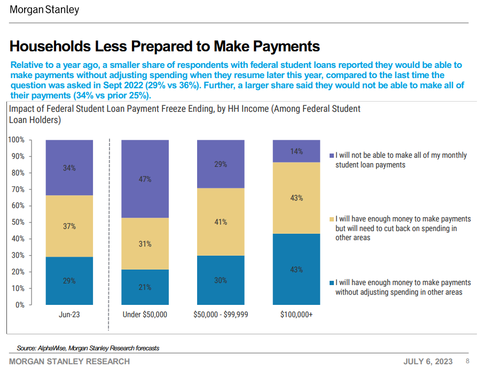 When it comes to anticipated corporate exposure, it comes down to discretionary vs. non-discretionary. Those most exposed include Dick's Sporting Goods, Target, Ulta Beauty, Wayfair and Williams-Sonoma, while companies which are least exposed include Auto Parts companies, Dollar Stores, Kroger and Walmart.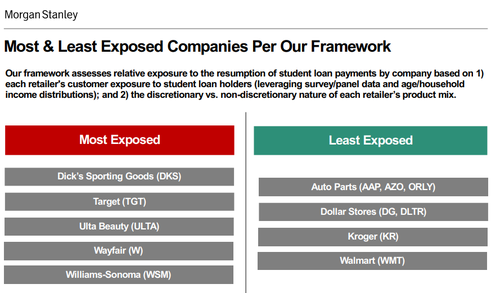 Here's an indication of exposure by age group for various retailers.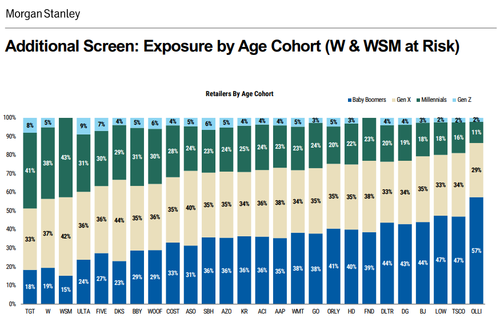 MS is anticipating that the resumption of student loan repayments could re-accelerate consumer delinquency rates vs. their previous estimates.
Loading...