---
US Futures Dip As European Stocks Finally Erase All Pandemic Losses, Hit Record High
Global stocks hit record highs on Tuesday, supported by strong economic data from China and the United States, although US equity futures slipped as concern China is curtailing loan growth tempered optimism stoked by the U.S. economic rebound.  Nasdaq underperformed as investors locked in some gains on renewed reflation concerns hopes while currency and bond markets paused for breath after a month of rapid gains in the dollar and Treasury yields. At 715 a.m. ET, Dow E-minis were down 41 points, or 0.11%, S&P 500 E-minis were down 8 points, or 0.20% and Nasdaq 100 E-minis were down 11.5 points, or 0.23%.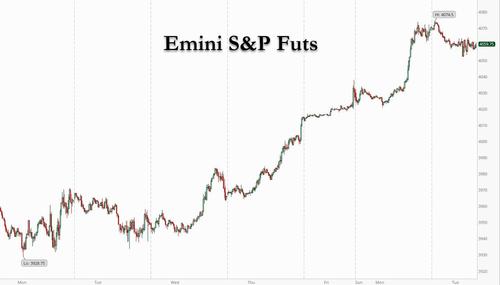 Apple stock dipped after a rare downgrade from Morgan Stanley cut the price target on the world's largest company from $164 to $156, citing multiple compression (it kept the Overweight target).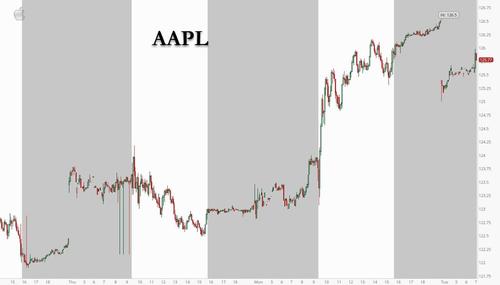 In the past few days, tech and other growth stocks had awakened after lagging in recent weeks behind value stocks expected to outperform as the economy emerges from the coronavirus pandemic. The tech-heavy Nasdaq is now about 3% from its February record high after falling as much as 12% from that level.
Stocks tied to the Archegos collapse fell in pre-market trading as Credit Suisse hit the market with block trades that totaled more than $2 billion. 34 million shares in ViacomCBS were offered on Monday, 14 million shares of Vipshop and 11 million shares of Farfetch. Still, that's only a fraction of the size traded by banks at the end of March. ViacomCBS slipped 2.2% and Vipshop Holdings dropped 2.1% while Farfetch declined 2.1% after the Swiss bank unloaded shares.
Credit Suisse was down 0.3% as of 10:07 a.m. in Zurich after saying it will take a 4.4 billion-franc ($4.7 billion) writedown tied to the implosion of Archegos.
On the heels of a bumper U.S. jobs report on Friday, March ISM data showed services activity hit a record high. China's service sector has also gathered steam with the sharpest increase in sales in three months: the Caixin China General Services Business Activity Index (headline services PMI) rose to 54.3 in March, 2.8pp higher than February. Sub-indexes suggest faster expansion of new business activity in the services sector.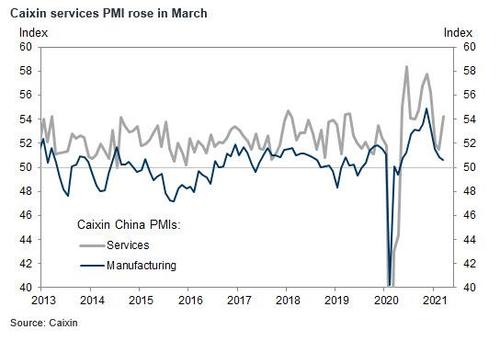 "We think investors should not fear entering the market at all-time highs," said Mark Haefele, Chief Investment Officer, UBS Global Wealth Management. "We recommend continuing to position for the reflation trade as the economic recovery gathers pace - data released Friday showed U.S. nonfarm payrolls surged by 916,000 in March, the biggest gain since August."
"It looks like spectacular US data has a few caveats," said Vishnu Varathan, head of economics and strategy at Mizuho Bank Ltd. in Singapore. "For one, there is a sense that vaccine differentials could just mean an uneven recovery. Worse, it could also mean having to deal with higher U.S. Treasury yields in a more fragile state," especially for emerging markets, he said.
European stocks, meanwhile, erased pandemic losses and the pan-European STOXX 600 index hit a record high with miners among the biggest gainers thanks to copper surging as markets reopened after Monday's holiday across the region.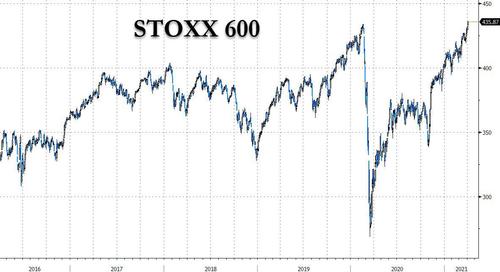 The Stoxx 600 Basic Resources index rises as much as 2.5%, buoyed by gains for copper and aluminum. Copper prices jumped in the U.S. on Monday and in London after the Easter holiday, though gave up some of those gains following a reassurance from Chile that Covid restrictions won't impact mining operations or exports.
Travel and leisure stocks also gained in Europe, catching up with U.S. peers after Monday's holiday, while airlines were boosted by a lower oil price and U.K. pubs gain as government downplays need for vaccine passports to enter venues. British Airways-owner IAG was up 2.4%, Lufthansa +1.3%, EasyJet +0.9%, with crude futures down about 3% since Friday despite edging higher on Tuesday. Travel gains come despite industry body expressing disappointment over the U.K. government's warning that the resumption of non-essential trips next month is not guaranteed.
Earlier in the session, Asian stocks fell, poised to snap a three-day winning streak, with Japan leading losses in the region after the yen climbed against the dollar overnight. Shares of electronics makers and automakers were the biggest drags on Japan's benchmark Topix, which slid the most in almost two weeks. Suzuki Motor slumped the most since June, falling for a second day after saying that it's halting two domestic plants in continued fallout of the global chip shortage. Equity benchmarks in the Philippines, Taiwan and Australia climbed, cushioning declines in the MSCI Asia Pacific Index, while markets in Hong Kong and Thailand were shut for holidays. Sector-wise, consumer discretionary and healthcare were the worst performers on the Asian gauge
China's CSI 300 index fell as trading resumed after Monday's holiday, with losses in healthcare and consumption-linked sectors dragging the benchmark index lower from a four-week high. The CSI 300 Index ended down 0.4%, after jumping 1% in Friday's session to close at its highest since March 5. The gauge climbed 2.5% last week, the most since the period ended Feb. 12. Liquor giant Kweichow Moutai Co. was the biggest drag on the index on Tuesday. "The market will consolidate to find its bottom," following the recent gains, CICC analysts including Wang Hanfeng wrote in a note. Separately, analysts at Kaiyuan Securities said that Chinese mutual funds focused on large growth stocks are facing potentially big redemption pressure from individual investors after the recent rebound. China's central bank asked the nation's major lenders to curtail loan growth for the rest of this year after a surge in the first two months stoked bubble risks, Bloomberg reported. CSI's subgauge of financials ended little changed. Daily turnover in Shanghai and Shenzhen dropped to 627.8 billion yuan ($96 billion), near a five-month low reached on Thursday. The CSI 300 has largely hovered around the key 5,000 mark for the past month or so after concerns over lofty valuations and potential liquidity tightening saw the gauge plunge into a technical correction in early March. It had reached a 13-year high the previous month
In rates, the yield on benchmark 10-year U.S. Treasuries fell to 1.6915% amid mounting concerns that the BIden infrastructure package will be substantially watered down. Treasury 10-year yields around 1.70% are near flat vs Monday's close while long-end yields are marginally richer, flattening 5s30s by almost 1bp; bunds, gilts lag by around 3bp vs Treasuries. Treasury yields were back within a basis point of Monday's closing levels, with long-end slightly outperforming, after rebounding from Asia-session lows. EGB markets are lower in first trading day since April 1.
The steadying Treasury yields and dollar follow a charge higher over the first quarter, with an 83 basis point rise in 10-year yields, the biggest quarterly gain in a dozen years, and a 3.6% rise in the dollar index - the sharpest since 2018.
"Bonds have settled down now," said Omkar Joshi, portfolio manager at Opal Capital Management in Sydney, after a hard and fast selloff. "I think markets can keep powering on from here."
In FX, the Bloomberg Dollar Spot Index advanced for the first day in four as the greenback rose against most of its Group-of-10 peers; the euro was little changed around $1.18 while the pound and Antipodean currencies were the worst performers in G-10. The Australian dollar declined after China's central bank shifted its attention from pandemic to bubble risks. The aussie erased losses after the RBA reserved its decision over April to November curve control.
Minutes from the March meeting of the U.S. Federal Reserve, due on Wednesday, are the next focus for bond markets, although they will not address the most recent data surprises and markets have run far ahead of Fed projections for years of low rates. Fed funds futures have priced in a hike next year while eurodollar markets have it priced by December.
"What needs to be tested is how the Fed reinforces and reassures on its flexible average inflation target policy," said Vishnu Varathan, head economist at Mizuho Bank in Singapore. "The dollar's past few weeks of movement reflect markets moving ahead despite what the Fed has said."
In commodities, oil rebounded as the chances of a breakthrough in talks to revive an Iranian nuclear accord were seen by analysts as slim, reducing the odds that crude flows from the country would pick up further in the near term. As a result, WTI crude futures rebounded about 2% to near $60/bbl after yesterday's rout; gold edges higher to $1,730/oz
Progress in President Joe Biden's new infrastructure proposal and the start of the earnings season in the coming weeks could dictate the course of stock markets, analysts said. Later in the day, investors will turn to a reading of U.S. job openings for February. The data follows blowout employment as well as service sector reports for March.
Market Snapshot
S&P 500 futures down 0.2% to 4,059.00
German 10Y yield rose 3.2 bps to -0.296%
Euro little changed at $1.1805
Euro Stoxx 50 up 0.8% to 3976.11
MXAP down 0.3% to 206.39
MXAPJ up 0.3% to 690.58
Nikkei down 1.3% to 29,696.63
Topix down 1.5% to 1,954.34
Hang Seng Index up 2.0% to 28,938.74
Shanghai Composite little changed at 3,482.97
Sensex down 0.1% to 49,108.12
Australia S&P/ASX 200 up 0.8% to 6,885.86
Kospi up 0.2% to 3,127.08
Brent Futures up 2.1% to $63.43/bbl
Gold spot up 0.3% to $1,732.75
U.S. Dollar Index up 0.1% to 92.64
Top Overnight News from Bloomberg
Most European Union member states will have sufficient Covid vaccine supplies to immunize the majority of people by the end of June, much earlier than the bloc's official target, according to an internal memo seen by Bloomberg
The tax plan President Joe Biden laid out last week will likely hit technology and pharmaceutical companies particularly hard, although the challenge for legislators will be to minimize loopholes that could diminish the impact, tax experts said
A burst of strong economic readings -- a mammoth job creation figure Friday and now a report from the Institute for Supply Management showing record growth in service industries -- is fueling bets that expectations for growth, not inflation, will dominate the narrative in Treasuries
China's central bank asked the nation's major lenders to curtail loan growth for the rest of this year after a surge in the first two months stoked bubble risks, according to people familiar with the matter
The leader of Chancellor Angela Merkel's party reinforced his call for strict, short-term curbs to contain Germany's resurgent outbreak, as he tries to gain backing for the plan
Quick look at global markets courtesy of Newsquawk
Asian equity markets traded mixed as the regional bourses failed to fully sustain the momentum from their counterparts on Wall St where the S&P 500 and the DJIA extended on fresh record highs in their first opportunity to react to last week's blockbuster NFP jobs report and which was followed up by stronger-than-expected ISM Services PMI data. ASX 200 (+0.8%) rallied on return from the long weekend with gains spearheaded by tech after similar outperformance stateside, while shares in Cleanaway Waste Management surged by double-digit percentages on M&A news in which the Co. is to buy Suez's Australian unit for around AUD 2.5bln. Nikkei 225 (-1.3%) retraced opening advances with sentiment clouded by a mixed currency and disappointing Household Spending data which contracted by 6.6% Y/Y. Shanghai Comp. (U/C) was also lacklustre despite stronger than expected Chinese Caixin Services PMI data which alongside Caixin Composite PMI, printed at their highest readings YTD, with the mainland subdued after the PBoC drained liquidity and amid reports China is said to have asked banks to curtail credit until year-end, while Hong Kong markets remained closed for holiday. Finally, 10yr JGBs were higher with prices supported amid weak domestic data and as Japanese stocks gave back initial gains, while prices also tracked the upside in T-note futures amid easing of yields and with improved results from the 30yr JGB auction.
Top Asian News
Australia Central Bank Holds as Housing Surge Comes to Fore
Bank Indonesia Sees No Immediate Need to Unwind Easy Policy
AirAsia Said to Plan $300 Million Funding Round for Digital Arm
Chinese Travel Rebounds During Holiday While Spending Still Lags
European equities kicked off the holiday-shortened trading week with gains across the board (Euro Stoxx 50 +0.8%) as the region plays catch-up to the fresh record levels seen on Wall St yesterday whereby the S&P 500 and the DJIA extended to record highs with impetus derived from the strong US jobs and ISM metrics. US equity futures, however, have diverged from the firmer performance across the pond and trade with incremental losses - with the cyclically-driven RTY (-0.4%) narrowly lagging peers. Sectors in Europe maintain the same picture seen at the cash open - with most sectors in the green, led by Basic Resources amid the rebound in base metals. European sectors see more of a pro-cyclical bias as the region mimics the sentiment seen state-side yesterday - with Autos, Banks, Travel & Leisure, and Oil & Gas among the top performers, while the more defensive Healthcare and Telecoms reside at the other end of the spectrum, with the latter also in negative territory. In terms of movers, the aforementioned rally in base metals sees miners driving the FTSE 100 (+1.2%), with Antofagasta (+3.8%), Rio Tinto (+3.6%), Glencore (+3.3%), and BHP (+3.2%) all among the top gainers. The miners in the index are closely followed by BP (+3.2%), who holds onto gains despite the recent fall in oil prices as the Co. now expects proceeds in 2021 to be at the top of the previously guided range of USD 4-6bln. BP also expects to have reached its net debt target of USD 35bln ahead of schedule in Q1, and on reaching this target, the oil giant is committed to returning at least 60% of surplus cash flow to shareholders by way of share buybacks. Away from the UK, SAP (+2.0%) is bolstered amid CNBC reports yesterday that Google is to stop using Oracle's finance software and use SAP's instead. Telefonica (+0.7%) bucks the downbeat Telecoms trend as it is to begin the bidding process for its submarine cable unit in a deal that could be valued around EUR 2bln. Air France-KLM (-0.7%) was choppy at the open after the EU Commission approved the EUR 4bln rescue plan - whereby opening gains were short-lived, potentially due to some of the strings attached to the package. Finally, Credit Suisse (+0.3%) trimmed earlier gains which were cited to the board overhaul as the group sees a CHF 4.4bln charge related to hedge fund liquidation. In terms of commentary, analysts at RBC note a slightly less optimistic mood across the markets, with its survey identifying six key issues: 1) expectations surrounding the total return to normality being pushed back. 2) The spread of COVID variants across the US. 3) A split among investors surrounding inflation - with a negative tilt - "in total, 42% say the ramp in inflation will be negative or very negative for stocks, and 30% say it will be positive or very positive". 4) Fewer investors backing the bearish USD narrative. 5) Fed tapering expectations nudging forward. 6) Downside risks from President Biden's policies - "Tax generally is a major focus, with 93% saying it's likely or very likely Biden will get something significant done on corporate taxes, along with 75% who expect significant action on individual taxes and 59% who expect significant action on capital gains taxes", the analysts say.
Top European News
Nordea Markets' Head of Global Trading in Sweden Leaves Bank
Merkel Party Leader Reinforces Call for Tighter German Lockdown
Citi Sees Tighter Oil Market on Phased Return of Supply by OPEC+
In FX, the Dollar is on a firmer footing vs most G10 and EM counterparts having lost momentum over the Easter break against the backdrop of buoyant risk sentiment in wake of a stellar US jobs report and non-manufacturing ISM that hit an all time high. However, the bounce is partly due to weakness in several peers on technical grounds and repositioning as many centres return from extended holiday weekends, while the DXY may also have benefited from the fact that 92.500 held and contained declines within a 92.527-790 range ahead of Redbook weekly updates and JOLTS.
NZD/AUD/GBP - Cross headwinds rather than bearish independent factors appear to be undermining the Kiwi and Pound as Nzd/Usd fades from circa 0.7069 to sub-0.7020 and Aud/Nzd hovers near the top of a 1.0858-30 range following no change in policy guidance whatsoever from the RBA, but Aud/Usd underpinned by another healthy rise in Aussie job ads and an above forecast Chinese Caixin services PMI that is also supporting the YUAN. Indeed, Aud/Usd is maintaining 0.7600+ status and Usd/Cnh is back on the 6.5500 handle vs a high of 6.5650, albeit not quite as low as the overnight Usd/Cny midpoint fix 6.5527 or sub-6.5500 base for the onshore unit. Back to Sterling, Cable has recoiled from circa 2 week highs above 1.3900 to test bids and underlying support around 1.3825, while Eur/Gbp is probing twin peaks either side of month end at 0.8534 and 0.8537 to touch 0.8545 having failed to sustain downside thrust through 0.8475 only yesterday.
EUR - Bucking the overall trend, as the Euro attempts to keep afloat of 1.1800 vs the Greenback with assistance from the aforementioned Eur/Gbp cross rebound, corrective convergence in EGB/UST yield differentials and perhaps even a much better than expected EZ Sentix index. However, news that between 51.7-61% of the population in Germany, France and Italy may have been vaccinated by the end of H1 may also be helping the single currency resist Buck advances.
CHF/CAD/JPY - All softer vs their US rival, with the Franc pivoting 0.9375 and aware if not actually acknowledging the fact that sight deposits fell at Swiss domestic banks in the latest week, while the Loonie is not getting much impetus from firm oil prices inside a 1.2554-16 band and the Yen is trying to keep its head beyond 110.50 following somewhat mixed and disappointing Japanese household spending data.
In commodities, WTI and Brent front-month futures see somewhat of a relief rally following substantial losses yesterday whereby Brent prices settled over 4% lower on the day - with WTI now back around USD 60/bbl (vs low 58.62/bbl) and Brent probing USD 63.50/bbl (vs low USD 62.08/bbl). Newsflow for the complex remains light as participants continue to balance the supply and demand implications with COVID remaining the epicentre as OECD nations observe more stringent COVID cubing measures, whilst OPEC opted to again go against market expectations and decided to gradually increase output as it forecasts higher summer demand - which will pose its own risks if the COVID situation deteriorates further or if the inoculation drive is materially disrupted. Nonetheless, as COVID developments are watched, a more imminent risk event is the JCPOA meeting between the US, Iran, China, Russia, and the EU, whereby the 2015 nuclear deal will be revisited. On this front, the US has reportedly put on the table several proposals - but Tehran remains conservative and has stuck to the script - suggesting economic sanctions need to be lifted before meaningful dialogue. Neither the US nor Iran expects breakthroughs at the meeting, thus eyes remain on the overall tone and for any joint statement which could be perceived as constructive. In terms of commentary, Goldman Sachs notes that with OPEC out of the way, supply concerns shift to the JCPOA agreement - "After the increase in Iran exports so far this year, our base case remains that a full recovery won't occur until summer 2022, implying an agreement likely early-2022... Even if an agreement occurs earlier, we believe that it wouldn't derail our constructive oil view relative to market forwards through 2022... We don't see the potential recovery in Iran exports as an exogenous shock to the oil market", the bank says. Analysts at ING meanwhile warn of the possibility of a significant amount of oil supply returning to the market in the coming months, referring to a concoction of Iranian and OPEC+ supply - "we believe that, even with additional supply from OPEC+ along with higher Iranian output, the market will still be drawing down inventories through the year, so impacting the prospects for higher prices later in the year.", the Dutch bank says. In terms of metals, spot gold and silver trade within tight ranges as the precious metals mirror Dollar action, with the yellow metal residing around USD 1,730/oz (1727-38 intraday range), whilst spot silver trades on either side of USD 25/oz (24.76-25.19 intraday range). Turning to base metals, copper prices are bolstered by the ongoing reflationary hopes, the US infrastructure package, and as top-producer Chile shut its borders amid a resurgence of the virus. Chinese steel prices meanwhile leaped to record highs as traders cite robust demand as low supply as its top steel-making city Tangshan saw pollution curbs.
US Event Calendar
10am: Feb. JOLTs Job Openings, est. 6,900, prior 6,917
DB's Henry Allen concludes the overnight wrap
For readers coming back to their desks this morning after the long Easter weekend, markets have been nothing short of buoyant while you've been away, with a very strong US jobs report on Friday along with a bumper ISM services number yesterday helping to bolster the bullish case for risk assets. For now, this momentum from the data has outweighed investor concerns about the rising Covid case count at the global level, which has led much of Europe and other regions into tighter restrictions. But unlike the big global rise we saw at the tail-end of last year, the ongoing vaccine rollout has helped to blunt that increase, and some of the most Covid-sensitive assets like airline stocks have proven resilient in the face of the latest wave.
In terms of the latest moves, the S&P 500 had advanced another +1.44% by the US close last night, solidly planting a flag above the 4,000 mark it breached last Thursday, as the Dow Jones (+1.13%) also hit a fresh record. It was a broad-based advance for the S&P as over 80% of the constituents in the index rose yesterday and 23 of 24 industry groups rose on the day. Energy stocks (-2.41%) were the sole big exception against the backdrop of lower oil prices, as both Brent Crude (-4.18%) and WTI (-4.56%) lost significant ground. Tech stocks continued their recent resilience however, with the NASDAQ up +1.67%, supported by the fact that the positive sentiment of late hasn't seen a move higher in yields alongside that. Indeed yields on 10yr Treasuries closed -2.1bps lower yesterday at 1.700%, more than 7bps beneath their intraday high last week, and are down a further -1.1bps this morning.
As mentioned above, it was the US jobs report on Friday that propelled that latest shift upwards, with growth in nonfarm payrolls coming in at +916k, well ahead of the consensus expectation of +660k. It was the biggest rise in seven months and comes as restrictions continue to be lifted across most of the US, and payrolls increased in multiple industries, with leisure and hospitality (+280k) seeing the biggest gains thanks to the easing of restrictions, while public and private education also saw noticeable gains as school activities resumed across the country. And in further positive news, both of the previous two months saw upward revisions to payrolls, with the February number revised up +89k to +468k, and the January number revised up +67k to +233k. More broadly, the labour force participation rate rose a tenth to 61.5%, even as the unemployment rate fell to a post-pandemic low of 6.0%. And the broader U-6 measure that also includes those marginally attached to the workforce and those working part-time for economic reasons, fell to 10.7% in March. This measure is one that's been cited by Fed Chair Powell as a more inclusive measure of underutilisation in the labour market.
On top of the very strong jobs report on Friday, the ISM services index yesterday rose 8.4pts to 63.7pts – which is the highest reading since the data series started in 1997 and well ahead of the expected 59.0, with the final number exceeding every estimate on Bloomberg. The underlying employment data tied into what the jobs data from last week showed as the ISM employment index rose to 57.2 from 52.7, as most jobs affected by the pandemic started to return. The largest increases were in new orders and business activity, two areas seen as leading indicators. New orders jumped 15.3 points to an all-time high of 67.2 in March, and the business activity index posted a record high of 69.4, after rising 13.9 points.
Overnight in Asia markets have been somewhat less positive than the US, with the Nikkei (-1.14%) and Shanghai Comp (-0.32%) moving lower and the Kospi (-0.01%) almost unchanged, though the Asx (+0.95%) has made gains. One factor weighing which seems to be weighing on markets in the region is the report from multiple outlets including the FT and Bloomberg that the People's Bank of China is seeking to curtail credit growth, following strong growth in the first two months of the year. Meanwhile in Australia, the RBA left their policy settings on hold as expected, with the cash rate and the 3-year yield target remaining at 0.1%. Elsewhere, US equity futures are also pointing lower this morning, with those on the S&P 500 down -0.22%, though European futures are pointing to a positive open as they reopen after the extended weekend.
Turning to the week ahead now, and it's likely that the Covid pandemic will continue to dominate given the jitters in multiple countries over the rising case counts. Europe has already been shifting towards tougher restrictions, with the French lockdown beginning on Saturday, while a rapid rise in India has seen the daily case count move above 100,000 for the first time yesterday, and the state of Maharashtra move to working from home and the closure of non-essential shops. The main exception to this pattern has been the UK however, which has one of the most advanced vaccination programmes in the world, where Prime Minister Johnson confirmed that the restrictions in England would be eased further on Monday, with the reopening of non-essential retail, outdoor hospitality venues, and indoor leisure and sports facilities.
Elsewhere, the main scheduled event will be the IMF/World Bank Spring Meetings, which kicked off virtually yesterday. That'll feature a number of panels with major global policymakers, including Fed Chair Powell, who'll be taking part in a panel on the global economy on Thursday, as well as US Treasury Secretary Yellen, and the special presidential envoy for climate, John Kerry. In addition, today will see the release of the IMF's latest World Economic Outlook, which contains their global growth forecasts over the coming years.
As global policymakers come together for this event, yesterday saw US Treasury Secretary Yellen use a speech to call for a global minimum corporate tax, saying that "it is important to work with other countries to end the pressures of tax competition and corporate tax base erosion." President Biden's infrastructure plan last week featured an increase in the US minimum tax rate as part of the proposals to pay for it, and Yellen said that the US was "working with G20 nations to agree to a global minimum corporate tax rate that can stop a race to the bottom." There have been talks at the OECD-level for some time on this issue, but they're yet to reach a deal.
From central banks, the main events this week will be the release of the March minutes from both the Federal Reserve and the ECB, which are coming out on Wednesday and Thursday respectively. For the FOMC minutes, our US economists write that they're most interested in the discussion around the Fed's reaction function in the coming years and insights into the forecast by a majority of officials, since the median dot in the dot plot still had rates unchanged by end-2023. Indeed it's worth noting that since the meeting in mid-March, markets have moved to price in an even faster pace of rate hikes given the very strong data that's come out, and current pricing is indicating a rate hike by end-2022, more than a year before the Fed's median dot indicated. Our economists say that they'll also be focusing on the inflation outlook, and the latest views on what constitutes "substantial further progress" to initiate tapering. Over at the ECB meanwhile, the March meeting saw the Governing Council announce they'd significantly increase the pace of PEPP purchases until the end of Q2, and at the subsequent press conference, President Lagarde implied that the pace of purchases would be reviewed quarterly when new staff projections are available. Since then however, there's been a clarification that they could do this between staff projections should the conditions warrant it, so our European economists will be looking closely to see if the minutes shed any further light on the discussion on this issue.
Given a majority of markets were closed over the holiday weekend, let's quickly recap last week's moves as we normally do at the start of the week. US equities rose to record highs that were then eclipsed yesterday, with the S&P 500 moving above 4000 for the first time on record having gained +1.14% during the holiday-shortened 4-day week. Technology stocks outperformed with the NASDAQ rising +2.60% on the week, while the highly concentrated megacap NYFANG index gained +4.47%. It was just the second weekly gain for the NASDAQ in the last seven weeks. European stocks rose as well even as high case counts continue to necessitate further lockdowns. The STOXX 600 gained +1.24% over the four trading days, with the German DAX (+2.43%) and French CAC (+1.91%) outperforming other bourses slightly.
US 10yr Treasury yields finished the week +4.6bps higher at 1.72%, nearly erasing the prior week's drop in yields, which was the first weekly decline since late-January. Much of this move followed the release of President Biden's infrastructure plan, called the "American Jobs Plan" that would see $2.25 trillion invested over the next eight years. Europe saw a similar rise in yields with 10yr bund yields falling +1.8bps to -0.33%, while gilts rose +3.8bps to 0.80%. Elsewhere in fixed income, credit markets tightened in Europe and the US as risk sentiment improved. US high-yield cash spreads tightened -14bps, while IG spreads came in -7bps. European credit performed slightly less well, with HY spreads tightening -7bps and IG spreads just -2bps tighter.
Lastly the other big piece of data out from late last week were the global manufacturing PMI data, which were some of the highest ever recorded. In the US, the ISM manufacturing PMI increased from 60.8 to 64.8, the highest level since 1983 as stronger growth in new orders and output highlight the increasing demand. While in Europe the manufacturing PMI reading for the Euro area rose to 62.5 in March from 57.9 in the month prior. Germany's manufacturing PMI came in at 66.6 and was the highest since the series began and the ninth consecutive expansion. The UK's PMI reading was its highest since 2011 at 58.9, compared to 55.1 in February.