---
US GDP Soars By A Record 33.1% In Q3, Smashing Expectations
What goes down, must come up, and one quarter after US GDP collapsed by a record 31.4% annualized, moments ago the BEA reported that in Q3 the US economy rebounded by a similarly record high 33.1%, the biggest annualized increase in history.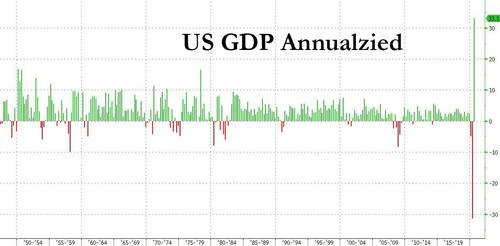 The GDP number beat estimates for a 32% increase, which was already well above forecasts three months ago for an 18% gain. The surge in growth was mostly driven by personal spending, which climbed an annualized 40.7%, also a record, while business investment and housing also posted strong increases.
And while on a Y/Y basis the rebound was not nearly as impressive, with the US economy still showing a 2.9% decline compared to a year ago following trillions in stimulus, and 3.5% below its pre-pandemic peak...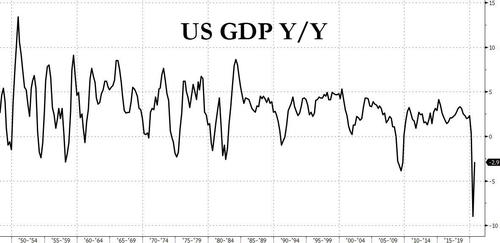 ... one can be certain that Trump will parade with this "blockbuster" number for the next 4 days.
Looking at the data breakdown, the third-quarter increase in real GDP reflected increases in consumer spending, inventory investment, exports, business investment, and housing investment that were partially offset by a decrease in government spending. Imports, a subtraction in the calculation of GDP, increased.
The increase in consumer spending reflected increases in services (led by health care) and goods (led by motor vehicles and parts).
The increase in inventory investment reflected an increase in retail trade inventories (led by motor vehicle dealers). The decrease in government spending was in federal as well as state and local government.
A closer look at the bottom-line contributions reveals the following:
Personal Consumption Expenditures was the bulk, or 25.27% of the 33.08% GDP increase, up massively from a -24.01% decline in Q2
Fixed Investment added 4.96% after subtracting -5.27% in Q2
Private Inventories rebounded strongly, adding 6.62% in Q3 after subtracting -3.50% in Q2
Net Exports subtracted -3.09% from the final print after adding a modest 0.62% in Q2
Government consumption also pulled from GDP, reducing the bottom line by -0.68, after adding 0.77% in Q2.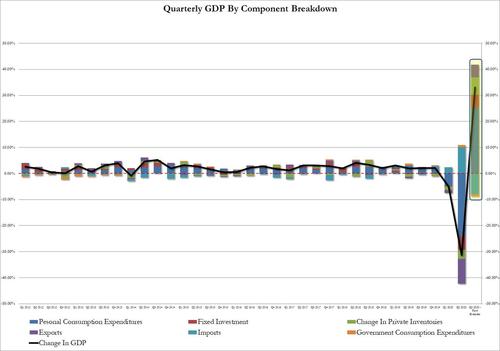 Summarizing some of the key contributions to the bottom line, while PCE added 25.27% to the final Q3 print, Govt spending removed 0.68%.
As Bloomberg notes, while the report makes clear that the economy has found a solid footing for now, analysts caution that growth will be much more modest and choppy in months to come, especially as the spread of the virus gathers pace again and lawmakers remain in an extended deadlock over a new stimulus package. Moreover, there are still nearly 11 million fewer workers on payrolls than there were before the pandemic hit, and analysts say a full recovery in GDP is at least several quarters away.
Separately, Real disposable personal income (DPI)—personal income adjusted for taxes and inflation—decreased 16.3% in the third quarter after increasing 46.6% in the second quarter. The decrease in current dollar DPI was more than accounted for by a decrease in personal current transfer receipts (notably, government social benefits). Personal saving as a percent of DPI was 15.8 percent in the third quarter, compared with 25.7 percent in the second quarter.
Finally, prices of goods and services purchased by U.S. residents increased 3.4 percent in the third quarter of 2020, after decreasing 1.4 percent in the second quarter. Food prices decreased 1.8 percent in the third quarter, while energy prices increased 27.8 percent. Excluding food and energy, prices increased 3.2 percent in the third quarter, after decreasing 0.8 percent in the second quarter.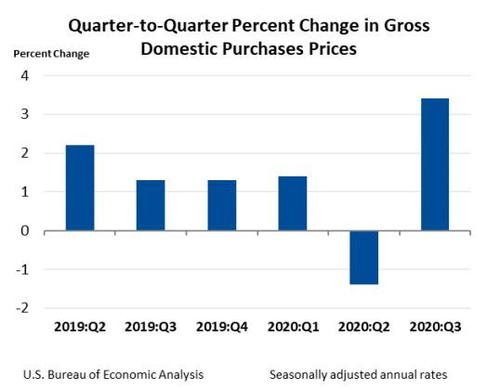 In summary, a great, but largely priced in GDP report, which the president will parade in the coming days.
A bigger question is what happens next, and as Deutsche Bank analyzes in the chart below, there are various scenarios where the US economy will likely be with various fiscal stimulus estimates relative to the pre-virus forecast. As DB's Jim Reid notes, the baseline forecast assumes a $750bn-$1tn fiscal package next year, "but given that polls indicate a "blue sweep" has a 60-70% probability of occurring, the upside risk to this expectation could be substantial." As such, the most likely scenario given the current passed House bill and comments from Biden's team is a total package of around $2tn if this outcome prevails. As can be seen such a package gets the economy close to the pre-virus trend towards the end of 2021. Interestingly if we got to a $3tn package, we should be ahead of where we would have been by this point. Note that the $2.5tn of Biden tax rises are assumed to be delayed until early 2022, when the economy is on firmer footing.