---
US Jobs Data to Take Limelight After Being Eclipsed by Inflation
By Ven Ram, Bloomberg Markets Live reporter and analyst
With disinflation in the US already discounted by the markets, non-farm payrolls will now come to occupy the center stage that they long enjoyed.
The median forecast is that US employers expanded payrolls by 189k in January, though the outlier estimates are more pronounced toward the right tail of distribution. Here is a breakdown of NFP forecasts by bank
305,000 - Citigroup
300,000 - Goldman Sachs
290,000 - UBS
232,000 - HSBC
225,000 - Barclays
225,000 - Credit Suisse
205,000 - SocGen
190,000 - Wells Fargo
180,000 - Bloomberg Economics
175,000 - Deutsche
175,000 - JP Morgan Chase
175,000 - Morgan Stanley
A decent beat on the upside may spur some re-think from traders, who aren't yet fully pricing a 25-basis point increase from the Fed next month. With the Fed having explicitly guided the markets for "ongoing increases," the current market skepticism needs well more than just one weak number today, making the current risk-reward structure on interest-rate pricing pretty asymmetric. As an aside, payrolls have beaten the median estimate on 7 of the past 8 reports (and 12 of the past 15).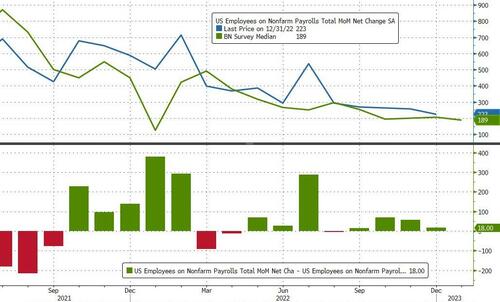 Meanwhile, long-dated Treasuries have room for a mild correction, with the potential for the 10-year yield to climb back to 3.4628% should the two-year stay around 4.08%. The 10-year yield is now almost 100 basis points lower than the cyclical peaks we saw in October, reflecting the market's hunt for duration. However, the next leg will be a tougher trek, and will essentially require validation from data points that are capable of transforming current speculative positioning for a rate cut this year into one of overwhelming conviction that the economy needs one.
*Zero Hedge's full NFP preview can be found here.
Loading...