---
U.S. Joins India And China In Ramping Coal Usage To Pre-Pandemic Levels
Major users of coal across the world are set to ramp up their usage of the fossil fuel in coming months.
Power plants in the U.S. are expected to consume 16% more coal this year than in 2020 and another 3% on top of that in 2022. China and India also have "no plans to cut back" their use of burning the fossil fueld. In fact, "it'll almost be as if the pandemic-induced drop in emissions never happened," Bloomberg reports. 

Inevitably, this will result in higher emissions, which stands at stark odds with the climate initiatives that President Joe Biden ran on. Amanda Levin, policy analyst at the New York-based National Resources Defense Council said: "We're going to see a really marked increase in emissions with coal consumption at U.S. power plants returning almost to 2019 levels."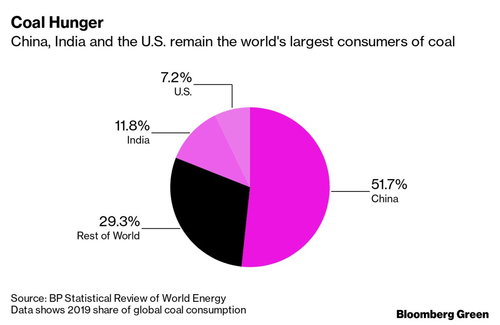 She says that changes to mitigate usage could happen quickly if Biden implements his planned green-energy policies. 
In the U.S., the ramp comes as a result of both costlier natural gas, and a broad re-opening from the pandemic. For India and China, the steady use is indicative of growing demand, despite the fact that both countries are trying to use wind and solar, as well. China's power consumption, for example, has grown, despite the country reducing coal's share in the nation's energy makeup. 
President Biden's upcoming infrastructure bill is expected to include plans to "fulfill his campaign pledges on climate change, making the U.S. best poised to salvage progress in reducing global emissions," Bloomberg reports.
In China, President Xi Jinping has committed to net-zero emissions by 2060.
India has not memorialized such an agreement yet and remains a "very long way" from a clean grid. The country said it is ahead of schedule to meet the initial carbon reduction pledged under the Paris Agreement. Coal still accounts for about 70% of the country's electricity generation and consumption at plants will rise 10% this year. In fact, the climb is expected to continue every year through "at least 2027".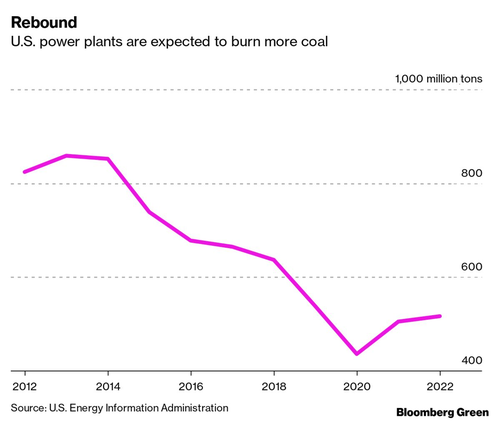 Binay Dayal, technical director of Coal India, said: "There are climate-change issues about coal, but India's energy needs won't allow it to dump the fuel instantly."
In the U.S., demand for the fuel was cut by 19% due to the pandemic last year. That, coupled with roaring natural gas prices, make for a tailwind in coal usages throughout 2021 and into 2022. 
Dennis Wamsted, an analyst for the Institute for Energy Economics and Financial Analysis, still thinks the longer-term trend for coal is lower, especially as emerging markets have started to favor gas and renewables. He concluded that for the long-term: "The trend is down, down and continuing to go down."