---
US Manufacturing & Services PMIs Unexpectedly Soared In Flash April Survey, Inflation Resurgent
After mixed 'soft' regional survey data (Empire Fed spike, Philly Fed puke) and a general slide in the overall macro surprise index, expectations were for a decline in S&P Global's PMI data in preliminary April data. However, just to baffle everyone with bullshit, both manufacturing and services jumped higher in early April data with the forfmer back into expansion territory (somehow)...
US Manufacturing at 11-month high - prints 50.4 (expansion) in flash April vs 49.2 prior, well ahead of the drop to 49.0 expected.

US Services at 6-month high - prints 53.7 (expansion) in flash April vs 52.6 prior, well ahead of the drop to 51.5 expected.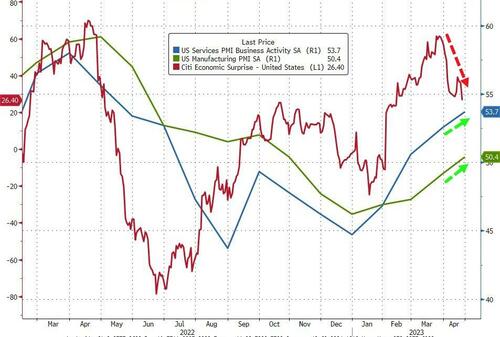 Source: Bloomberg
That is the first expansionary print for manufacturing since Oct 2022.
The headline S&P Global Flash US PMI Composite Output Index registered 53.5 in April, up from 52.3 in March, to signal the quickest upturn in business activity since May 2022.
New orders at US firms increased at the sharpest rate for 11 months in April as new client wins, improved customer confidence and successful marketing strategies drove the uptick.
Commenting on the US flash PMI data, Chris Williamson, Chief Business Economist at S&P Global Market Intelligence said:
"The latest survey adds to signs that business activity has regained growth momentum after contracting over the seven months to January. The latest reading is indicative of GDP growing at an annualized rate of just over 2%.

"Growth is also reassuringly broad-based, led by services thanks to a post-pandemic shift in spending away from goods, though goods producers are also reporting signs of demand picking up again.

"Jobs growth has accelerated alongside the resurgence of demand, aided by reports of vacancies being more easily filled, reflecting improved supply of candidates and higher wages.

"However, the upturn in demand has also been accompanied by a rekindling of price pressures. Average prices charged for goods and services rose in April at the sharpest rate since September of last year, the rate of inflation having now accelerated for three successive months. This increase helps explain why core inflation has proven stubbornly elevated at 5.6% and points to a possible upturn – or at least some stickiness – in consumer price inflation."
Economic strength and resurging inflation - this is terrible news for the 'pivot'-hopers.
Loading...