---
US Pending Home Sales Plunge In January As Mortgage Rates Soar
Pending Home Sales is once again the tie-breaker for the trend of the housing market in January (after existing home sales surged and new home sales slumped) and analysts expect a very modest rebound after two straight months of MoM declines. They were wrong... very wrong! Pending home sales crashed 5.7% MoM (vs +0.2% exp). That is the worst MoM drop since Feb 2021 and the third straight month of declines. Pending home sales are down 9.1% YoY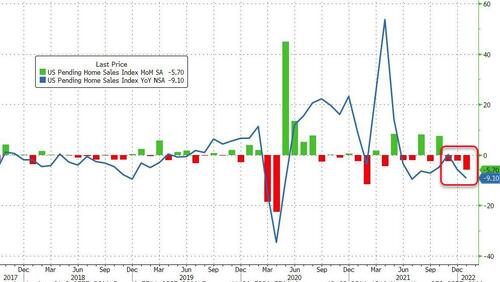 Source: Bloomberg
This drop takes the Pending Home Sales SAAR Index down to April 2021 lows (which are basically equal to the lowest since May 2020)...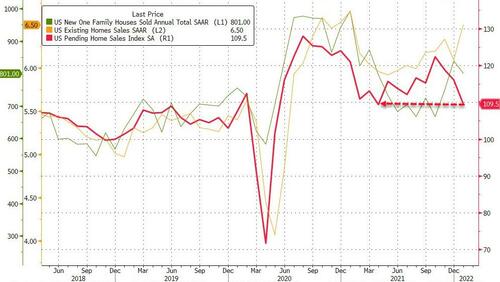 Source: Bloomberg
The figures suggest that homebuyers are still struggling to get into a housing market marked by record prices and lean inventory. It'll only get less affordable as mortgage rates rise ahead of expected interest rate hikes by the Federal Reserve.
"Given the situation in the market -- mortgages, home costs and inventory -- it would not be surprising to see a retreat in housing demand," Lawrence Yun, NAR's chief economist, said in a statement.
Contract signings dropped in three of the four regions from the prior month, led by a 12.1% plunge in the Northeast. The West posted the only gain.
And, the future does not look bright for pending home sales if mortgage rates do not revert extremely fast...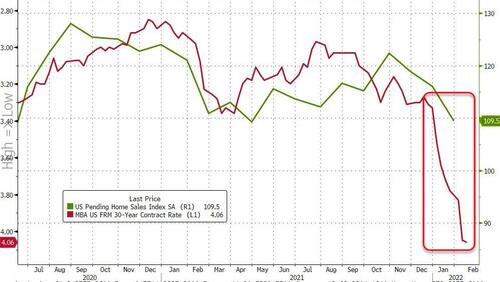 Source: Bloomberg
So what are you going to do Mr.Powell?