---
US Recovery Set To Stall As Virus Cases Surge 
Location tracking and analytics firm Unacast show after several months of a rebound in average mobility data of Americans, following lockdowns in mid-March that collapsed mobility trends through April, the recent upswing in mobility in the U.S. could bet set to reverse as states pause or reverse reopenings following a surge in virus cases. 
Heading into the holiday weekend, the U.S. recorded 44,358 new cases on Tuesday, 52,982 new cases on Wednesday, and 52,815 on Thursday. These three days have set several records for the most significant single-day totals since the pandemic began in March.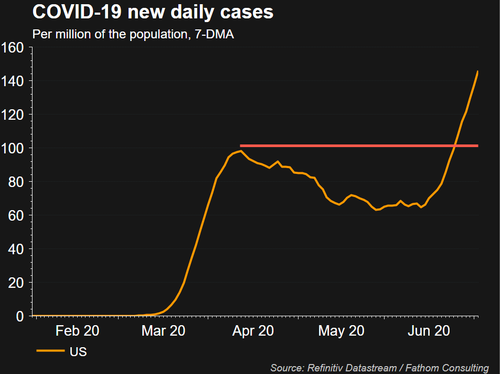 The rapid acceleration in virus cases are concentrated in four states, Arizona, California, Florida, and Texas, reported a combined 25,000 new cases Thursday as infections rose in 80% of all U.S. states. 
"What we've seen is a very disturbing week," Dr. Anthony Fauci, the polarizing director of the National Institute of Allergy and Infectious Diseases, said this week.
Unacast data shows as confirmed virus cases rise and reopenings are paused or reversed - the mobility of Americans is starting to stall.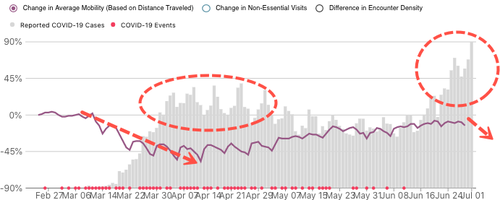 Goldman Sach's latest state-level coronavirus tracker calculates that 40% of the U.S. has now reversed or placed reopening on hold following the rise of cases.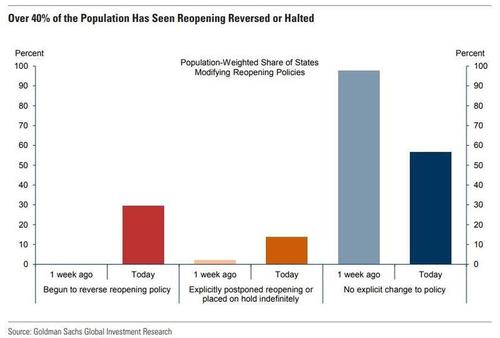 Consumer traffic data at brick and mortar stores compiled by Reuters from cellphone data provided by Safegraph dropped this past week for the first time since early April. 
Oxford Economics analyst Gregory Daco wrote, "more than ever, we're concerned about the worsening health situation and its impact on the burgeoning recovery. Rebounding mobility and poor use of protective equipment will make for a dangerous summer cocktail."
Macro research firm Capital Economics also shows consumer foot traffic has stalled as cases surge and reopenings paused.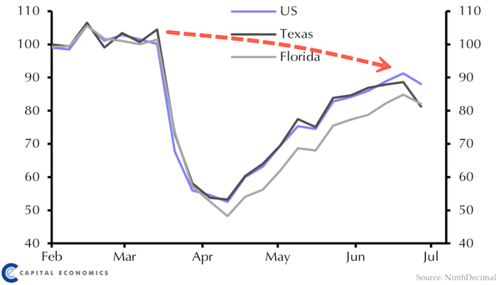 Yelp made a shocking claim last week that said: 41% of all business closures on its platform are permanent closures.
"Our data shows the largest spikes of permanent closures occurred in March, followed by May and June, indicating that the businesses that were already struggling had to permanently close right away and the businesses that were trying to hold on, but unable to weather the COVID-19 storm, were forced to shutter in recent months." 
As the mobility trends stall, recovery set to reverse, and businesses go bust - it's only a matter of time before the economic realities set in that probabilities of a V-shaped recovery in the back half of the year are quickly fading. 
The recent upswing in economic data is likely nearing a peak - not the best news for future stock market gains.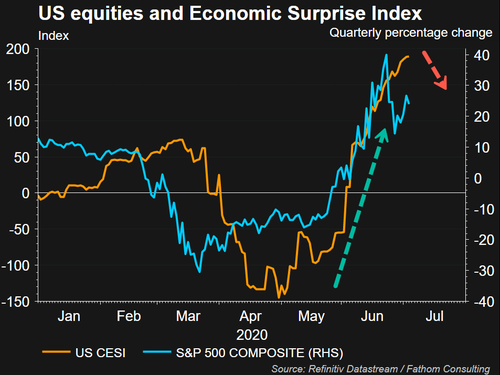 Bonds don't believe the V-shaped economic recovery narrative...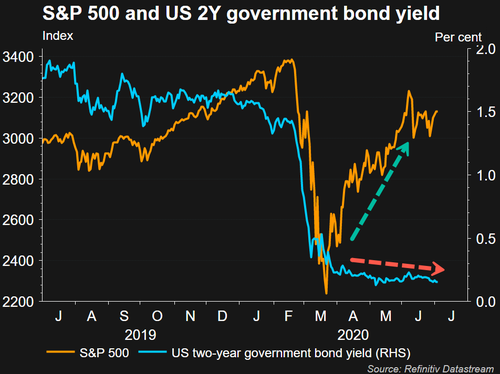 If the economic recovery is set to reverse - would it be considered a dead cat bounce?