---
US Stocks Slide After Bostic Comments; Oil & Gold Spike
Atlanta Fed President Raphael Bostic stirred the hawkish pot hard this morning with some more aggressive comments on QT (and rate-hikes).
"I penciled in six rate hikes for 2022 and two more for 2023," Bostic said in a speech Monday to a National Association for Business Economics conference in Washington.

"I recognize that I am toward the bottom of the distribution relative to my colleagues, but the elevated levels of uncertainty are front forward in my mind and have tempered my confidence that an extremely aggressive rate path is appropriate today."
Bostic may be hoping for that but the market sees 7 more hikes this year and 2 RATE CUTS in 2023/2024.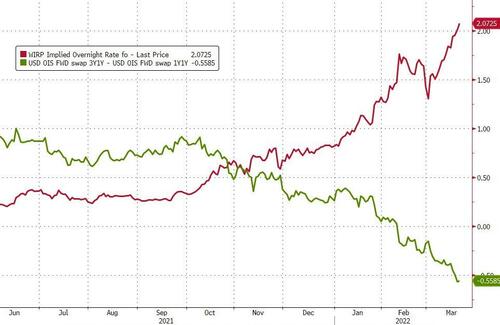 Bostic said he considered inflation as the top concern for policy makers this year and described the U.S. labor market as tight.
He later told reporters that he'd be prepared to raise rates above neutral but "that is just not my baseline today."
"I am comfortable with more aggressive movements if that is what the data and the evidence suggests is what is appropriate," he said.

"So I'm not wedded to moving only 25 basis points. I'm not wedded to moving every other meeting. I am going to be very, very open in terms of my approach."
And finally, while Fed officials have said they expect to start allowing their balance sheet to begin shrinking at a coming meeting and Powell last week said that process could start as soon as May, Bostic said he favored it happening "quickly" and that asset roll off could be done at a faster pace than the last time the Fed conducted this exercise.
This sparked immediate selling in US stocks, pushing all the majors into the red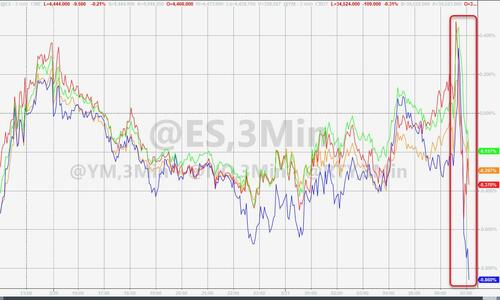 Oil extended gains (with WTI back above $109)...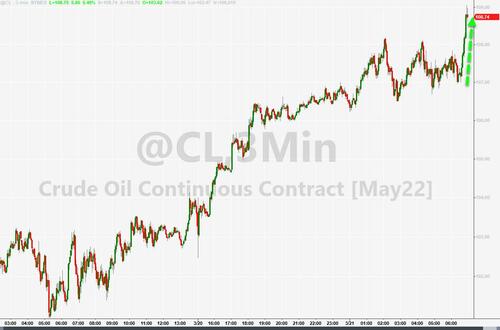 And Gold spiked...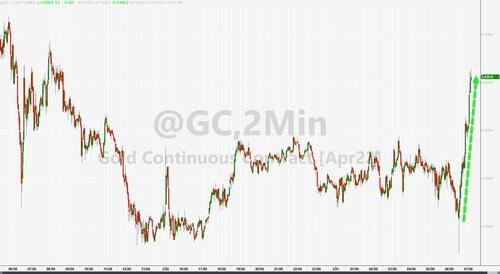 ...and next we have Fed Chair Powell's NABE address.