---
California, Texas, Arizona Shatter COVID-19 Records As Global Case Total Nears 12 Million: Live Updates
Summary:
Texas reports record deaths for second day
US reports 59,655 new cases
California reports record jump in new cases
No. of Fla ICUs at 100% capacity drops to 42
Miami Mayor calls on Trump to make mask-wearing mandatory
White House to issue its own school reopening guidelines
Chile tops 300k cases, plans to lift lockdown
Miami-Dade occupied hospital beds hit new record
Dr Birx urges states with worst outbreaks to revert to phase 1 reopening
Decision on reopening NY schools will come first week in August
Cuomo warns outbreak in the Sun Belt is putting NY's progress at risk
Arizona hospitalizations rise to another record
NYC schools won't reopen in September, mayor says
Dr. Fauci: "I never saw a virus with so many symptoms"
Cuomo calls for press briefing at 1130ET
Moderna completes trial enrollment
WHO finally admits there's "some evidence" of airborne transmission as US severs ties
Kudlow says moving back toward lockdown would be "a mistake"
Mt Sinai, Emergent Bio announce plans to test new COVID plasma drug
US reports 60k+ new cases on Tuesday
NJ orders mandatory mask wearing outside
US coronavirus cases top 3 million
US reports ~44k new cases Tuesday
56 Florida ICUs hit full capacity
Texas hospital occupancy at more than 90%
World reports 5k new deaths
US sees highest daily death toll since June 9
Brazil president says he's taking hydroxychloroquine
Trump demands schools reopen in the fall
* * *
Update (1900ET): During a day when a "weekend backlog" Texas posted its second straight day of record virus deaths, at 98, bringing total fatalities in the state to 2,813.
Virus cases rose 4.7% to 220,564, exceeding the seven-day average of 4%. The 9,979 new cases were second only to yesterday's record of 10,028. Hospitalizations jumped by 324, or 3.5%, which was less than the 7-day average of 5.2%.
TEXAS VIRUS CASES RISE 4.7%, EXCEEDING 7-DAY AVERAGE OF 4%
As cases continued rising in Houston, epicenter of the state's biggest outbreak, Mayor Sylvester Turner said he was canceling the Republican Party's state convention that was to be held in the city next week. The mayor also objected to proposals to reopen public schools in August.
* * *
Update (1730ET): California reported 11,694 new cases of the novel coronavirus on Wednesday, its biggest yet, as its rate of positive cases over the last 2 weeks has climbed to 7.1%, compared with 5% during the prior 2-week period. Gov Newsom explained away Wednesday's record jump by saying it includes some of the backlog from LA County from the holiday weekend. 
The state also reported another 111 deaths.
Meanwhile, coronavirus cases in the US rose 59,655 from a day earlier to 3.02 million, according to data from Johns Hopkins and Bloomberg. The 2% increase was higher than the average daily increase of 1.8% over the past week. Deaths, meanwhile, rose 0.8% to 131,857.
Around the world, the total number of COVID-19 cases has reached 11,921,616, leaving it on track to top 12 million by end-of-day tomorrow.
* * *
Update (1430ET): CNN Just reported that the number of Florida hospitals with a full ICU had declined to 42 from a record 56 earlier.
There are currently 42 Florida hospitals that are at zero capacity for intensive care unit beds.

This is down from 56 hospitals reported on Tuesday, according to Florida's Agency for Healthcare Administration. On Wednesday, 54 hospitals around the state were at 10% capacity or less, according to the AHCA dashboard.

"Hospitals have the ability to convert beds and bring additional ICU beds online in a surge situation when necessary," the AHCA said in a statement to CNN.

Boca Raton Hospital in Palm Beach County normally has 230 adult ICU beds, there are just 11 available; lowering their capacity to 4.56%, according to AHCA.

Miami-Dade County has 992 adult ICU beds in its hospitals but currently 170 are available, 17.14% capacity, AHCA data shows.

"The state has established a field hospital at the Miami Beach Convention Center with over 450 beds to allow for even greater capacity if necessary," the AHCA statement said. 
Broward County, one of the worst-hit in the state, is also saying it might not reopen schools in the fall with the rest of the state if things don't improve substantially. Meanwhile, Miami's Mayor is calling for a national mask mandate, while warning that it's only a matter of time before the death toll in his state rises.
* * *
Update (1330ET): After President Trump all but confirmed it earlier after saying he disagreed with the CDC's guidelines, NBC News reports that the White House is, in fact, preparing its own guidelines, barely an hour after Governor Cuomo finished telling the press that New York won't be "bullied" into reopening its schools before it's ready.
NEWS: The White House plans to issue its own guidelines for the reopening of schools because officials now say the ones released earlier this summer by the Centers for Disease Control are too restrictive, a senior administration official tells @carolelee and @PeterAlexander

— Geoff Bennett (@GeoffRBennett) July 8, 2020
The WH guidelines will include some of those issued by the CDC and recommendations from the American Academy of Pesiatrics. The White House is discussing ways to tie federal funding for schools to the pace of their reopening plans as part of a Phase 4 stimulus bill.

— Geoff Bennett (@GeoffRBennett) July 8, 2020
* * *
Update (1245ET): Chile has just topped 300k confirmed cases of COVID-19, joining the an exclusive group of just a handful of countries that have passed the threshold.
The country also announced plans to lift its lockdown, but not until Aug. 1.
Chile surpassed 300,000 coronavirus cases on Tuesday after reporting more than 2,400 new infections over the last 24 hours, prompting the South American country to move ahead with easing its lockdown.

There were 50 new deaths, bringing the total to more than 6,400, although the health ministry believes another 3,500 deaths were probably caused by the virus.

Chile's numbers have been declining for more than three weeks, and the country is now planning to ease confinement measures.

"We confirm an improvement that has been going on for 23 days," said Health Minister Enrique Paris.
The country remains essentially tied with Peru for worst hit country in Latin America.
* * *
Update (1215ET): Miami-Dade just announced that its occupied hospital beds have hit a new record high at 358, from 343. As Fla's hospitals grow more crowded, Dr. Birx said Wednesday that states with the worst outbreaks should "revert" to phase 1 of the reopening.
Birx urges people in states experiencing covid surges "to stop going to bars, to close the bars to move to outdoor dining, to decrease indoor, any kind of indoor gatherings again, to all of the Americans out there that are in these four states" and not gather "in homes either" pic.twitter.com/CgHvW809ya

— Manu Raju (@mkraju) July 8, 2020
* * *
Update (1154ET): As Cuomo continues to chide the sun belt states for not doing enough to contain the virus, we'd just like to point out that more stories about the state's futile 'contact tracing' efforts have emerged. Today's comes from San Diego's KPBS:
Every day, Asma Al Sabag goes to work and gives people bad news.

"I'll say, 'Hi, I'm calling because you were recently exposed to someone who tested positive for COVID-19,"' she said during a recent call.

Al Sabag is one of nearly 500 contact tracers working for San Diego County whose job it is to find and notify people who were likely in contact with someone who's tested positive for the coronavirus. And while she's likely made hundreds of phone calls by now, all her hard work might not be paying off.

Since early March when San Diego County's contact tracing program began tracking COVID-19 cases, tracers have only contacted about 9,000 county residents who were named as a close contact of someone with the virus, according to county spokeswoman Sarah Sweeney.

That's likely only a small fraction of those who've been exposed countywide. So far there have been about 17,000 known positive cases of COVID-19 in San Diego County, and each case on average has about 10 close contacts — people the infected person has been less than 6 feet away from for more than 15 minutes in the last two weeks.
In other news, the White House's Dr. Birx said that she's "hopeful" Arizona's cases have finally "plateaued", while also expressing hope that Florida's outbreak has also been contained.
"The seven-day average (of coronavirus cases in Arizona) is showing some flattening and I find that encouraging. Also, equally encouraging at this point, because we know that the test positivity rate is the first thing to increase and we're hoping that it heralds a stability in Arizona of at least reaching a plateau in their curve," Birx said.

[…]

"We also understand that we went through a holiday weekend and holiday weekends can impact data on both ends - underreporting through the weekend and catch up reporting on Monday, Tuesday and Wednesday after a holiday weekend," she added.
Cuomo, drawing near the end of his briefing, once again called on President Trump to sign a mandatory executive order on mask wearing, even after Dr. Fauci yesterday said he believed these types of mandates should come from local officials.
* * *
Update (1140ET): As expected, Cuomo spent today's press briefing chiding the worst-hit states for allowing the virus to get so out of control. He claimed that the outbreak around the country, which produced a record 60k+ new cases reported on Tuesday, is now "putting New York's progress at risk." He also claimed Florida has asked for assistance in combating its outbreak, and that Cuomo and NY would be happy to provide it.
But Cuomo assured the public: "Schools won't reopen if it's not safe."
He also announced that beginning on July 10, malls in certain parts of the state that are entering 'Phase 4' of the reopening process may allowed to reopen so long as they have "MERV-13" filters installed. But a decision on when the state's schools will reopen won't be released for another month. Cuomo said it should be expected between Aug. 1 and Aug. 7.
According to Cuomo, "one of those three filters" - MERV-13,12 and 11 - will filter out coronavirus in the air.
As Cuomo continues, we'd like to highlight an interesting theory that was just brought to our attention by RBC economist Tom Porcelli. The theory attempts to explain why the market hasn't been badly disturbed by the new record-breaking COVID-19 numbers.
Perhaps it's because, with so many young people getting infected, markets are betting that this outbreak is actually bringing the US closer to herd immunity.
Despite the resurgence of the virus, there's reason to be optimistic. One of the arguments out there to explain the markets' resilience to the resurgence is that the U.S. is approaching herd immunity as more young people are infected, which reduces the risk of the next flu season.

RBC economist Tom Porcelli proposed the theory. He noted that deaths as percentage of new cases from two weeks ago in those hot spots such as Florida and Texas remain low.
Keep in mind, herd immunity is believed to be extremely difficult to achieve, and no country believes it has achieved it yet.
Btw, here are NY's numbers for Wednesday.
Today's update on the numbers:

57,585 tests were performed yesterday. 692 tests came back positive (1.2% of total).

Total hospitalizations are at 841.

Sadly, there were 11 COVID fatalities yesterday. pic.twitter.com/upSZDaNDMr

— Andrew Cuomo (@NYGovCuomo) July 8, 2020
* * *
Update (1130ET): NYC Mayor Andrew Cuomo will deliver a briefing at 1130...
...meanwhile Arizona is reporting its latest numbers. By reporting 3,520 (+3.3%), Arizona now has surpassed New York's epidemic peak, by at least one measure. The 7-day average increase is 4.1%.
📍Watershed: Arizona has now surpassed New York's all time highest epidemic peak in daily cases per capita. Florida also not too behind. #covid19

(HT @subatomicdoc). pic.twitter.com/hUiPf8HbVu

— Eric Feigl-Ding (@DrEricDing) July 8, 2020
Here's a breakdown with charts:
Really grim news out of Arizona, if that's even possible. In addition to 3,520 new cases and 36 deaths, hospitalizations, ICU hospitalizations and ER visits at record highs. pic.twitter.com/WDQItIXCUa

— Charles Ornstein (@charlesornstein) July 8, 2020
To recap, the state also reported several other disheartening records, aside from the total hospital population
Arizona just reported *4,878* new COVID cases in the last 24 hours, a staggering record.
Arizona just reported *88* newly-reported COVID deaths, another staggering record.
Arizona just reported the percent positive rate of tests today was 28.3%, which is...another record high.
To help put things in perspective.
Arizona has had more new virus cases (per capita) over the last week than any country in the world.

Here's a ranking that treats each U.S. state as a country:

1. Arizona
2. Florida
3. S. Carolina
4. Bahrain
5. Louisiana
6. Qatar
7. Oman

For more: https://t.co/I7kfZQJsF7 pic.twitter.com/p6clPAqrzu

— David Leonhardt (@DLeonhardt) July 8, 2020
Earlier this week, as Mexico closed its border with Arizona as cases on both sides of it exploded
* * *
As we wait to hear from Gov Cuomo at 11:30, NYC Mayor de Blasio has predictably weighed in to announce that the city won't be reopening schools in September, even though whether the city sticks to this plan will likely be contingent on what happens over the coming months. If there isn't a resurgence in new cases, it might become difficult to justify.
The plan shared by de Blasio with the NYT reportedly calls for no more than 12 people including teachers to be in a classroom at a time. Most students will only attend class two or maybe three times a week.
About four months after 1.1 million New York City children were forced into online learning, Mayor Bill de Blasio announced on Wednesday that public schools would still not fully reopen in September, saying that classroom attendance would instead be limited to only one to three days a week in an effort to continue to curb the coronavirus outbreak.

The mayor's release of his plan for the system, by far the nation's largest, capped weeks of intense debate among elected officials, educators and public health experts over how to bring children back safely to 1,800 public schools.

The decision to opt for only a partial reopening, which is most likely the only way to accommodate students in school buildings while maintaining social distancing, may hinder hundreds of thousands of parents from returning to their pre-pandemic work lives, undermining the recovery of the sputtering local economy.

Still, the staggered schedules in New York City schools for September reflect a growing trend among school systems, universities and colleges around the country, which are all trying to find ways of balancing the urgent need to bring students back to classrooms and campuses while also reducing density to prevent the spread of the virus.

Under the mayor's plan, there will probably be no more than a dozen people in a classroom at a time, including teachers and aides, a stark change from typical class size in New York City schools, which can hover around 30 children.
Of course, the city still has months to change its mind. With little evidence available on how the virus spreads among, and affects, young children, the city should have a very good safety reason if it wants to keep schools partially shut, hamstringing and burdening millions of working- and middle-class families.
* * *
Update (1030ET): Florida has once again reported roughly 10k new cases of the coronavirus. Florida added 9,989 (+4.7%) new COVID-19  cases Wednesday. Now with 223,783 (up from 213,794 yesterday), the state also reported 14.15% of its 75,865 test results coming back positive. The number of tests run is close to record highs for the state. Florida's positivity rate has been north of 14% since June 29. The figure is lower than yesterday's 16.2%.
FLORIDA COVID-19 CASES RISE 4.7% VS. PREVIOUS 7-DAY AVG. 5%
Its the biggest single-day jump in new cases on a Wednesday, and up 50% from last Wednesday's reading.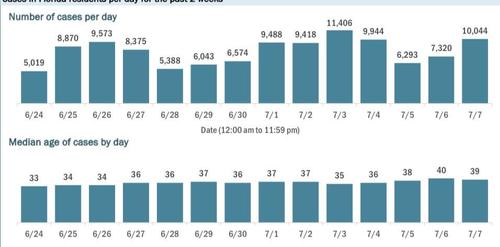 The median age of those infected ticked lower to 39.
* * *
Update (1015ET): Just some food for thought....
FAUCI SAYS NEVER SAW VIRUS WITH SUCH A VARIETY OF SYMPTOMS

Almost as if... it isn't natural?!

— zerohedge (@zerohedge) July 8, 2020
* * *
Update (1000ET): Doctors have been struggling to explain rare cases of people who are infected with the virus more than once, or whose symptoms just never seem to subside, even after months of infection.
One Texas man who shared his story with CNN said the second time around, his symptoms got "much worse."
Adam Stadler was sick with Covid-19 for a month and had to be hospitalized. When he recovered, he tested negative twice. But less than two months later, he got coronavirus again.
"This section of it has been a hundred times worse than the first"https://t.co/H86OAHvAl9 pic.twitter.com/9ZDMny7jWZ

— New Day (@NewDay) July 8, 2020
* * *
Update (0950ET): Andrew Cuomo is holding a press conference this morning at 1130ET. The governor previously claimed that he wouldn't hold another briefing unless he had something notable to share.
I will be holding a briefing and making an announcement at 11:30am ET. Watch here:https://t.co/Fq5qEEPt23

— Andrew Cuomo (@NYGovCuomo) July 8, 2020
* * *
Update (0940ET): As stocks move higher after the open, Moderna just announced that it has completed recruitment for the start of the second phase of its testing, which is by far the most rigorous, and requires tens of thousands of participants.
Moderna says completed enrollment of Phase 2 COVID-19 vaccine study$MRNA

— *Walter Bloomberg (@DeItaOne) July 8, 2020
* * *
Update (0925ET): After some 200 scientists from dozens of countries urged the WHO to acknowledge the growing body of evidence suggesting that the virus can linger in the air and infect people who inadvertently inhale it, making it an "airborne" virus. The WHO had previously maintained that aersolization via coughing or sneezing via symptomatic patients was the primary means of spread.
But as the US officially severs its ties from the organization, the NGO has decided to 'tweak' its guidelines, but only mildly.
The World Health Organization confirmed there is "emerging evidence" of airborne transmission of the coronavirus following the publication of a letter Monday signed by 239 scientists that urged the agency to be more forthcoming about the likelihood that people can catch the virus from droplets floating in the air.

Dr. Benedetta Alleganzi, WHO Technical Lead for Infection Prevention and Control, said during a briefing Tuesday, that the agency has discussed and collaborated with many of the scientists who signed the letter.

"We acknowledge that there is emerging evidence in this field, as in all other fields regarding the Covid-19 virus and pandemic and therefore we believe that we have to be open to this evidence and understand its implications regarding the modes of transmission and also regarding the precautions that need to be taken," Alleganzi said.

Infectious disease epidemiologist Maria Van Kerkove, with WHO's Health Emergencies Program, said many of the letter's signatories are engineers, "which adds to growing knowledge about the importance of ventilation, which we feel is very important."

"We have been talking about the possibility of airborne transmission and aerosol transmission as one of the modes of transmission of Covid-19, as well as droplet. We've looked at fomites. We've looked at fecal oral. We've looked at mother to child. We've looked at animal to human, of course as well," Van Kerkove said.

She said the agency is working on a scientific brief summarizing the current knowledge around transmission of the deadly virus, which should be available in the coming weeks.
Even still, the WHO insists that more research is needed on the issue of transmission.
* * *
Update (0900ET): As Trump's push to reopen schools in the fall elicits the inevitable blowback from the left-leaning press, Larry Kudlow took to CNBC Wednesday morning to defend the policy, and reiterate that 'the data' continues to point to a V-shaped recovery, and that taking more steps back toward another lockdown would be "a big mistake."
NEC Director Larry Kudlow says implementing a national shutdown "would be worse than the disease." https://t.co/H4FBRGEs6j pic.twitter.com/8RzHwphZTK

— CNBC (@CNBC) July 8, 2020
Earlier, Mt Sinai and Emergent Bio announced plans to cooperate on testing a newly developed drug that uses plasma harvested from the blood of recovered COVID-19 patients to try and prevent infections in front-line workers
NEW YORK and GAITHERSBURG, Md. and NEW ORLEANS and LAFAYETTE, La., July 08, 2020 (GLOBE NEWSWIRE) -- The Mount Sinai Health System, Emergent BioSolutions (NYSE: EBS), and ImmunoTek Bio Centers today announced that they will collaborate to develop, manufacture, and conduct clinical trials to evaluate Emergent's COVID-19 hyperimmune globulin product, COVID-HIG, including a post-exposure prophylaxis (PEP) study on health care providers at high risk of COVID-19 infection and other high-risk populations, with $34.6 million in funding from the U.S. Department of Defense's (DOD) Joint Program Executive Office for Chemical, Biological, Radiological, and Nuclear Defense (JPEO-CBRND).
* * *
Update (0840ET): Following yesterday's news that the state's "R" rate had ticked north of 1, the threshold above which the virus is said to be expanding, New Jersey Gov Phil Murphy is reportedly planning to sign an executive order mandating mask wearing even when outdoors, where the benefits of wearing a mask are marginal, at best.
New Jerseyans may soon be required to wear face coverings outdoors, too, to help prevent the spread of the coronavirus, NJ.com reports.
Shorely, you jest

MURPHY TO ORDER NEW JERSEYANS TO WEAR MASKS OUTDOORS

— Tom Flatten The Curve Hearden (@followtheh) July 8, 2020
Meanwhile, according to the latest updated figures released this morning, JHU has actually counted more than 60k new cases on Thursday, a new single day record. That's more than the roughly 43k we noted earlier. The updated numbers were released just minutes ago.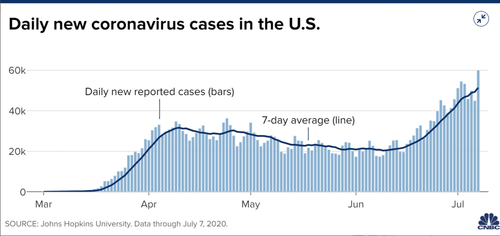 The US reported exactly 60,021 new coronavirus cases on Tuesday, according to JHU data cited by CNBC.
In a graphic produced by a team of BAML analysts, the bank breaks down how the states with the worst outbreaks - Texas, Florida, California and Arizona - are contributing to the bulk of the countrywide outbreak, while the northeastern states that have seen the most effective results have continued to see their numbers dwindle as a percentage of the total cases being counted each day.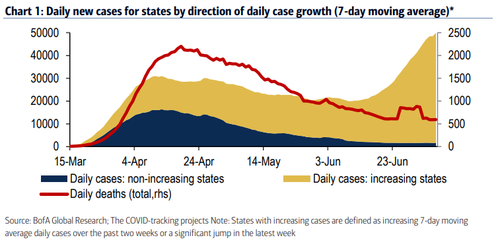 Still, daily deaths continue to trend lower. And as we await the 'inevitable' jump in deaths, here's some more food for thought, from Mark Cudmore:
If the surge in U.S. case numbers should result in increasing deaths, why haven't we seen it by now?

Market bulls point out that the lag between the April peaks in U.S. daily cases and deaths was only five days. The lag was six days in Italy, eight days in Spain and 11 days in the U.K. We're way past those spans now in the Sun Belt states where cases have been climbing, which is why several readers rejected my proposition this week that it was premature to relax around the trend in the U.S. death numbers.
* * *
The US coronavirus outbreak crossed a grim milestone of over 3 million confirmed cases on Tuesday as more states reported record numbers of new infections, while dozens of hospitals in Florida are facing a shortage of ICU beds.
Meanwhile, the US reported 44,953 new cases on Tuesday (remember, these numbers are reported with a 24-hour delay).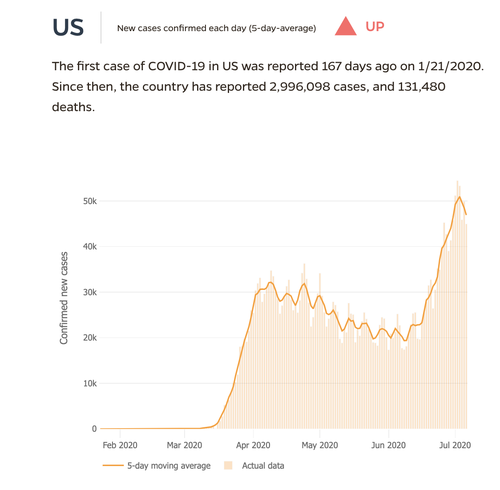 Globally, the world reported roughly 5k new deaths yesterday as the US saw its death toll top 130k.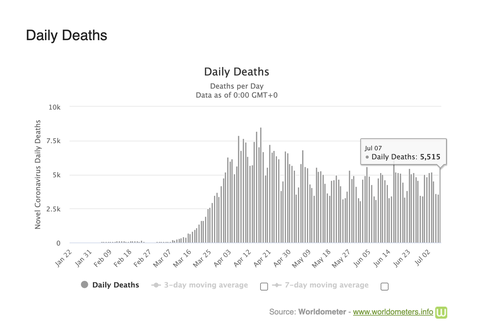 Roughly 20% of new deaths yesterday were recorded in the US as it suffered the biggest jump in deaths in a month.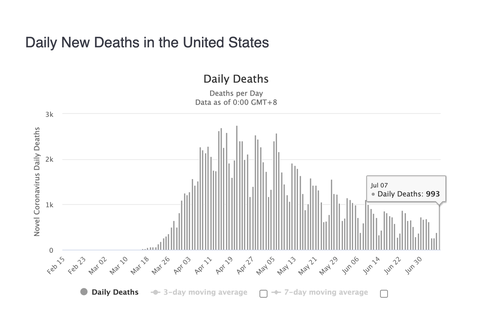 When we left off last night, 43 ICUs in the state of Florida had reached full capacity.
The number of patients in ICU beds has climbed from 180 on June 25 to 343 as of July 7, according to the data. There were 1,656 Covid-19 patients in hospital as of July 7, with 175 on ventilators, up from 885 patients in hospital on June 25, when there were 84 on ventilators.
At last count, 56 ICUs across Florida have reached capacity, according to CNN.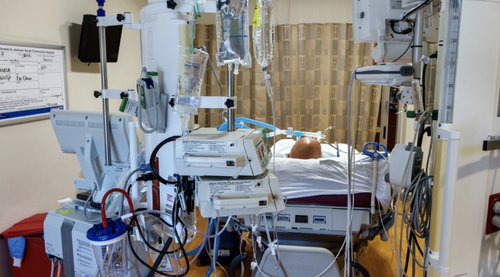 While Florida's hospitals appear to be seeing the most problems with capacity, Texas isn't far behind. Nearly 80% of the state's hospital beds are in use, and ICUs are filling up in San Antonio and Houston, which are some of the biggest cities in the entire US. As the AP reports, leaders are warning their health facilities could become overwhelmed in the coming days.
While rising cases have reflected rising tests, and while deaths have continued to trend lower despite yesterday's spike, Texas has a positive test rate of 13.5%, more than double the share from a month prior, even as the number of tests being carried out each day have increased substantially.
In North Houston, one hospital, United Memorial has been rapidly dedicating more and more space to virus care. Now, 88 of 117 beds are devoted to such patients, and it's weighing the possibility of going 'all-COVID-19'.
Finally, Brazilian President Jair Bolsonaro said Wednesday, one day after confirming he had tested positive for the virus, that he was taking hydroxychloroquine as part of his treatment regimen, and that he was feeling fine.
As the White House ratchets up pressure on Hong Kong, which reported 24 new COVID cases, with 19 of them locally transmitted infections, and 5 imported cases.
President Trump, meanwhile, is doubling down on his demands that schools across the US prepare to reopen in the fall, while accusing local officials (who have total control over education since education is handled at the local level in the US) of putting politics before the best interests of the community, according to the NYT.