---
US Unemployment Rate Unexpectedly Plunges Below 8% As 661K Jobs Added
In a repeat of last month when the monthly payrolls came in as expected but the unemployment rate dropped far more than expected, moments ago the BLS report that in September a total of 661K jobs were added, below the 868K expected, and less than half the 1.489MM in August, led by a sharp 216,000 drop in government jobs (with local government education and state government education falling by 231,000 and 49,000 while hospitality, retail, construction and transportation saw some gains)...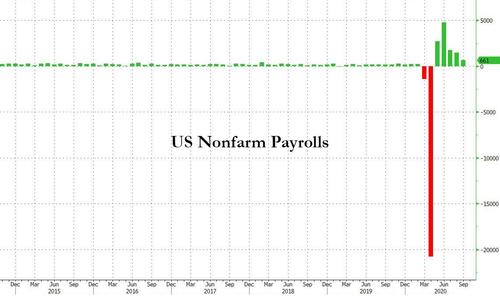 ... but offsetting these disappointment was the plunge in the unemployment rate which tumbled by a whopping 50bps from 8.4% to 7.9%, with rates for both blacks and Hispanic plunging as well.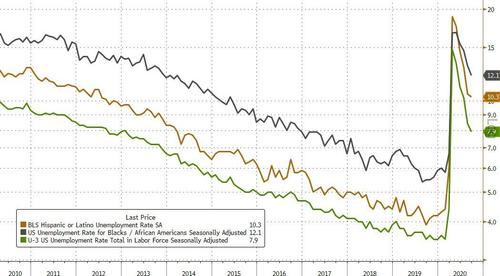 How did the unemployment rate drop as the Household survey showed just modest growth, with the ranks of employed workers rose by just 275K to 147.563MM.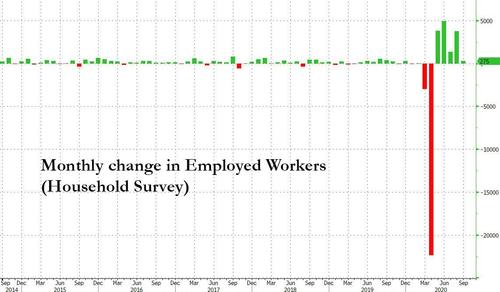 Simple: it appears that the BLS is back to its old gimmicks of inflating the number of people not in the labor force, which increased by 1.9MM, from 99.720MM to 100.599MM.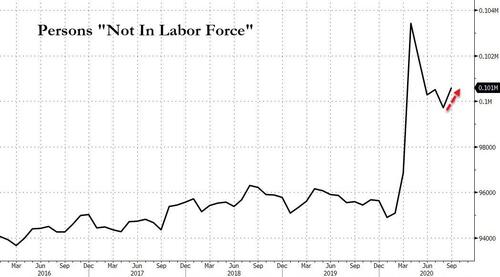 At the same time, the number of unemployed workers declined by 1MM from 13.550MM to 12.580MM.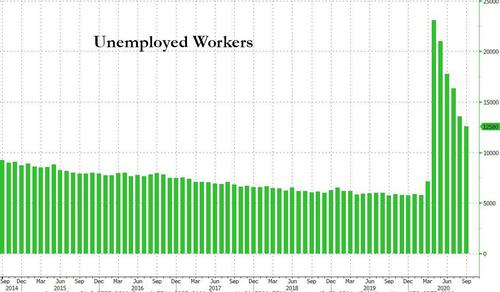 So the biggest reason for the drop in the jobless rate was people no longer looking for work. That could be because of frustration, or retirement, or going to back to school. But it underscores unemployment isn't falling mainly because of people getting jobs.
Then there were the usual gimmicks: the BLS said that for the March-August period, the BLS published an estimate of what the unemployment rate  would have been had misclassified workers been included. Repeating this same approach, the overall September unemployment rate would have been 0.4 percentage point higher than reported.
In other words, the true unemployment rate is likely 8.4%, unchanged from last month.
Going back to the Establishment Survey, we find that the change in total nonfarm payroll employment for July was revised up by 27,000, from +1,734,000 to +1,761,000, and the change for August was revised up by 118,000, from +1,371,000 to +1,489,000. With these revisions, employment in July and August combined was 145,000 more than previously reported.
The one series tracked by all, the number of "temporarily" unemployed surprised as it dropped by more than 1.5 million to just 4.6 million, from 6.2 million the month before. As usual, debate over what defines "temporary" unemployment remains in the foreground.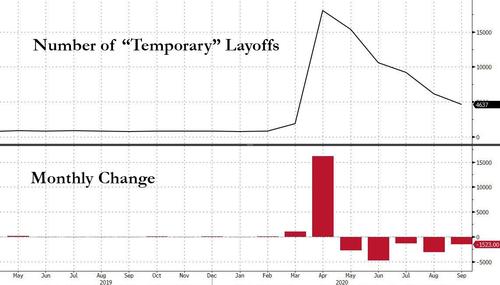 This was offset by the number of people in the U.S. seeing permanent job losses, which rose by 340K to 3.756 million, the highest level since 2013, and points to the ongoing business closures, bankruptcies, and investment cuts across the country.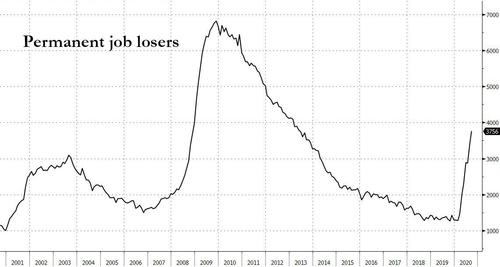 Meanwhile, the number of workers unemployed for more than 15 weeks posted an unexpected reversal, declining by 800K to 7.323MM.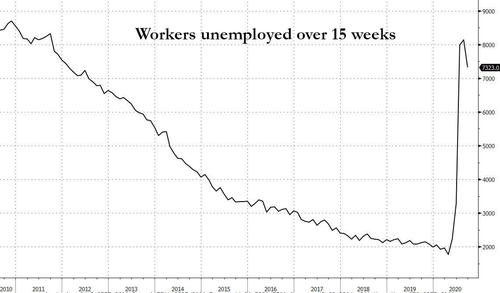 The average hourly earnings also printed generally in line, rising by 4.7% in September, up from the 4.6% revised in August, but below the 4.8% expected.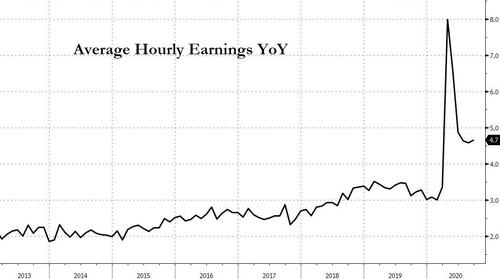 The labor force participation rate dropped modestly, from 61.9 to 61.4 as the Civilian Labor Force dropped by nearly 700,000 to 160.1 million in September while the population rose by just 200K to 260.742MM.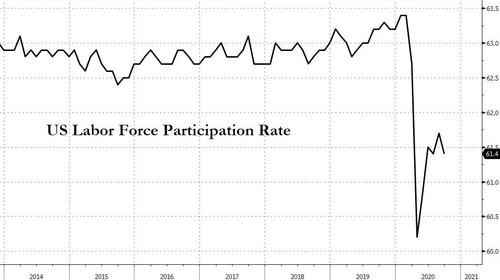 Why the decline in the participation rate? According to Bloomberg it ticked down for men aged 20+, but fell even more for wome, some -0.8%. With the start of the academic year and schools closed and running zoom sessions from home, many are likely opting out of the labor market.
Despite the overall improvement, let's not forget that In September, nonfarm employment was below its February level by more than 10.7 or 7% million. Looking at the sector breakdown, job gains occurred in leisure and hospitality, in retail trade, in health care and social assistance, and in professional and business services. Employment declined in government, mainly in state and local government education.
Some more details:
Employment in leisure and hospitality increased by 318,000 in September, with almost two-thirds of the gain occurring in food services and drinking places (+200,000).  Amusements, gambling, and recreation (+69,000) and  accommodation (+51,000) also added jobs in September.
Retail trade added 142,000 jobs over the month, with gains widespread in the industry. Clothing and clothing accessories stores (+40,000) accounted for about one-fourth of the over-the-month change in retail trade. Notable employment increases also occurred in general merchandise stores (+20,000), motor vehicle and parts dealers (+16,000), and health and personal care stores (+16,000).
Employment in health care and social assistance rose by 108,000 in September but is down by 1.0 million since February. Health care added 53,000 jobs in September, with continued growth in offices of physicians (+18,000), home health care services (+16,000), and offices of other health practitioners (+14,000). Social assistance added 55,000 jobs, mostly in individual and family services (+32,000) and in child day care services (+18,000).
Professional and business services added 89,000 jobs in September. Employment increased in services to buildings and dwellings (+22,000), architectural and engineering services (+13,000), and computer systems design and related services (+12,000).
Employment in transportation and warehousing rose by 74,000 in September. Within the industry, job gains continued in warehousing and storage (+32,000), transit and ground passenger transportation (+21,000), and couriers and messengers (+10,000).
Manufacturing added 66,000 jobs over the month. Durable goods accounted for about two- thirds of the gain, led by motor vehicles and parts (+14,000) and machinery (+14,000).
Financial activities added 37,000 jobs in September. Job growth occurred in real estate and rental and leasing (+20,000) and in finance and insurance (+16,000). Employment in financial activities is 162,000 below the level in February.
In September, the other services industry added 36,000 jobs, largely in membership associations and organizations (+31,000). Employment in other services is 495,000 lower than in February.
Employment in information grew by 27,000 in September but is down by 276,000 since February. Motion picture and sound recording industries accounted for most of the September gain (+23,000).
Construction employment increased by 26,000 in September, with growth in residential specialty trade contractors (+16,000) and construction of buildings (+12,000). 
In September, wholesale trade added 19,000 jobs, with gains in both the durable and nondurable goods components (+13,000 and +8,000, respectively).
Government employment declined by 216,000 in September. Employment in local government education and state government education fell by 231,000 and 49,000, respectively. A decrease of 34,000 in federal government was driven by a decline in the number of temporary Census 2020 workers. Partially offsetting these declines, employment in local government, excluding education, rose by 96,000.
Employment in private education decreased by 69,000 in September, after a gain of similar magnitude in August. 
Employment changed little in mining in September (+1,000). Employment in the industry is down by 133,000 since a recent peak in January 2019; about three-fourths of this decline has occurred since February of this year.
As noted above, local government education jobs contracted by 231,000. This was the biggest decline since the early days of the pandemic in April and May.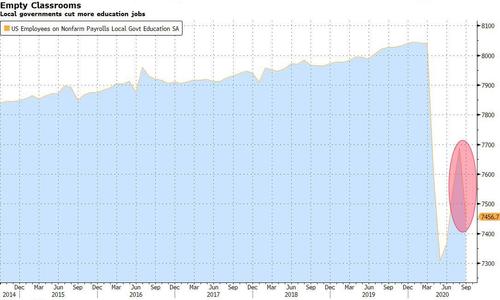 Summarizing the data, Bloomberg economics said that "September private payrolls were in-line with expectations, but the segment appears to be taking a turn for the worse going into the fourth quarter amid impending airline industry layoffs and continued gridlock in Washington, as well as announcements of tens of thousands of job cuts across both service and goods-producing sectors."
Overall, it is starting to emerge that any hope of a V-shaped recovery led by the labor market is growing dim. The next administration - whether it's headed by Joe Biden or Trump - will have to reckon with an economy and jobs market in rough shape.