---
US Unemployment Rate Unexpectedly Tumbles Below 7% As Private Payrolls Smash Expectations
Heading into today's payrolls report, the high frequency data showed a marked deceleration of employment-linked indicators as the benefits from the stimulus faded...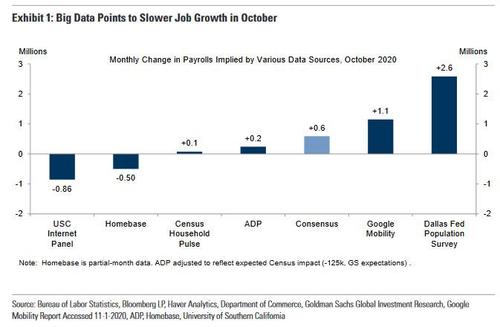 ... with Goldman warning that the October payrolls result could be a substantial disappointment. However, that was not the case with the BLS reporting that in October, the US economy added a stronger than expected 638K jobs, which while below last month's 672K (revised) payrolls...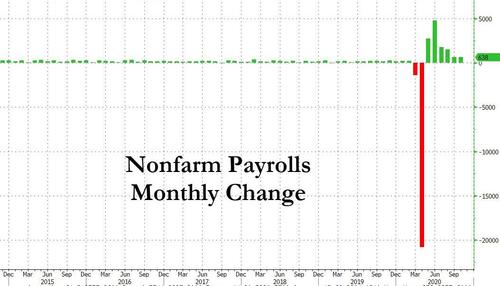 ... was a 58K beat relative to expectations of 593K, boosted by a much stronger than expected 908K private job additions, more than last month's 892K and smashing expectations of 680K...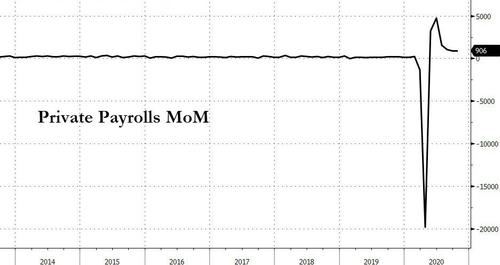 ... which however was offset by a far bigger than expected drop in government payrolls, which declined by 268K, of which 138,000 was a drop in federal government jobs due to a loss of 147,000 temporary 2020 Census workers. Job losses also occurred in local government education and state government education.
Putting the beat in context, only 25 economists had forecast this amount for payroll gains in October, out of a total of 78. So the increase beat roughly two-thirds of the forecasts.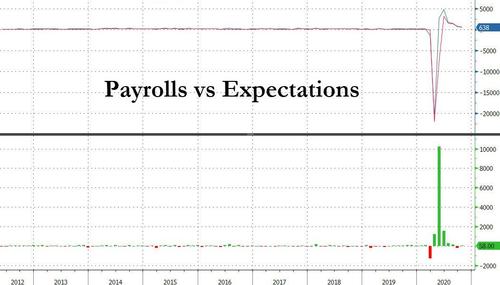 And with the latest payrolls gains, the record post-covid collapse in the US labor market has now been trimmed by more than half. In October, nonfarm employment was below its February level by 10.1 million, or 6.6 percent. Still, the takeaway is that job-growth momentum has eased, if not as badly as expected, and that it will be a fairly long slog back for the job market. Fed Chair Jerome Powell was saying yesterday that the recovery in employment was only half-way done at best.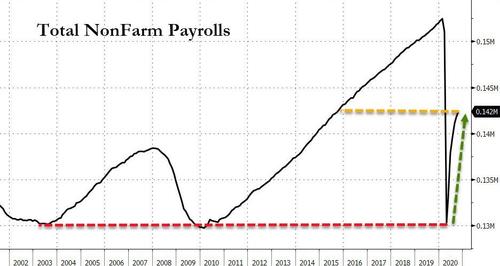 But while the payrolls was indeed better than many had expected, and certainly stronger than the whisper number, it was the unemployment rate that had the most surprising move, tumbling by 1% from 7.9% to 6.9%, and far below the 7.6% expected. Of note, there was a big drop in the Black unemployment rate, to 10.8% from 12.1%, and Latino unemployment rate, to 8.8% from 10.3%.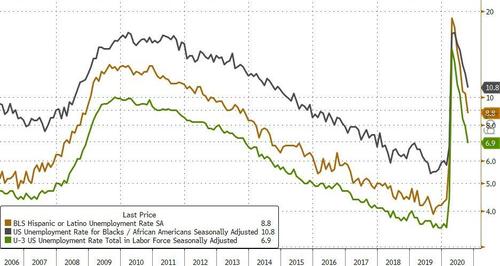 This was as a result of a sharp drop in the number of people unemployed, which declined by 1.5 million from 12.580MM to 11.06MM in October, while the civilian labor force increased modestly from 160.1MM to 160.9MM. Thanks to the increase in the labor force, the Labor participation rate increased by 0.3% to 61.7% from 61.4%.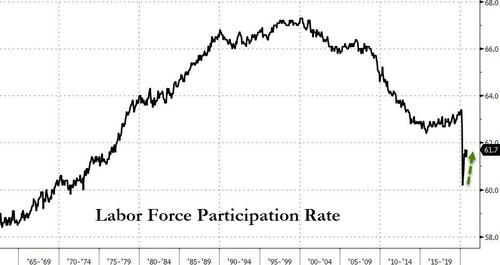 Among the more disappointing data, the underemployment rate for young adults aged 16 to 24 in Oct. was 18.0%, with the total unemployed aged 16-24 at 2,306,000, marginally attached workers aged 16-24 at 444,000 and employed part-time for economic reasons aged 16-24 at 1,017,000. 
Digging through the participation data, Bloomberg Economist Andrew Husby writes that  "Despite an increase to 74.6%, the participation rate among women aged 25-54 was over 0.5 percentage points below June-to-August levels, and 2.4 percentage points below the February peak. This likely reflects both disparate industry concentrations and burdens with respect to childcare and back-to-school efforts. At 87.9% among prime-aged men, the rate is consistent with levels posted over the summer, and less than 2 percentage points below the peak."
A key data point that has fluctuated due to the Covid pandemic was the number of workers on temporary layoffs, and this dropped substantially from 4.637MM to just 3.205MM, a continued solid improvement.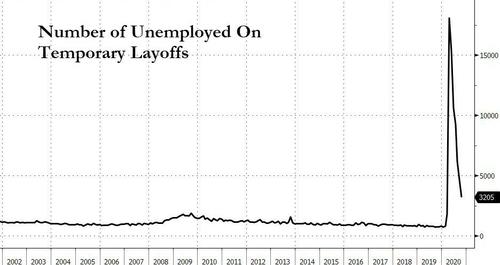 The flip side, however, is that the number of unemployed for more than 6 months continued to rise, hitting a whopping 3.6MM in October, up 1.2 million from 2.4MM the previous month.
The monthly increase in people unemployed for more than 27 weeks was a record 1.2 million.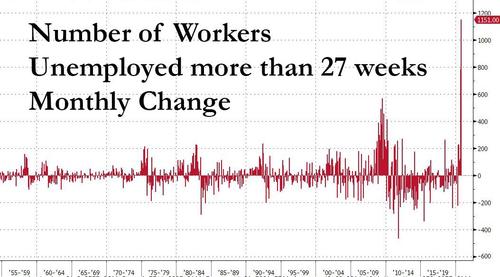 Looking at wages, in October, average hourly earnings for all employees on private nonfarm payrolls increased by 4 cents to $29.50, and by 4.5% Y/Y, in line with expectations. Average hourly earnings of private-sector production and nonsupervisory employees rose by 5 cents to $24.82. As even the BLS admits, "the large  employment fluctuations over the past several months--especially in industries with lower-paid workers--complicate the analysis of recent trends in average hourly earnings."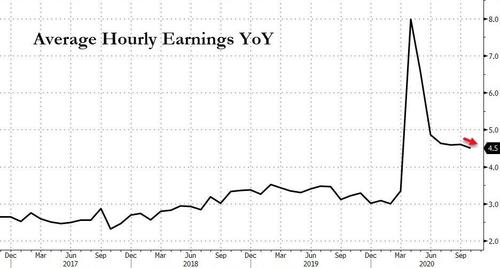 Looking at the breakdown by industry, overall job gains were fairly broad-based. Leisure and hospitality, a sector that was hit particularly hard by the pandemic, posted a 271,000 gain in October. Within that category, food services and drinking places rose about 192,000. Here is a detailed breakdown.
Employment in leisure and hospitality increased by 271,000 in October, with gains in food services and drinking places (+192,000); arts, entertainment, and recreation (+44,000); and accommodation (+34,000). As Bloomberg notes, this gain was notable for a month when Covid-19 cases jumped in the U.S. It suggests that facilities are increasingly coming to grips with reopening - or keeping open - in the face of the virus.
Professional and business services added 208,000 jobs in October, with temporary help services (+109,000) accounting for about half of the gain. Employment also increased in services to buildings and dwellings (+19,000), computer systems design and related services (+16,000), and management and technical consulting services (+15,000). Employment in professional and business services is 1.1 million below its February level.
Retail trade added 104,000 jobs, with almost one-third of the gain in electronics and appliance stores (+31,000). Employment also rose in motor vehicle and parts dealers (+23,000), furniture and home furnishings stores (+14,000), clothing and clothing accessories stores (+13,000), general merchandise stores (+10,000), and nonstore retailers (+9,000). Employment in retail trade has risen by 1.9 million since April but is 499,000 below its February level.
Construction added 84,000 jobs in October. Specialty trade contractors added jobs, both in the nonresidential (+28,000) and residential (+18,000) components. Employment also rose in heavy and civil engineering construction and in construction of buildings (+19,000 each). Construction has added 789,000 jobs in the last 6 months, but employment is down by 294,000 since February.
Employment in health care and social assistance rose by 79,000 in October but is down by 950,000 since February. In October, health care employment increased by 58,000, with the largest gains occurring in hospitals (+16,000), offices of physicians (+14,000), offices of dentists (+11,000), and outpatient care centers (+10,000). These increases were partially offset by a decline of 9,000 in nursing and residential care facilities. Social assistance added 21,000 jobs over the month.
Employment in transportation and warehousing increased by 63,000 in October, with gains occurring in warehousing and storage (+28,000), transit and ground passenger transportation (+25,000), and truck transportation (+10,000). By contrast, air transportation shed 18,000 jobs. Employment in transportation and warehousing is 271,000 below its February level.
The other services industry added 47,000 jobs in October, with gains occurring in personal and laundry services (+27,000) and in repair and maintenance (+18,000). Employment in other services is 436,000 below its February level.
Manufacturing employment rose by 38,000 in October but is 621,000 lower than in February. Gains occurred in fabricated metal products (+7,000), primary metals (+6,000), and wood products (+4,000). Employment continued to trend up in food manufacturing (+6,000) and in plastics and rubber products (+4,000).
Employment in financial activities rose by 31,000 in October but is 129,000 lower than in February. Over-the-month job gains occurred in finance and insurance (+17,000) and real estate (+10,000).
Government employment fell by 268,000. A decrease of 138,000 in federal government was driven by a loss of 147,000 temporary 2020 Census workers. Job losses also occurred in local government education and state government education (-98,000 and -61,000, respectively).
Employment in other major industries, including mining, wholesale trade, and information, changed little in October.
So what does it all mean? According to some analysts, one way for traders to read this report is that the better payrolls data means less urgency for another round of stimulus, although one wouldn't know it by looking at the rebound in futures which as a reminder have surged this week on expectations of just that: more Fed assistance now that a massive fiscal stimulus appears to be dead.
Finally, one word of caution from CIBC economist Katherine Judge: "Despite the positive surprise in today's report, as new virus cases continue to skyrocket, the previous re-opening of businesses appears to be less sustainable, suggesting that employment gains could slow or possibly reverse in the coming months."