---
Used Tesla Prices Plunge As Demand Evaporates
Readers have been well informed about the impending auto market disaster (for those unfamiliar, read here). The latest domino to fall is the days used Teslas could demand lofty premiums, which is now in the rear-view mirror as demand falters and supply increases. 
According to Reuters, citing new automotive pricing data from Edmunds, average prices for used Teslas in November were $55,754, down a whopping 17% from a July high of $67,297. The steep decline comes as the overall used car market is only down 4% in the same period. Also, used Teslas stayed on dealer lots for an average of 50 days in November, compared with just 38 days for all other used cars, a worrying sign of demand issues for the electric vehicle maker. 
Teslas were all the rage during the pandemic and the Ukraine war. As gasoline and diesel prices skyrocketed earlier this year, demand for Teslas spiked. But now, since fuel prices recede, borrowing rates soar, and Tesla output increases amid a crowded EV space, the price of used Teslas is falling faster than any used car on the market. 
Edmunds found that a third of used Teslas produced this year for sale were up for resale in August. This signified that flippers were trying to make a quick buck off the EV bubble. Data showed Teslas were the most sought after than any other EV brands for flippers. Now with prices sliding, flipping at a premium is becoming harder. 
"You can't sell your current Tesla for more money than you paid for it, which was true for a lot of the past two years. 

"That would reduce demand for new Teslas," said Karl Brauer, executive analyst at car sales website iSeeCars.com
We've made it clear that soaring borrowing costs are crushing used car demand: according to Bankrate, as of Dec. 27, the average used car interest rates is quickly approaching 7%, almost doubling since the start of the year, and the highest in 12 years.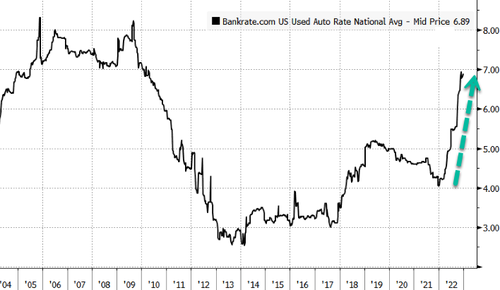 Tesla CEO Elon Musk has called on the Federal Reserve "to cut interest rates immediately" or risk "amplifying the probability of a severe recession." Musk is worried about a Fed-induced recession that could crash the car market. 
As for new Teslas, the company offered a rare $7,500 discount for this month only. On top of that, another perk was offered: free supercharging for 10,000 miles. 
Loading...