---
The "Usual" Quant Strategies Aren't Working Anymore
Among those starting to get frustrated with the S&P's uneven trading of late (mostly due to large whipsaws back and forth in the NASDAQ and growth to value rotation) are quants.
Quants like Bastian Bolesta, who had simple strategies for the S&P 500, are finding out that the "usual stuff" isn't working the way it used to, Bloomberg pointed out in a recent article. For example, Bolesta would use a strategy where:
If S&P 500 futures rise, his trading program goes long. If the index drops, it duly puts on a short. Then the money manager just waits for the 4 p.m. bell and closes the position. And repeat. Known as intraday trend-following, systematic players like Bolesta have long exploited one-way trading patterns in the world's most-watched stock index.
But it appears that free money machine has stopped - his strategy has posted "the worst decline in two decades" and quants can't seem to figure out what has caused the "once reliable" trade to stop working out. Despite its waning success in the U.S., the strategy is working slightly better in Asian and European markets, the report notes. Bolesta commented: "We still saw some large moves intraday, but they were choppy."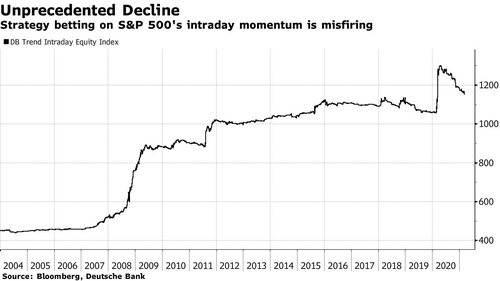 The strategy takes advantage of the ramp up in stock volume at both the cash open and heading into the close. 
And the sputtering of the strategy has come at just the right time: Bloomberg notes that banks like Soc Gen and Deutsche had both started to embrace the strategy of recent, packaging it as part of a "package of momentum chasing" products for institutions. 
Sorin Ionescu, a quant at Deutsche Bank, said of the strategy: "The bleed seems to be significantly higher than it has been historically."
Bolestra is blaming the underperformance on the fact that macro news and impactful earnings reports came out while the market was closed. But this shouldn't be any different than in years prior. "It's not a disappearance of momentum -- it was overnight momentum," he told Bloomberg.
A better theory is that option traders may have started to turn against momentum: "But nowadays these dealers are buying and selling counter to the overall direction of the market, the theory goes. In options parlance, they've gone from negative gamma to positive. The market makers switched around April just as the S&P was beginning to recover from its historic rout, according to SocGen derivatives strategist Jitesh Kumar."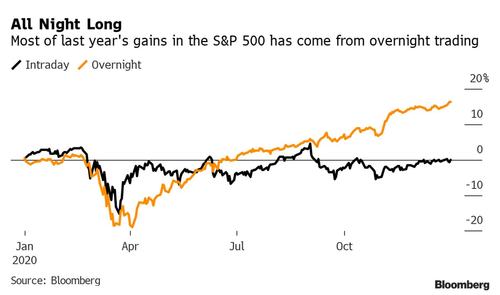 Quants are still hopeful the strategy could regain its footing during the next market downturn. 
Sandrine Ungari, head of cross-asset quant research at SocGen said: "The more realized volatility you have in prices, the less liquidity market makers will be willing to offer, and the more trends will be created during the day."
Seven Investment Management's Matthew Yeates concluded: "When the market really moves on one big piece of news, that will likely propagate into the sort of distortions that help these strategies do well."